Wi-Fi hotspots help you stay connected and work efficiently whether you're at work or just having fun and having your own private and fast Wi-Fi to connect to is the best. 
The best Wi-Fi hotspots have an exceptional range, so you can set them up and still receive strong service even if you are in a remote area.
There are many excellent choices of Wi-Fi hotspots available in 2022, ranging from cost-effective entry-level systems to high-end solutions.
For you, this article contains the top best Wi-Fi hotspot devices to buy in 2022 so you can choose from them.
Best WiFi Hotspot Devices In 2022
1. Urozetta Portable Wi-fi Hotspot
With the adaptability of parent company Urocomm's cloud SIM system and the Urozetta Portable Wi-Fi Hotspot, you won't need to look for a local SIM card in each country you visit.
Instead, you can simply open the app on your phone to add more credit and ensure you check inside the app for current competitive prices.
There is no contract to sign and you receive 50GB of UK data bundled with the upfront cost which is good for 90 days.
Since there are no unforeseen roaming fees and there are none when you are not traveling, you are always aware of your costs.
Urozetta Portable Wi-Fi Hotspot supports ten device connections, with an inbuilt USB cable used for charging, and a 12-hour usage period.
In more than 150 nations throughout the world, you would be able to get 4G speeds with a top download speed of 150Mbps, according to Urocomm.
There is also an integrated slot for a SIM card if you decide to use one for whatever reason.
2. Huawei E5577-321 Mobile Wi-fi Hotspot
Huawei E5577-321 mobile Wi-Fi hotspot is one of the best Wi-Fi hotspots that provide ease of setup, security, and dependability.
Huawei is a reputable manufacturer of devices, and this hotspot is small and well-made, making it ideal for packing in a bag or suitcase and carrying with you wherever you travel, inside or outside of the UK.
With the Huawei E5577-321, you do need to purchase your own local SIM card for every country that you travel to.
It also offers you a great deal of flexibility when it comes to selecting data packages, cost, setup time, and network providers.
Huawei E5577-321 is best suited for those who are experienced with using overseas SIM cards.
This particular portable Wi-Fi hotspot supports 4G speeds up to 150Mbps and charges through a regular USB cord.
With Huawei E5577-321, you can expect around 12 hours of use between charges from the 3,000mAh battery.  
Read More:
3. TP-LINK M7350 Wi-Fi Hotspot
The TP-Link M7350 is unquestionably one of the best portable Wi-Fi hotspots you can buy in 2022.
It can support 4G or 150Mbps speeds if the local network allows it, but it can also fall back to 3G or even 2G networks if necessary.
This feature is especially useful if you're traveling in remote areas where the infrastructure might not be as good as it is at home.
Up to 10 devices can be connected to this Wi-Fi, and the battery lasts for about 8 hours, but you do need to bring a SIM with you when you travel or buy one that works abroad.
The TP-Link M7350's crisp tiny LCD screen, which shows signal strength and battery life, is one of its best features.
Other features include a microSD card slot that enables you to share photographs, music, videos, and other material with your connected devices as well as the option to establish data restrictions and manage device connections through an app.
4. GlocalMe U3X Mobile Wi-Fi Hotspot
The GlocalMe U3X Mobile Wi-Fi Hotspot's ability to operate with or without a SIM card and use its cloud SIM technology to get online makes it one of the top best Wi-Fi hotspot devices.
You are always guaranteed to receive the best connection possible from your location because it can transition between various networks intelligently if necessary.
With GlocalMe U3X, you can get fast 4G download rates up to 150Mbps, and if you decide against using a local SIM, you can use the app that comes with it to purchase the data you require.
There is no contract to sign, and you can pay for data by day, month, region, or gigabyte.
GlocalMe U3X Mobile Wi-Fi Hotspot supported up to 10 devices and operated in more than 140 countries.
This model's battery life is estimated to be over 5 hours, which is great for longer trips because of the large 3,500mAh battery included here.
5. Netgear Nighthawk M2 Mobile 4G Router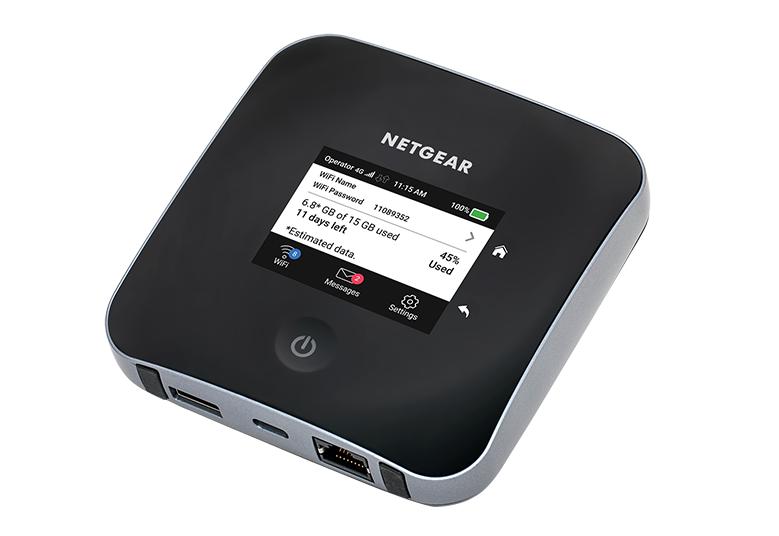 The Netgear Nighthawk M2 Mobile 4G Router is one of the best-specced portable Wi-Fi hotspots available in 2022 for traveling.
Its key feature is a top download speed of 2Gbps over 4G, assuming the local network can support that much speed.
The screen is also very large, measuring 2.4 inches, and it is filled with information, like the number of devices connected and how much remaining data you have.
This device even has an embedded Ethernet connector, and it can handle 20 more devices with Wi-Fi, which is twice as many as some of its competitors can.
Netgear Nighthawk M2 Mobile 4G Router also has an all-day battery life and its large 5,400mAh battery can be used to recharge additional devices.
You'll need to support the local 3G or 4G SIM cards yourself because the Netgear M2 lacks cloud SIM or eSIM support.
6. Zyxel 4G LTE-a Mobile Wi-Fi Hotspot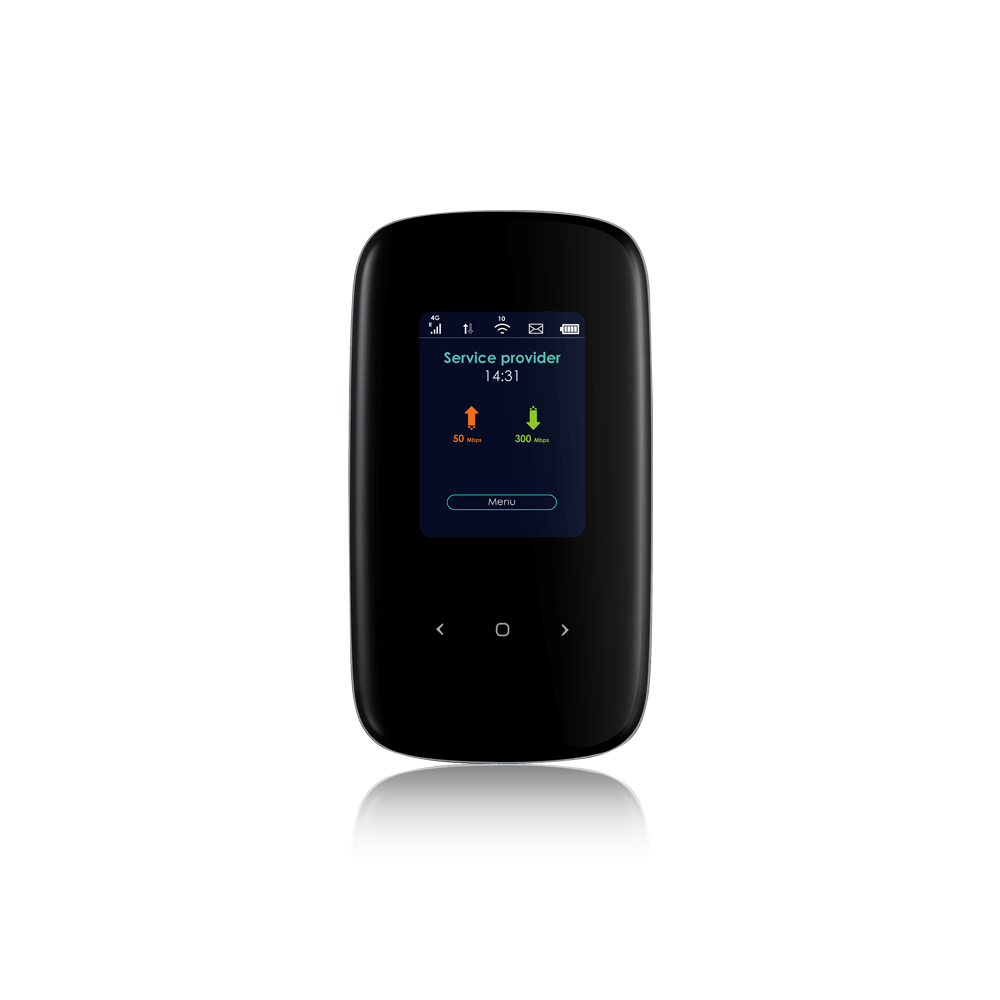 The ability of the Zyxel 4G LTE-A Mobile Wi-Fi Hotspot to connect 32 devices online at once makes it one of the best Wi-Fi hotspot devices in 2022.
This should be sufficient for you and the rest of the family, even if you each have two phones and a laptop.
Zyxel 4G LTE-A Mobile Wi-Fi Hotspot is a small, portable device that has a long battery life of about 10 hours.
It's one of the best portable Wi-Fi hotspots available in terms of screen quality, keeping you updated about your connection status and how much data you're currently using on the 2.4-inch color display.
Although internet speeds up to 4G at 300Mbps are supported, they also depend on the local SIM that will be inserted into your device.
You must also purchase individual SIM cards for each country you visit because there is no support for eSIMs or cloud SIMs in this location.
7. D-LINK DWR-932 Wi-Fi Hotspot
Portable Wi-Fi hotspots don't get much lighter, smaller, or more affordable than the D-Link DWR-932.
This device also offers 4G coverage with download speeds of up to 300 Mbps, so it's not too bad for actually getting you online.
You will need to purchase local SIMs for the many locations you travel to since there are no bundled data plans or integrated connection options.
There are LCD indicators so you always know what's going on and it is easy to set up and used.
How To Choose The Best Wi-fi Hotspot To Buy
If you want to use services like WhatsApp, FaceTime, Skype, Snapchat, TikTok, Facebook, Twitter, and Instagram while traveling, you'll need a data connection.
You can choose to buy a hotspot device without a SIM card, and then purchase a second SIM card from a specialized vendor or network provider such as your current operator.
You can also choose to buy an all-in-one mobile Wi-Fi hotspot with an integrated eSIM. This package typically includes some free international data as well as the ability to easily top it off online whenever you run out.
Combining everything into one package could perhaps result in saving you money, but be sure you obtain the data you need and that it is compatible with the nations you are traveling to.
If you want an incredibly fast connection, prioritize 4G or 5G data; and consider purchasing bundles of data to save money.
Conclusion
One of the best mobile hotspots to buy in 2022 that doesn't require a SIM card is the Urozetta Portable Wi-Fi Hotspot, so you can launch the companion app on your phone and select the data plan offer you desire.
The Huawei E5577-321 Mobile Wi-Fi Hotspot is one of the best multi-purpose mobile hotspots that is simple to set up, provides high-speed connectivity, and can be charged using a USB cable.
You can consider making these purchases on Black Friday because they are one of the product categories that frequently feature significant discounts, so you can get the best for less money.