A good resume is important in your job-seeking journey as milk is to coffee. 
This is especially true if you're new to writing résumés, you do not want to take chances by building your resume yourself. 
There are some great resume-building apps that can help you to create a perfect resume that can help you land any job you apply for. 
A resume builder is a terrific approach to produce a resume that looks professional.
However, with so many resume-building websites available, it can be difficult to decide which one is worth your time and money.
To assist you in making a better-educated choice, we'll be sharing our 15 top resume building apps for job seekers. 
Resume Building Apps 
Here are the top 10 resume builders available today:
1. LiveCareer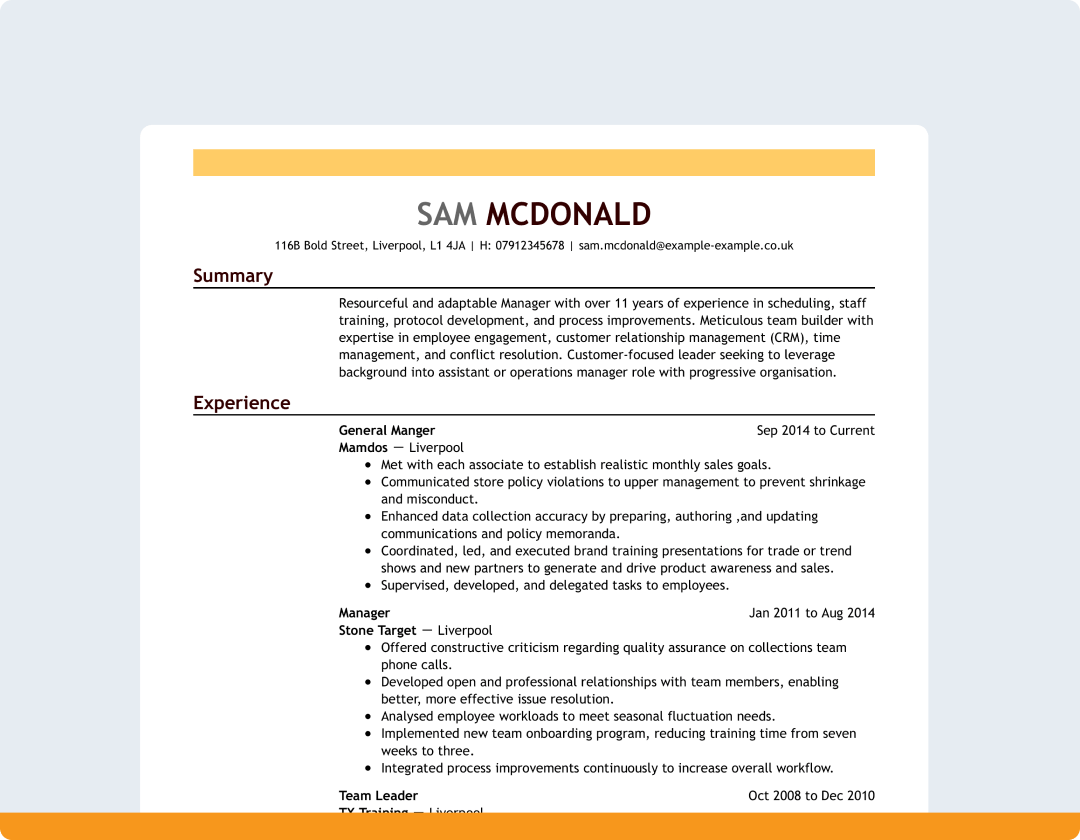 LiveCareer is a resume-building tool. It offers more than 25 resume templates that are appealing to various types of individuals, whether they be traditionalists, creatives, or mathematicians.
The dashboard can be used to make a résumé, a cover letter, or even to look for employment on well-known job search websites.
Additionally, it enables you to modify your resume in light of the job posting. You may see your match score by simply copying and pasting the job description into the tool.
2. ResumeLab
You may make a fantastic resume and cover letter together using the online tool provided by ResumeLab. You can select from more than 20 professional templates.
When you sign up, you receive a special AI-driven document strength meter that compares your resume to those submitted by other candidates in addition to the pre-written material such as experience bullet points or a career objective.
Each resume design is also editable in terms of color, section layout, and skill rating icons.
Pricing:
14-day full access costs $2.70 (automatic subscription renewal to $24.70 a month)
Annual access costs $71.40 (automatic renewal after 12 months)
3. Resume Genius
 A choice of 15 contemporary resume templates, all of which are incredibly professional and ATS-friendly.
The Resume Genius builder offers something else that few others do: its AI-powered program employs pre-filled bullet points to add to your experience area.
Each bullet item outlines duties and skills pertinent to your career and is taken from a database of typical professions. As a result, creating a resume using our software is quick and simple.
To obtain your personalized resume from the Resume Genius builder, you must pay a one-time fee of $2.95, or a monthly subscription of $7.95 for unlimited resumes and cover letters.
4. Canva Resume Builder
With a large selection of templates and customization possibilities, Canva provides a resume builder that is focused on style.
The great diversity of design choices offered by Canva, however, is where they truly shine. In fact, there are so many themes in the Canva builder that we lost track.
You can choose a template that suits you for each job you're applying for among Canva's wide selection of designs, which range from the contemporary to the quiet professional to the crazily wacky.
Canva does not, however, offer a pre-filled text or writing tips, in contrast to several other online résumé building apps. 
Furthermore, you cannot upload your current resume for a redesign and must manually complete each text area. It takes more time than the other websites we tried because of this.
If you want access to their "Canva Pro" service, the resume builder at Canva costs $1 per resume or $12.99 per month (after a free 30-day trial).
5. Zety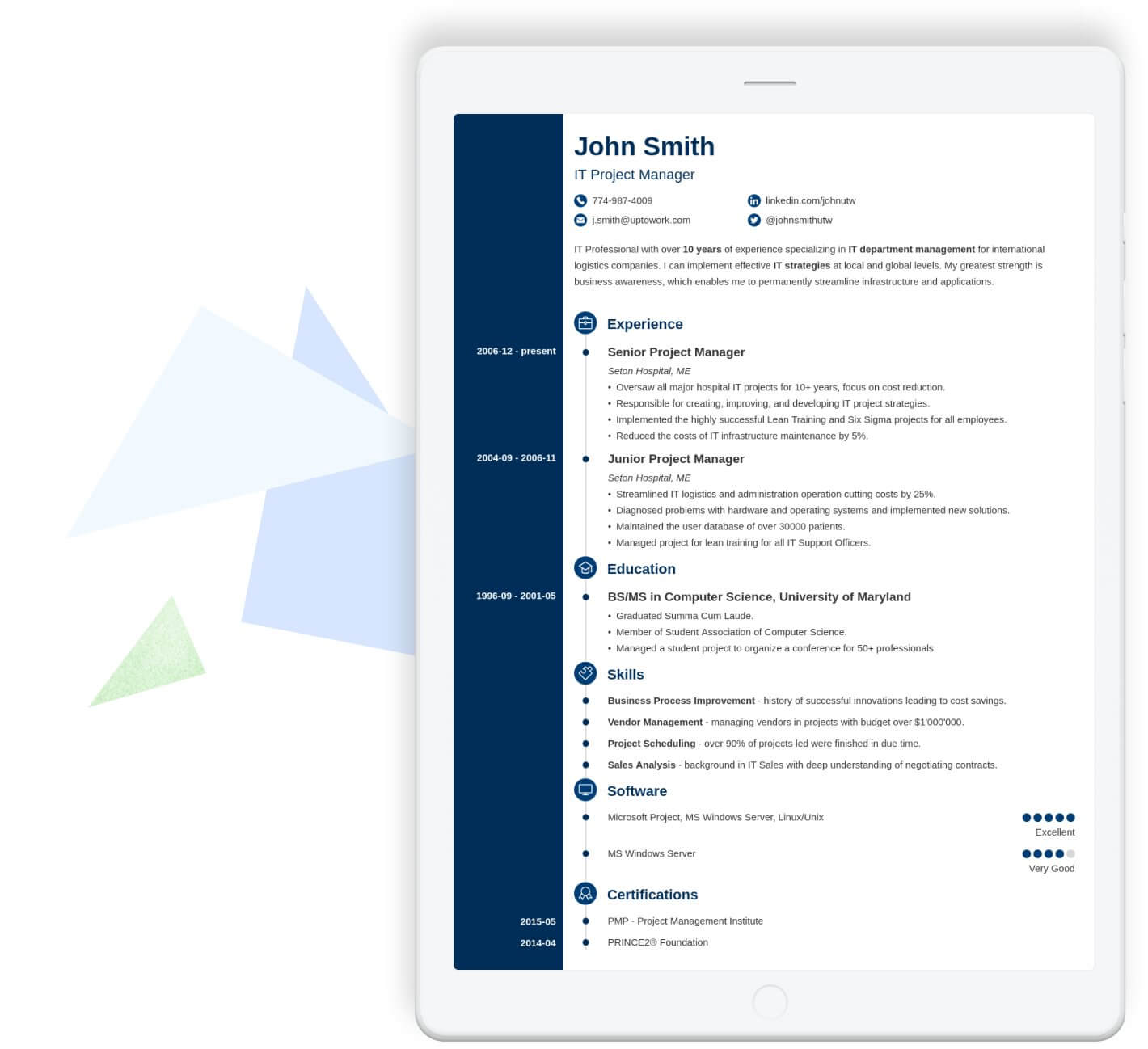 As one of the most popular online resources for career counseling, Zety offers a snappy, practical resume creator with a wide variety of design choices.
Zety's resume builder has a large library of pre-written bullet points, skills, and resume summaries. 
Each line that has already been created is specific to the field you work in and offers a quick fill-in-the-blank template.
Zety's resume builder is an excellent choice for anyone trying to save time because this tool substantially speeds up the process of building a resume.
Zety's as resume building app has primarily been criticized for having slightly similar-looking template alternatives. 
They're excellent for creating a contemporary, minimalist resume, but if you want your resume to stand out from the crowd, we believe it'll be better if you utilize a different service that offers a wider selection of template styles.
Price:  resume creator has a 14-day trial period for $2.70 and a monthly fee of $5.95.
6. Indeed Resume Builder
Despite being primarily renowned as a job board, Indeed also offers a helpful, quick, and simple-to-use resume builder.
Indeed provides job seekers with all the tools they need to put together a powerful CV, offering eight different templates. 
For those with unconventional work experience, their builder also gives the ability to add less typical resume areas like military experience and patents.
However, some essential features and selection of templates are lacking in Indeed's resume creator.
 When compared to rivals, all of their templates are pretty plain-looking, and many of them don't do a great job of utilizing available space.
Last but not least, the Indeed resume generator misses a number of useful elements that other online resume builders provide, such as pre-written bullets and the opportunity to add skill bars.
You May Like:
7. Resumonk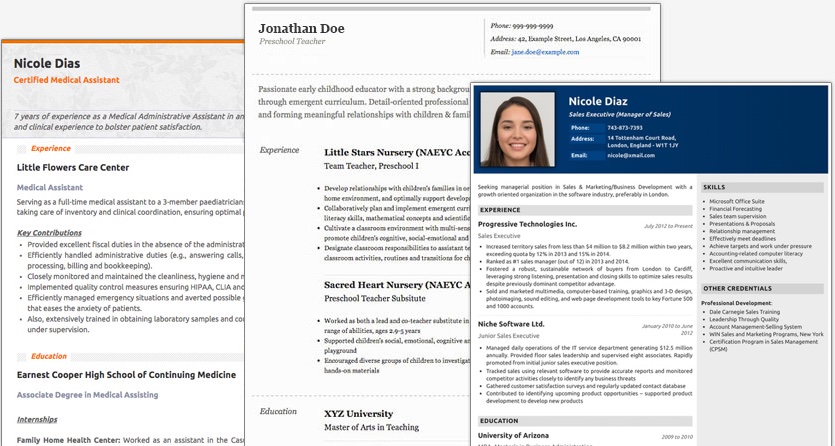 When you open an account with Resumonk, you may use this easy application to produce a resume and cover letter for free.
In comparison to other online resume builders, it has very minimal features, and both its user interface and functionalities give the impression that the software is a little old.
Limited access is free, premium membership is $29 per year, and a lifetime subscription is $99 for this resume-building app.
8. Resume Companion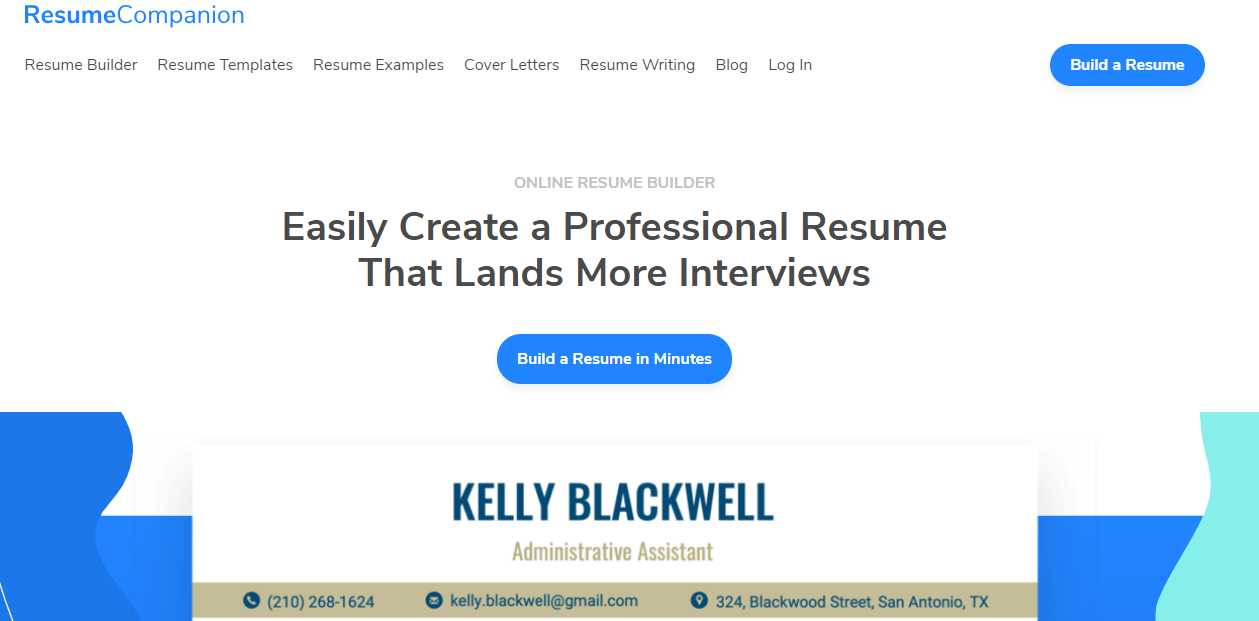 Resume Companion offers a high-quality resume creator that is equally excellent if not greater than the majority of the other online options while being relatively modest in comparison to the other websites on this list.
Resume Companion has several slick, contemporary-looking templates that are both stylish and professional, although their selection is less extensive than Canva's.
I particularly love the fact that their templates are offered in a variety of pastel shades that are appropriate for younger generations of job seekers, like millennial pink.
For you to fully access their software, The Resume Companion builder charges a $7.95 monthly fee or a $2.95 trial fee.
9. Novoresume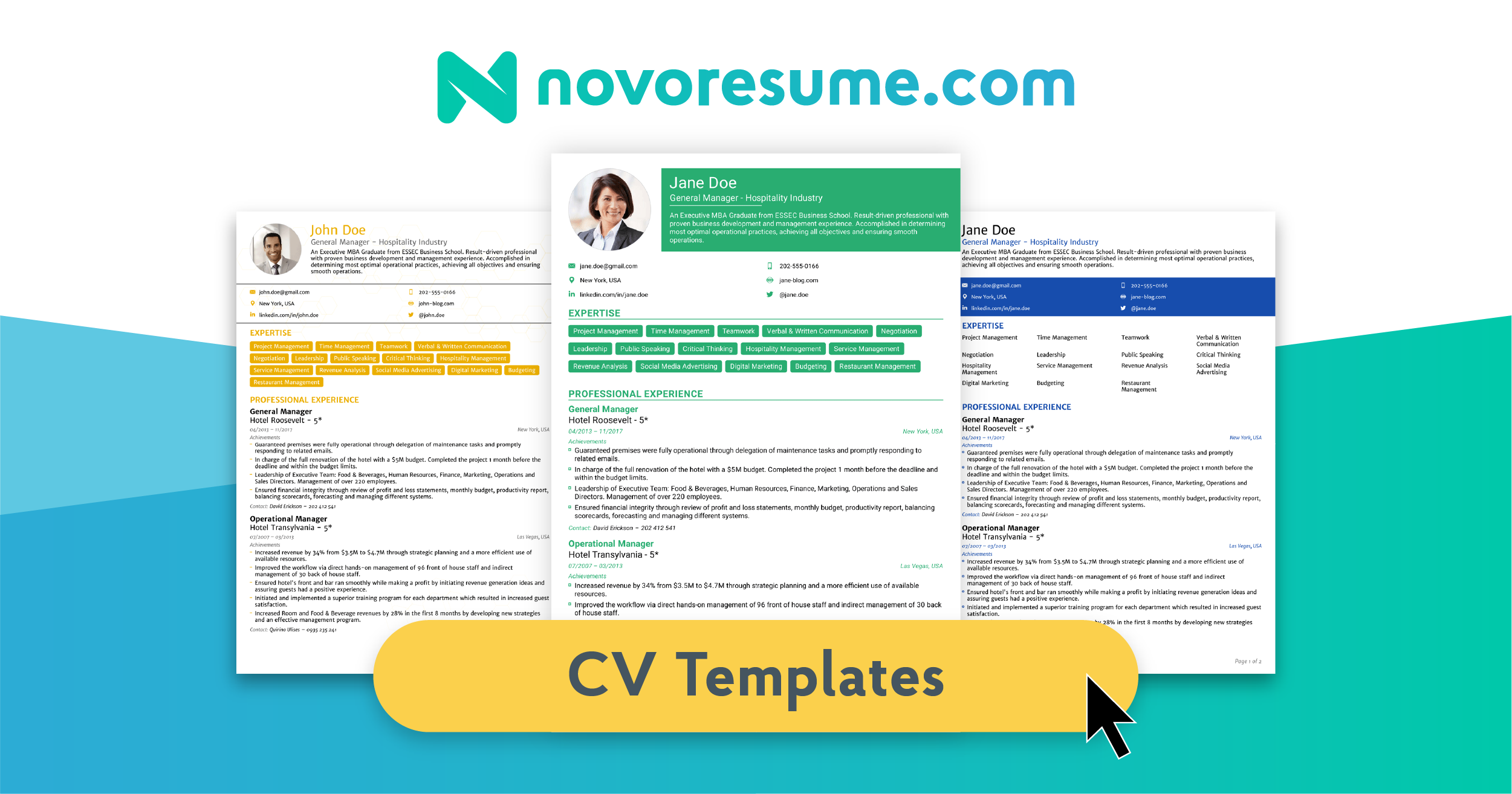 The Danish company Novoresume offers job seekers on both sides of the Atlantic a cutting-edge resume writer that works effectively.
Novoresume gives you the option to manually change the font, margins, and layout of your resume. 
To ensure that your resume is effectively written, Novoresume also offers a ton of tips as you write it.
The builder offered by Novoresume falls short in our opinion due to the somewhat constrained selection of templates. 
Most of their products share a common design and look similar to one another, so you're better off utilizing a different resume building app if you want a resume that looks more conventional or feels more creative.
You can get your resume as a PDF for free by using the Novoresume creator, which operates on a freemium premise. 
However, you must pay $16 monthly or $29.99 for three months if you want further services.
10. ResumeNerd
In addition to offering a robust online resume creator specifically designed for novices, ResumeNerd is a job board website.
By offering a ton of pre-written samples that users may include in their experience area, ResumeNerd stands out from the competition.
 They are a fantastic option for anyone writing their first resume because they provide a list of useful advice before filling out each area.
However, compared to some other online resume makers, ResumeNerd's template selection isn't as strong.
 Most of their templates are basic and not particularly space-efficient. If you have a lot of material to include on your resume, you should use a builder that offers more condensed templates or offers you more customization options.
The resume builder from ResumeNerd is $2.75 for a 14-day trial and $9.75 a month for a membership.
11. Enhancv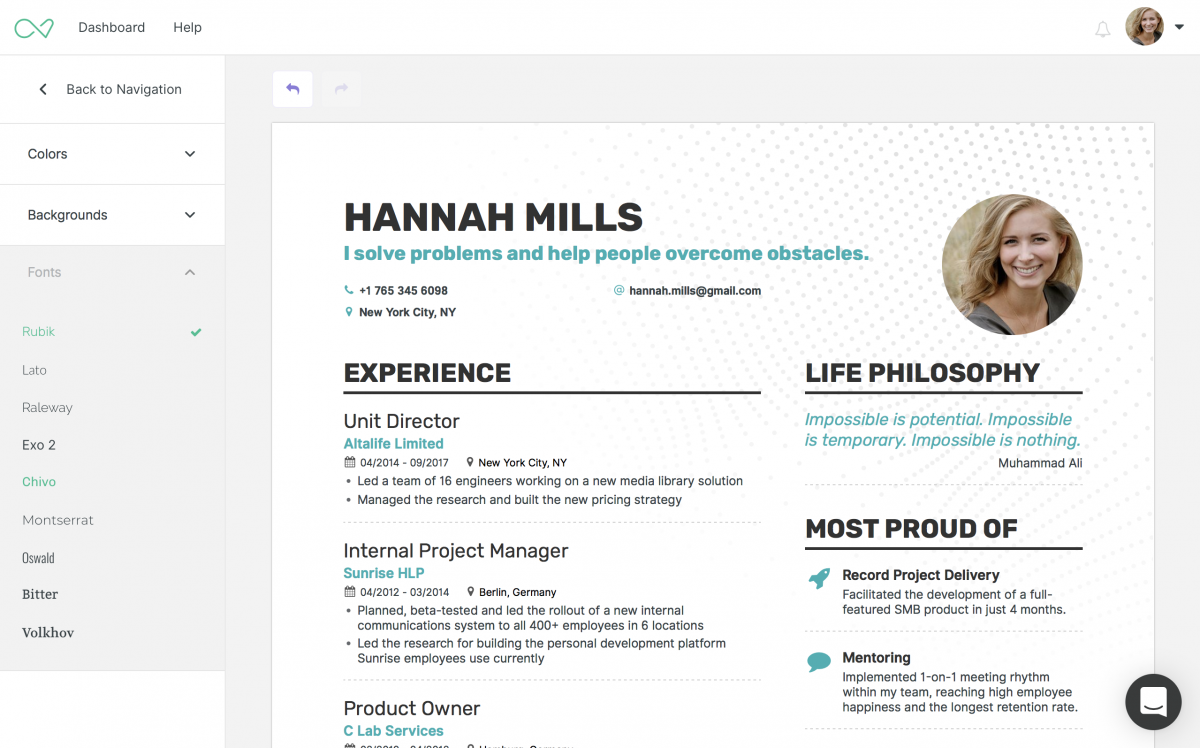 A contemporary resume creator is available from Enhancv, which has a current website design.
As soon as you begin the builder process on Enhancv, Julia, a virtual assistant and "resume specialist," welcomes you. 
Although a little strange, this is just one of many little things that give Enhancv the impression of being the most modern and cutting-edge resume creator we tested.
Additionally, Enhancv offers a variety of attractive, contemporary designs that effectively fit a lot of data. You can add mini charts or photos, as well as change many other parts of the template, using their builder.
Enhancv does not provide a guided experience or pre-written alternatives to expedite the resume writing process, in contrast to some other resume builders. 
This makes using their service a little frightening for those who have never written a resume before.
Furthermore, Enhancv encourages users to upload a photo, which is useful for EU job searchers but could be perplexing for American users.
Enhancv offers a freemium service, so you can use their resume builder to download a simple resume without having to pay anything. 
You must pay $14.99 a month, though, if you want access to their complete collection of templates, designs, fonts, and colors. 
12. MyPerfectResume
The large selection of pre-written material makes the resume builder at MyPerfectResume exceptional. 
It Speeds up and simplifies the resume-writing process.
But several of MyPerfectResume's templates appeared dated or had uncomfortable designs, in my opinion.
 For instance, some templates' formatting was extremely ineffective and left a sizable block of white space on the right side of the page.
The resume builder at MyPerfectResume costs $2.95 for a 14-day trial before going up to $5.95 for monthly subscription.
13. Wozber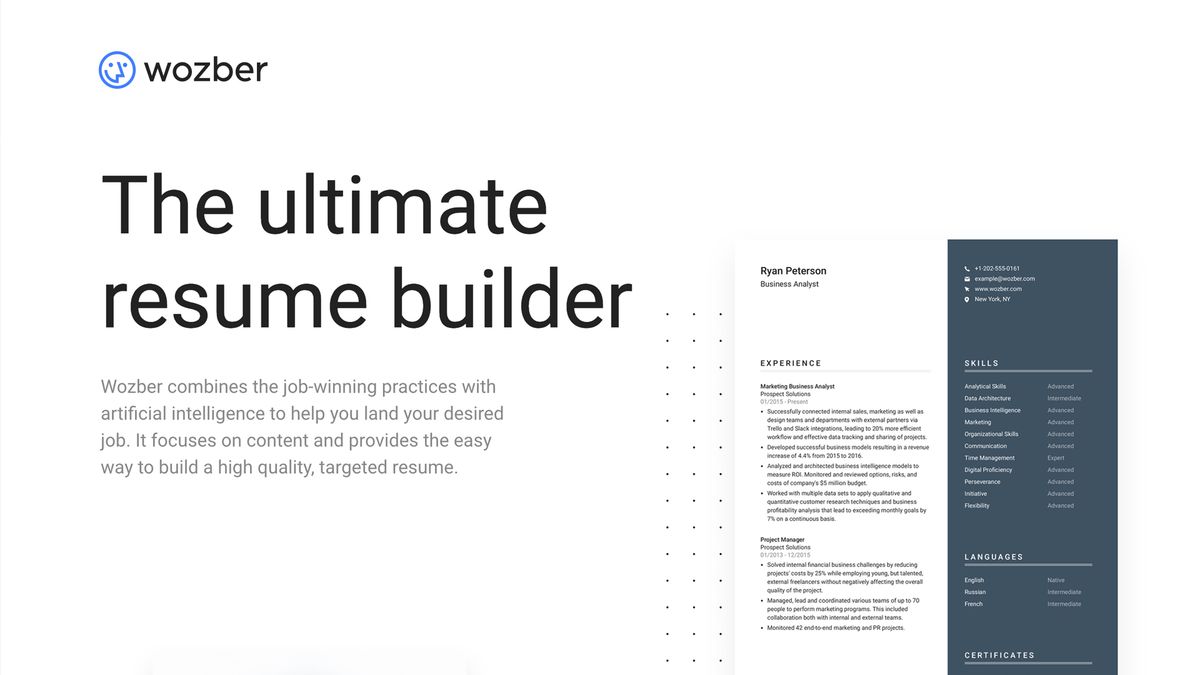 This app, which can be downloaded for free, includes features for creating both cover letters and resumes.
The downside, however, is that there isn't any pre-written information in the builder that would appear in the editor. 
Additionally, the best resume templates aren't always free. The app has an intriguing feature called the "Relevance Meter" that illustrates how well your resume matches the job offer.
Conclusion 
This article has successfully discussed 14 top resume building apps that could help all job seekers to create a perfect resume and land their dream job. 
With the aid of this article and the reviews on each app, you will be able to choose the app that best suits your needs. 
Have further questions? Please leave them in the comments section. 
FAQ
Are resume Apps worth it?
Yes. Our experience with the websites and services we examined suggests that it is advantageous to divide the work of preparing a resume into more manageable portions.
 Many of the software applications that we utilized feature tools that offer beneficial hints or instructions on each aspect.
What is The Easiest Resume Builder?
Unquestionably one of the simplest and fastest free resume tools available is Resume Genius. 
The program guides you through each component of your resume, such as schooling, employment experience, and references, using a clear and simple interface.
Where Can I Design my resume?
You can use Canva to design your resume. To begin creating your own, launch Canva and type "Resume" into the search bar.
 Pick from a large selection of resume templates that have been expertly prepared. 
Choose from a variety of layouts, such as simple or modern, or from fields like graphic design, performing, or more formal layouts.
Is it Safe To Use an Online Resume Builder?
Yes, using resume templates is OK as long as they are utilized properly.
 They're not quite as "evil" as some folks would have you believe. In reality, using a resume template occasionally might be really beneficial.
How Many Jobs Should You List on a Resume?
If all of your jobs are applicable and you aren't going over the maximum of 10-15 years, you should mention as many as you can on your resume. 
There are normally between 7 and 3 positions available. 
You shouldn't bother about the precise amount as long as each position or job is pertinent.
What is the Difference Between a CV and a Resume?
The CV is a comprehensive history of your academic accomplishments, hence its length varies. 
Contrarily, a resume gives a succinct overview of your abilities and experience for a particular position, so its length is typically shorter and determined by years of experience.
What Should Not be Included on Your Resume?
Too much information.
A long text wall.
Grammar and spelling issues are present.
Inaccuracies regarding your education or work history.
Insufficient personal data.
Your age.
Comments that are unfavorable to a previous employer
Too much information about your likes and hobbies.
How Far Back Do You Go on Your Resume?
10 to 15 years
For the majority of industries, career advisors and expert resume writers advise you to concentrate on the last 10 to 15 years.
Should I Put My Entire Work History on a Resume?
It is okay to exclude work experience if it is unrelated to the position for which you are seeking.
 If you don't have much experience, you can use your entire history to demonstrate your abilities.
How Many Pages Should A Resume Be?
The average resume should be one to two pages long. Some, though, may run three pages or longer.