If there are certain functionalities you wish you had in Firefox, don't fret as you can always have them through an extension. 
This way, you can have an incredible browsing experience from correcting your grammatical errors to recording your screen, safeguarding your passwords, and so on. 
In this article, we will be looking at the best Mozilla Firefox add-ons in 2022.
Top Mozilla Firefox Add-Ons In 2022
Sadly, a lot of people undermine Mozilla Firefox, and would rather settle for Google Chrome.
I am glad to announce to you that Firefox has innumerable features such as premium privacy and accessibility, in-built browser add-ons similar to that of Chrome and Edge, and so on.
The essence of these Mozilla Firefox add-ons is to enhance productivity and comfort through activities like sorting out passwords, clearing ads, or even proofreading documents.
1. Ad And Tracker Blocking: uBlock Origin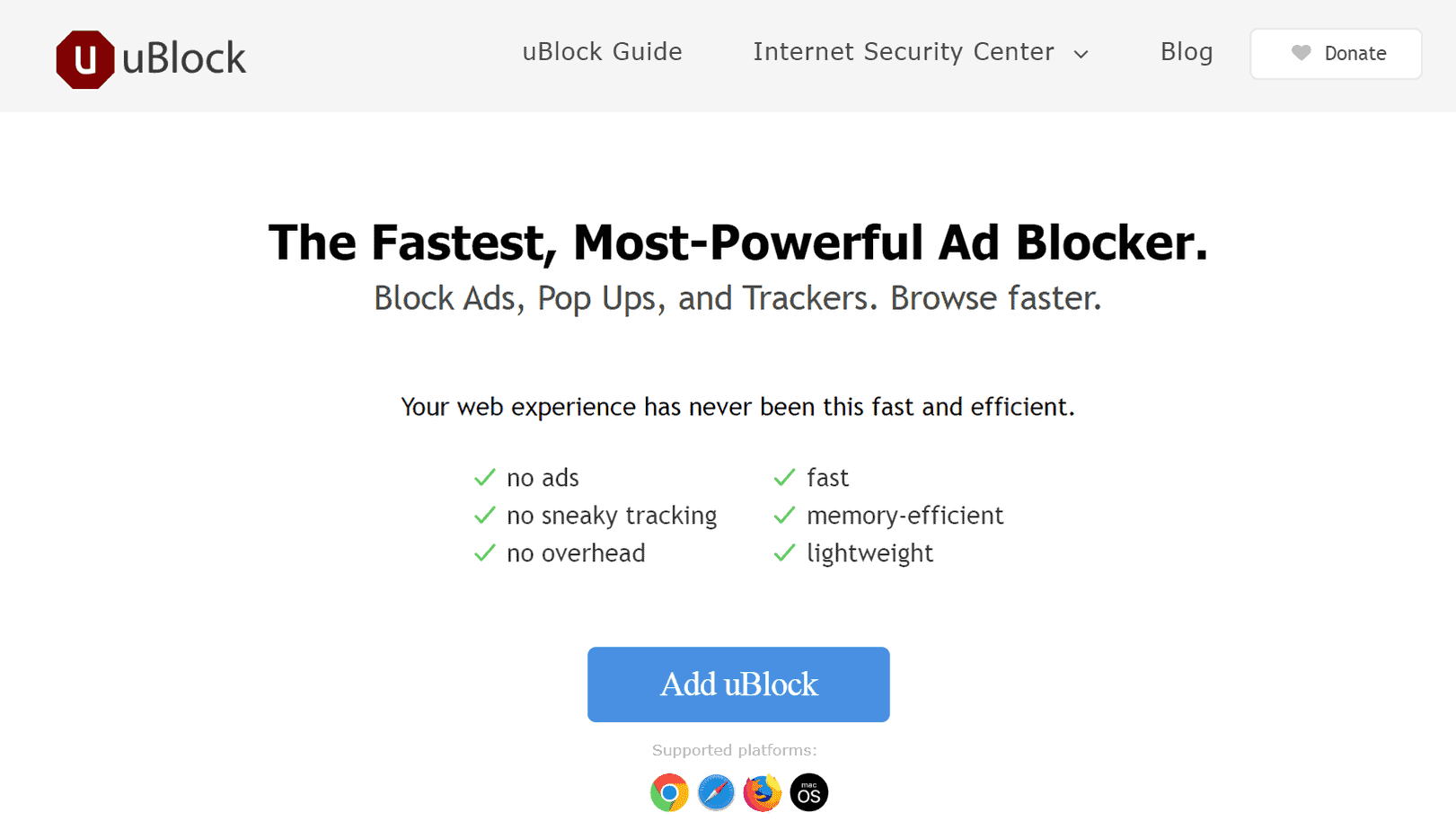 You need uBlock Origin if you must enjoy ad-and tracker-free browsing.
No doubt, Firefox blocks trackers by default, however, this Mozilla Firefox add-on blocks JavaScript globally, and this, in turn, enhances the performance of your browser and computer generally.
Interestingly, unlike most ad blockers, this one requires limited memory. 
Key features
– Blocks ads effectively with numerous updated ad-blocking lists, including EasyList.
– Blocks trackers to protect your privacy online.
2. Eye Protection: Dark Reader
Most online websites have a white background which is displeasing to the eyes, especially when surfing the net at late hours.
A lot of online users would rather prefer the dark mode option in apps so as to protect their eyes, and so if you are one of such users, the Dark Reader Firefox extension is the ideal option for you.
With it, you can enable dark mode on every website and minimize the effect of extensively straining your sight.
Key features
– Enables you to turn on dark mode for every website on the internet.
– Enables you to modify brightness, font settings, sepia filter, and more.
3. Password Management: LastPass
The LastPass Firefox extension is a Mozilla Firefox add-on that plays a key role in managing your passwords.
With this add-on, you don't ever have to worry about going through the hassle of recalling all your passwords, and thankfully, it is reliable as it keeps your passwords secured via two-factor identification on iron-clad, secure, and encrypted servers.
Furthermore, before you can access any password, you are required to provide either your LastPass password and your email address or a mobile phone number.
Key features
– Saves passwords securely in the cloud, you just need to remember one.
– It grants you access to passwords on all devices, and that includes native apps for Android and iOS.
– Safeguards your passwords with military-grade encryption.
4. Grammar And Spell Checking: LanguageTool
As humans, we tend to make certain errors when writing, it could be typographical or grammatical, whichever way, you need the  LanguageTool to aid you to avoid such when writing emails or web content.
So, if you constantly need to write, this is an ideal Mozilla Firefox add-on for you as you don't have to bother about having to ask Google for assistance.
It can also be used to crosscheck any social media posts or content to ensure they are grammatically correct.
Key features
– Ability to proofread, and edit while typing emails, social media posts, or creating other content online in your browser.
– Enables you to correct errors in your writing with a single click.
5. SEO: SEOQuake
Just as the name implies, SeoQuake is a useful yet free Mozilla Firefox add-on that helps to improve your SEO results.
Additionally, it grants users access to several SEO metrics that can help to boost your on-site SEO which will in turn improve your rankings.
Thankfully, it is an entirely free plugin, so consider this to be an opportunity to carry out an in-depth audit of your key pages and blog posts. 
Key features
– It shows you backlinks, traffic, display ads, and other SEO information for pages that you visit.
– Accesses the mobile usability of your site or your competitors' websites.
– Exports results to a CSV format.
– Provides social sharing statistics for different pages.
6. Readability: Tranquility Reader
Have you ever tried reading online content but continuously get interrupted by autoplaying videos, widgets, ads, and other invasive media content? It can be very frustrating!
The use of Tranquility Reader helps to cancel all of those aside from the text, and interestingly you can set this add-on in such a way that you detect what invasive content to automatically remove or keep.
Furthermore, if you're finding it difficult to read as a result of the size of the text or even the color of the background, this add-on enables you to set custom font sizes, colors, and backgrounds.
Key features
– Removes ads, auto-playing videos, social sharing widgets, images, and more from online content.
– Edits the font size, color, and background to make it more readable for you.
– Ability to save content offline for reading later.
7. Time Management: Tomato Clock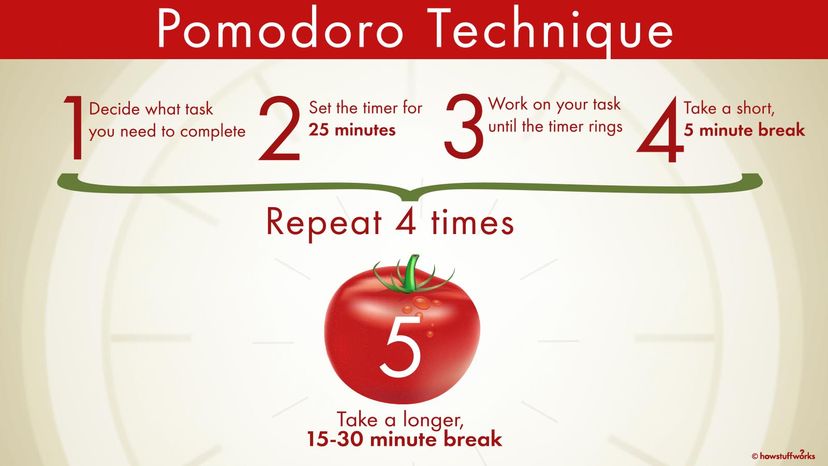 Are you struggling with time management or working remotely, the Tomato Clock will be of immense help to you as it follows the "Pomodoro technique" which entails dividing your work hours into sessions of 25 minutes accompanied by five-minute breaks
The essence of this Mozilla Firefox add-on is to keep you on track in terms of time management while working, and also schedule breaks for you so as not to burn out.
Again, you are free to adjust the timer lengths suitable for you, however, the whole essence is to improve your efficiency and productivity.
Key features
– Automatically tracks time worked and divides your workday into work and rest periods which is 25 minutes of work, five minutes off by default.
– Enables you to customize the timer to any length.
8. Tab Management: Tree Style Tab
While surfing the net, you will most certainly open different tabs, and as you keep shuffling between tasks, there is every tendency that you may lose track of a user page.
This is where the Tree Style Tab comes in as it helps keep everything in check by arranging your tabs into expandable "trees," this way you won't lose control over dozens of different open tabs.
You don't even need to instruct the extension as it cleverly creates the cue based on your cues search activity, however, you can edit it yourself.
Key features
– Opens every search result in a new child tab automatically.
– Enables you to restructure the tree using drag-and-drop functionality freely.
9. Screenshot: Full Web Page Screenshots (FireShot)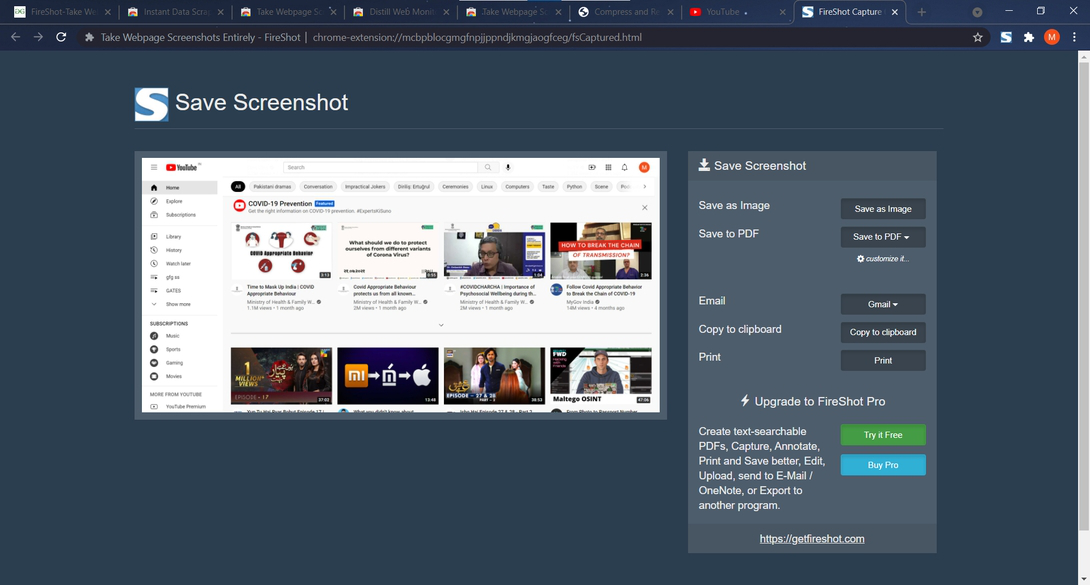 This Mozilla Firefox add-on provides users with an easy method of saving online research on their computers.
This can be achieved by capturing, editing, adding comments, and links, and then saving those screenshots either as a PDF file or an image.
Key features
– Capture partials or full-page webpage screenshots.
– It gives you the option to annotate with text, shapes, arrows, and icons.
– Saves as images or PDF files with links and text.
10. Secure Browsing: Avast Online Security
With the increased number of dangerous online sites, one has to look for ways to reduce exposure to scams and malware.
To achieve this, Avast Online Security extension for Firefox helps to avoid dangerous sites, malware, scams, or viruses online by using a crowdsourced library of web reputation ratings.
That being said, if you care about your online privacy and security, this Mozilla Firefox Add-on comes in handy.
Key features
– Prevents known phishing scams and malware sites using crowdsourced data.
– Enables you to check the rating of any website within splits of seconds.
– Gives you the option to rate websites on their trustworthiness.
11. Web Development and Design: Stylus
Enjoy your browsing experience using the Stylus extension, especially if you're a web developer or web designer.
This Mozilla Firefox Add-on allows you to redesign your favorite websites with the use of personalized CSS stylesheets.
Summarily, Stylus allows you to explore your creative juice so as to make the web pages look how you want them to.
Key features
– It enables you to create custom themes.
– It has advanced features like optional layouts, color and icon choices, and more.
– It gives you the option to install themes from other designers and developers.
– Backup all your designs with the click of a button.
Frequently Asked Questions
What Are The Must-have Extensions For Firefox?
Open-Source Mozilla Firefox Extensions You Should Try
– Dark Reader. Dark Reader is a popular browser extension that lets you turn on the dark mode for websites. 
– Bitwarden. Undoubtedly, one of the best password managers available out there. 
– Vimium-FF. 
– uBlock Origin. 
– LanguageTool. 
– Tabby. 
– Emoji. 
– DownThemAll.
What Happened To Firefox Add-ons?
Firefox Extended Support Release (ESR) version 52 was the last version that supported legacy extensions. Support for ESR 52 ended on September 5, 2018. In October 2018, all legacy add-ons were disabled on addons.mozilla.org (AMO). Users will no longer be able to find legacy add-ons on AMO.
Does Firefox Have Extensions Like Chrome?
Extensions for Firefox are built using the WebExtensions API cross-browser technology. The technology for extensions in Firefox is, to a large extent, compatible with the extension API supported by Chromium-based browsers (such as Google Chrome, Microsoft Edge, Opera, and Vivaldi).
How Do I Use Firefox Extensions?
To enable extensions
Click the Firefox menu icon. in the upper right of the browser toolbar.
Choose Add-ons.
From the left navigation pane, choose Extensions.
Choose Enable for each extension you wish to turn on.
How Do I Customize Firefox?
– Customize Firefox controls, buttons, and toolbars. 
– Bookmarks Toolbar – Display your favorite websites at the top of the Firefox window. 
– Font size and zoom – increase the size of web pages. 
– Use themes to change the look of Firefox. 
– Change the fonts and colors websites use. 
– Restore the Menu bar in Firefox
How Do I Add Tools To Firefox?
Turn on the Menu bar or Bookmarks toolbar
Click the menu button. , click More Tools, and select Customize Toolbar.
Click the Toolbars dropdown menu at the bottom of the screen and choose the toolbars you want to display. 
Click the Done button.
How Do I Improve The Appearance Of Firefox?
– Customize Firefox controls, buttons, and toolbars.
– Change the fonts and colors websites use.
– Use themes to change the look of Firefox.
– Bookmarks Toolbar – Display your favorite websites at the top of the Firefox window.
– Font size and zoom – increase the size of web pages.
– Restore the Menu bar in Firefox.
Can You Download Apps On Firefox?
Open Firefox on your Android phone or tablet. Visit the webpage for the app you want to install (for instance: Instagram.com, Facebook.com, etc.) Click the menu button. Click Install.
How Do I Add Custom Extensions To Firefox?
In Firefox: Open the about: debugging page, click the This Firefox option, click the Load Temporary Add-on button, then select any file in your extension's directory. The extension now installs and remains installed until you restart Firefox
What Is The Latest Version Of Firefox For Android?
What Is The Difference Between Firefox Focus and Firefox?
The two most important "features" of Firefox Focus are its ability to prevent trackers and its minimalist design. Focus has more privacy-friendly defaults* than ordinary Firefox on both Android and iOS.
Is Firefox or DuckDuckGo better?
As DuckDuckGo is a browser only on mobile devices, it does not support syncing of your data. Also, the browser is private, so syncing data is somehow not under its roof. Firefox, on the contrary, supports account login and syncing.
Conclusion
I bet you've seen the best Mozilla Firefox add-ons in 2022, and their features as this will aid you in utilizing the potential Mozilla Firefox web browser.
Which of them do you think you need to install on your PC, and what are your reasons?
Share your thoughts with me in the comment section.