An active lifestyle is essential for maintaining a healthy heart.
As the world progresses, people are becoming more and more health conscious. And why wouldn't they be? 
With all the processed food available and the number of people suffering from obesity and heart disease on the rise, it's no wonder people are looking for ways to monitor their health.
People use a heart rate monitor apps to do this efficiently.
We all understand how important it is to keep track of our heart rate. It's a vital health metric that can tell us a lot about our overall fitness and well-being. 
There are a lot of excellent heart rate monitor apps out there that can help us stay on top of our heart health.
We got you covered if you need a reliable and accurate heart rate monitor app for your iPhone. 
Here are the ten best heart rate monitor apps for iOS in 2022.
Best Heart Rate Monitor Apps For iOS In 2022
Many heart rate monitor apps are available for iOS devices, and choosing the best one can be difficult. 
To assist you in making the best choice below is a compiled list of the ten best heart rate monitor apps for iOS in 2022:
1. Instant Heart Rate
Instant heart rate monitors blood circulation.
It works like a pulse oximeter as it records the change on your finger to give you an accurate heart rate measurement.
Other features include heart rate reading, PPG graphs, BPM, Google Fit support (heart rate and heart rate data), and heart rate sharing.
It is among the most accurate heart rate monitors.
UCSF uses this app to read heart rate.
It does an excellent job of measuring heart rate after bed rest, exercise, or training.
It does not require heart rate straps to function.
2. Qardio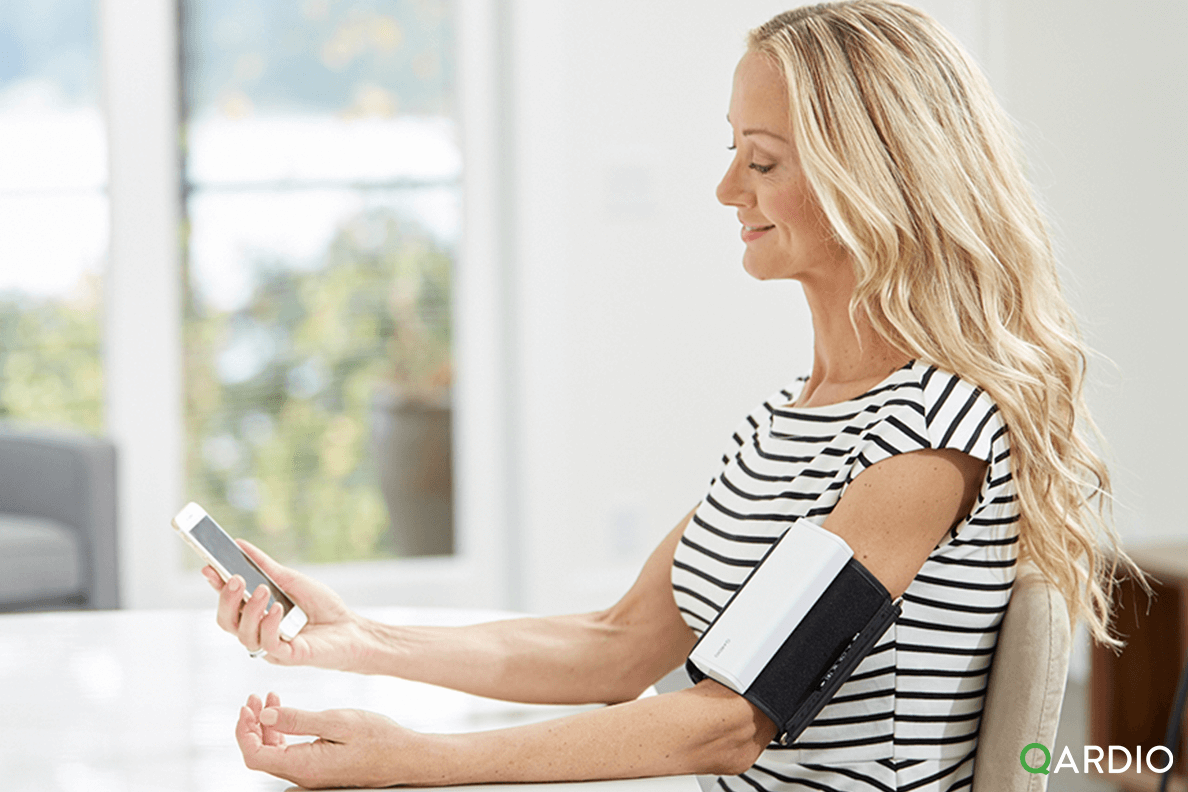 Qardio is an excellent iOS app for natural health tracking purposes.
Qardio enables you to view charts, set reminders, and even share your data, and it doesn't cost you a penny.
This app helps to track your blood pressure and all weight-related data.
It allows you to choose the most revealing health diary that manually discusses everything related to your blood pressure or weight.
You can transfer your data from other apps or sync it through your Qardio device.
3. Sleeptracker 24/7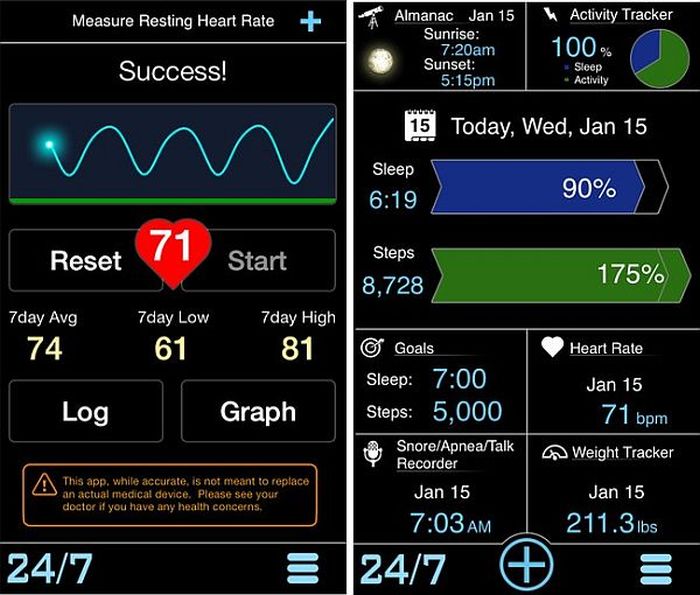 This app helps you track your breathing, heart, and movements throughout the night.
It features a sleep coach that tips and steps to improve your sleep.
This app even checks how often you wake up in the middle of the night.
You also get a sleep score.
Sleeptracker 24/7 is the first cloud-based non-invasive IoT sleep optimization solution using artificial intelligence in the smart home.
It offers sleep charts every day.
4. MotionX 24/7
MotionX 24/7 is a sleep tracker that detects snoring or talking with an alarm clock to wake you up in the morning.
It performs simultaneously as a sleep tracker, pedometer, and heart rate monitor.
These three functions work wonderfully.
The app is excellent for users interested in tracking a specific heart rate measurement, such as resting or heart rate during exercise.
5. Polar Beat
Polar Beat is one of the best free sports and fitness tracker apps that can share on Facebook and Twitter.
You can customize a personal training plan, set a goal, and do everything to achieve it.
Its features allow you to receive voice instructions during your workout, see the personal bests you've set, track your heart rate, calories burned, and much more.
You can run, bike, exercise, walk, dance, or do any activity while you reach your goals and improve your health.
6. HRV4Training
HRV4Training helps you ensure your training runs alongside ideal recovery plans.
It is also great for marking your siesta, mental energy, muscle fatigue, and stress.
This app helps you reach your goals and helps prevent overtraining
It measures your heart rate variability and offers appropriate feedback about your physical condition.
This app doesn't need a heart rate monitor because it can correctly evaluate your HRV through your phone's camera.
The app also instantly detects whether your mobile device is supported or not, so you don't have to worry about wasting money.
Read more:
7. Elite HRV
Elite HRV measures your body, weight, exercise, and mood in two minutes.
This app tracks your recovery stress level.
It also increases your endurance and nervous system through controlled breathing and HRV biofeedback.
Elite HRV ensures you have a deeper understanding of your body's state of recovery and ability to handle more significant stress.
8. FITIV Pulse
FITIV Pulse functions as a heart rate and training monitor.
It allows people to customize heart rate zones, control music in the app, and track their calories.
You can track your workouts with your favorite Bluetooth heart rate monitor from popular brands like Polar and Wahoo so that you can track your progress from time to time.
It uses clear heart rate graphs and displays videos during your workout to let you know what you need to work on to achieve your desired results.
FITIV Pulse is designed to motivate, engage and update your fitness.
9. Cardiograph
A cardiograph uses your phone's built-in camera or a dedicated sensor to capture your heart rhythm, just like professional doctors do.
It allows you to save your results for the future and measures your heart rate.
Cardiography enables you to set up profiles for your family members or friends, so they know about their health.
Cardiography is very effective during exercise.
You are fully aware when stressed if you have any heart-related medical condition.
10. Runtastic Heart Rate Monitor And Heart Rate Monitor
All you have to do is subtly place and hold the index against the rear camera lens and the flashlight, and your heart rate will be displayed to you as soon as possible.
Make sure you don't push too hard, as this can alter the desired results.
Runtastic also has graphs that illustrate your heart rate readings in a way that makes sense.
You can also upload your results to the app.
This app provides information about how fast or slow your heart rate is.
You don't need to put any extra straps on your heart rate monitor to enjoy the features that come with the app.
Conclusion
Heart rate is an important metric to track regardless of your fitness goals. 
And with one of these apps, you can easily track your heart rate on your iPhone.
Many great options are available if you're looking for a heart rate monitor app for your iPhone. 
This article has rounded up the ten best heart rate monitor apps for iOS in 2022.
If you're looking to track your heart rate for fitness or medical reasons, one of these apps is sure to meet your needs. 
And, if you're looking for a fun way to track your heart rate, some apps offer features like heart rate zones, alarms, and more.
Irrespective of your needs, a heart rate monitor app on this list is perfect.