A printer is useful for so many things in an office, and if you work from home and use a computer, you probably need a printer too. 
With each passing year, new models of printers are made, yet getting the perfect printer can still be a hassle. 
No worries though, as this guide to buying yourself a perfect printer in 2022 will make your purchasing process less stressful and will help you get the best printer for your needs. 
Just as I mentioned, there are many models of printers available today, but getting the perfect one for you isn't so easy, so to help you choose the right one, we'll now be discussing two types of Printers first. 
Types of Printers 
Since we're talking of printers for personal use, we will be considering two types of Printers: Inkjet printers and laser printers.
Note that these printers still function well in business places. 
1. Inkjet printers 
The text and pictures that appear on a page are produced by inkjet printers by sprinkling tiny amounts of ink onto paper.
 These tiny ink dots allow for the placement of various colors next to one another, producing a wide variety of colors.
Inkjet printers are a popular choice for consumers on a low budget because they are often less expensive than laser printers.
For tasks requiring a variety of colors or intricate graphics, color inkjet printers are excellent. Inkjets provide high quality printing if you intend to print photographs or charts.
Recommended
2. Laser Printer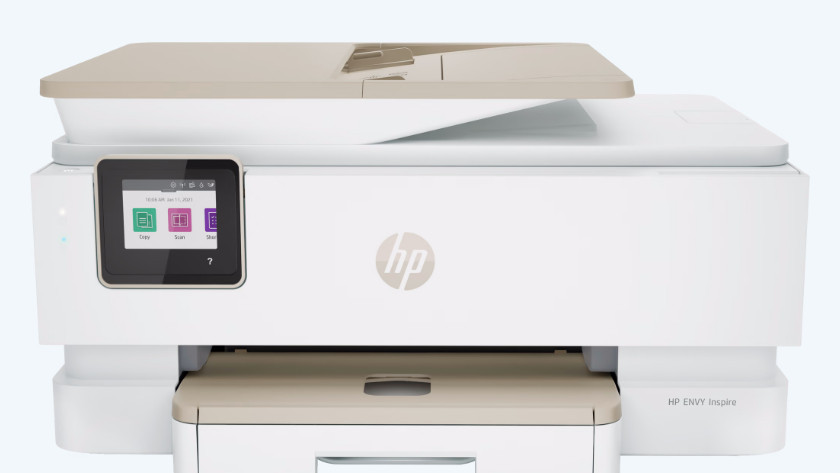 Toner, a fine powder used in laser printers, is applied to the paper using static electricity. Laser printers often print much more swiftly than inkjet machines do because this process happens quickly.
You may quickly print a variety of papers using either the color or monochrome laser printers that are both available.
If the majority of the printing you need to perform is monochrome, laser printers will be a suitable choice for you. 
Now let's discuss the elements to look out for when buying yourself a perfect printer. 
 Elements To Look Out For When Buying Yourself A Perfect Printer
1. High Stability
Printer stability means there won't be any issues following long periods of non-usage and the device won't require routine maintenance.
Select an inkjet printer if you plan to use it frequently. Choose a laser printer if you don't use it frequently.
Also, inkjet printers are simple to plug in even if you don't use them frequently. Although printhead cleaning is a feature of the inkjet printer driver software, most customers are unsure of how to utilize it.
Additionally, if it is left in place for a long time, software cleaning won't be as important. Additionally, cleaning inkjet printers requires disassembling the equipment.
However, this won't occur with laser printers. A printhead is not required since the ink is the resource that the laser printer uses. The machine can be operated routinely for one or two years as long as it is kept dry and free of moisture.
2. Easy Use
Ease of use here refers to the machine's efficiency and how simple it is for users to operate it. And whether replacing it is easy and practical.
In actuality, all printers operate in a similar manner, but American-made printers are more suited for novice users. It is recommended for you to select an American brand if you have never used a printer before.
In the event that you lack good manual dexterity and you have or you want to acquire an inkjet printer, you should avoid adding your own ink. 
If you're not proficient, it's simple to spread the ink all over, and it's challenging to get the ink out of clothes.
If you use a laser printer, adding toner yourself can optimize the use of toner cartridges, but if you don't know how to do it, it will be a disaster.
Even though adding ink or toner appears straightforward, many customers still find it difficult. Additionally, a faulty operation can quickly result in toner leakage. 
3. Cost of The Printer
We're still on the things to look out for when buying yourself a perfect printer and you do not want to forget about pricing. 
 Printer prices might vary greatly and it's sensible that you don't spend more on your new printer than you can comfortably afford.
However, the problem with spending on a printer goes beyond its initial price. The continual cost of new ink is something else to take into account.
The most affordable printers frequently use some of the most costly ink because that is how the suppliers make their money. 
Therefore, conduct some internet study before going to buy any printer. Verify that the cost of the replacement cartridges is comparable to that of other models in the same price range.
It's also important to find out if you can replenish the ink cartridges and purchase third-party ink for your printer. Be careful in using ink cartridges that are not authorized as it could have an effect on the printer's guarantee. 
4. Type of Ink
There are three typical ink cartridge types:
 Two ink cartridges: consisting of a black ink cartridge and an all-in-one color ink cartridge.
Four Ink Cartridges: A black cartridge as well as separate cartridges for cyan, magenta, and yellow make up the set of four ink cartridges. The color model is CMYK.
Inkwells: The printer receives its ink from sizable, refillable wells rather than cartridges.
Inkwells are without a doubt the most cost-effective option over time of the three. One refill of the Epson Expression ET-3700 EcoTank, for instance, can print 14,000 pages in black or 11,200 pages in color. These refills can last up to two years or more even with constant usage. 
One could also purchase laser printers, which print with toner rather than ink and have finer edges and clearer images than inkjet models.
People who require regular printing can choose between CMYK and inkwell printers, while those who require high-quality color outputs for business purposes should choose a laser printer.
5. Print Quality
Alongside having the highest quality, laser printers are also the most expensive to purchase and maintain.
An inkjet is therefore perfectly acceptable for home users. However, there are big differences in print quality amongst inkjet printers.
The design of the printhead, the printer driver, and the caliber of the ink are a few factors that have an impact on print quality.
 However, the printer's DPI is the main specification to pay attention to (dots per inch). It shows how precisely a printer can reproduce an image's pixels.
There are inkjet printers available with resolutions ranging from 600 x 600 DPI to 4,800 x 4,800 DPI.
6. Printer's Speed
If you print a lot, especially papers with many pages, print speed will be a key consideration in your purchasing choice.
Pages per minute are used to measure printer speed (PPM). Pages of text and pages of images will print at various PPM rates depending on the printer. 
However, you frequently only see one PPM rating while inspecting a package in a store. It describes the number of pages of black text that the printer can produce in a minute.
The PPM ratings of consumer-grade inkjet printers again show a wide range. Anything from 5PPM to 25PPM might be found.
7. Wireless Connectivity
The connectivity of a new printer is yet another important feature to consider. 
You should ask yourself two questions to figure out which connections you require:
What devices will you use to print?
What location will you use to print them?
Wired connectivity is available on every printer on the market. They're able to attach to your computer through a USB port.
Some models do, however, also have Bluetooth and Wi-Fi connectivity. Additionally, devices that enable Apple AirPrint and Google Cloud Print are becoming more common.
 When Wi-Fi and cloud storage enables you to print documents remotely while you're away from home, Bluetooth is excellent for printing from nearby mobile devices.
8. Extraordinary Qualities
Printers are capable of more than just printing. There are all-in-one computers that are capable of copying, scanning, and even sending faxes.
All-in-one printers tend to cost a little more, but for many users, the added features are worth the extra cost.
Additionally, keep an eye out for manufacturer-specific extra features like online apps and unique photo printing modes.
Note that sending faxes does not require the use of a printer. Both from a PC and an Android device, you can send faxes.
9. Paper Format
Legal-sized paper cannot be used in every printer. Comparable to all-in-one printers, many of the scanner beds are too small to accommodate legal documents.
On the top of certain high-end all-in-one computers is a separate scanner feeding tray. This can be used to scan bulky documents or stack several papers together to create a single PDF file.
10. Portability
There are a wide variety of sizes and shapes for printers. There are currently numerous mini kinds of printers available if you're seeking one that will fit in a small space.
 The functionality of the scanner and copier may have to be sacrificed, but it's still a fine choice for infrequent users.
Some devices fall on the opposite end of the spectrum and are noticeably larger. 
They wouldn't be essential in your home because they are often marketed toward the small office environment.
Keep in mind that technology should be attractive. So you want to avoid purchasing items that clash with their surroundings.
FAQ
What Are The 3 most common printer types
Multi Function Printers (MFP) 
Inkjet Printers
Laser Printers
Is an HP or Canon printer better?
HP printers outperform Canon printers in terms of graphics.
 All Canon and HP printers are capable of producing beautiful glossy images, but Canon prints have a more realistic appearance than warmer HP prints. 
Canon is better favored in this situation for printing excellent, authentic glossy images.
How to buy a printer? 
Think about your needs and purchase the items that best satisfy them. Do you need an inkjet printer for everyday use, a monochrome laser printer for heavy-duty tasks, or a portable picture printer for fun? 
Only you know what you're going to print and how frequently. I advise against making your choice based entirely on the cost of the printer.
 Take into account the price of ink and how frequently you'll need to refill your ink supply. 
You'll have a better understanding of which printers are ideal for your demands and budget if you take that into account when calculating overall cost.
Which Printer is Better, Epson or Canon?
Once it relates to print quality and paper handling, Canon is the undisputed champion. 
However, Epson wins top place for having the fastest printing speeds, the most inexpensive ink selections, and the capacity to handle heavy printing loads.
What is the disadvantage of a Laser printer?
Unlike inkjet printers, which can print on a variety of papers, laser printers cannot. You can't put anything that is heat-sensitive through them.
 Simple graphics may be printed on home laser printers, but clean pictures are difficult. Choose an inkjet printer if you wish to print images.
Is it Worth Getting a Laser Printer for Home use?
Although they initially cost more than inkjet printers and require more expensive toner cartridges, laser printers still end up being more cost-effective because of their quicker print rates and lower average cost per page.
How Long Do HP Printers last?
A printer typically lasts between three and five years. Some printers can live longer with appropriate care, but ultimately you'll need to upgrade your device.
How long do Laser cartridges last?
Based on a coverage of 5%, a normal toner cartridge will generate between 2,500 and 4,000 pages before it finishes. 
Is ink Cheaper than toner?
In general, toner cartridges cost more than ink cartridges but produce more pages and last longer. Because of this, laser printers often have cheaper operating costs per page than inkjet printers.
Conclusion 
Your ability to get more work done at home will increase as long as you choose a printer that works for you and your surroundings and I'm sure with this guide to buying yourself a perfect printer you're already close to getting the perfect printer you deserve.
On the other hand, if you make the mistake of picking the wrong printer, it won't end well and minor issues will keep popping up.
All of the factors we discussed in this article must be taken into account before you make any purchase. 
 If you have further questions on this, please share them in the comments section.