We all know how frustrating it is to take a great photo only to realize that our face looks funny.
But, with the help of the best funny faces apps for Android, you can ensure that your next photo is perfect.
These apps will let you add a variety of different effects to your photos, including things like funny faces, hats, and glasses.
And, best of all, they're all free to download and use. So, if you're looking for a way to add fun to your photos, check out these ten best funny faces apps for Android.
Best Funny Faces Apps For Android
If you're looking for apps that can help you create funny faces, below are the ten best funny faces apps for Android:
1. Switch Your Face
If you want to change your face, this app is for you.
This app allows users to create funny faces and share them with friends.
Users can also change their voice and add some effects, like changing their hair color or skin tone.
You can also change your face into a cat, dog, or alien by choosing from various categories such as animal friends (cats), dogs, and aliens.
If you want something more creative than those options, choose one of the many other options, such as celebrity faces (Bob Marley), zombie faces, and more.
You can also create your face and share it with friends.
This app is very easy to use and has a user-friendly interface that makes it even easier for users to create funny faces and send them to friends via email or social media sites like Facebook or Twitter.
2. Face Changer 2
Face Changer 2 is a free app that allows you to change your face from male to female or old to young.
You can also add different hats and glasses and facial expressions like smiling or frowning.
You can even add makeup.
The app has many features, but the most important is its ability to change your face's appearance.
You have to take a photo or upload one from your gallery, then choose the body you want for your face.
You can also add accessories like hats and glasses.
The app is easy to use, but it might not be easy if you don't know how to use photo editing apps.
The interface is quite straightforward.
You need to tap on the button that says "change face," then select a body type (male or female).
3. Funny Face Maker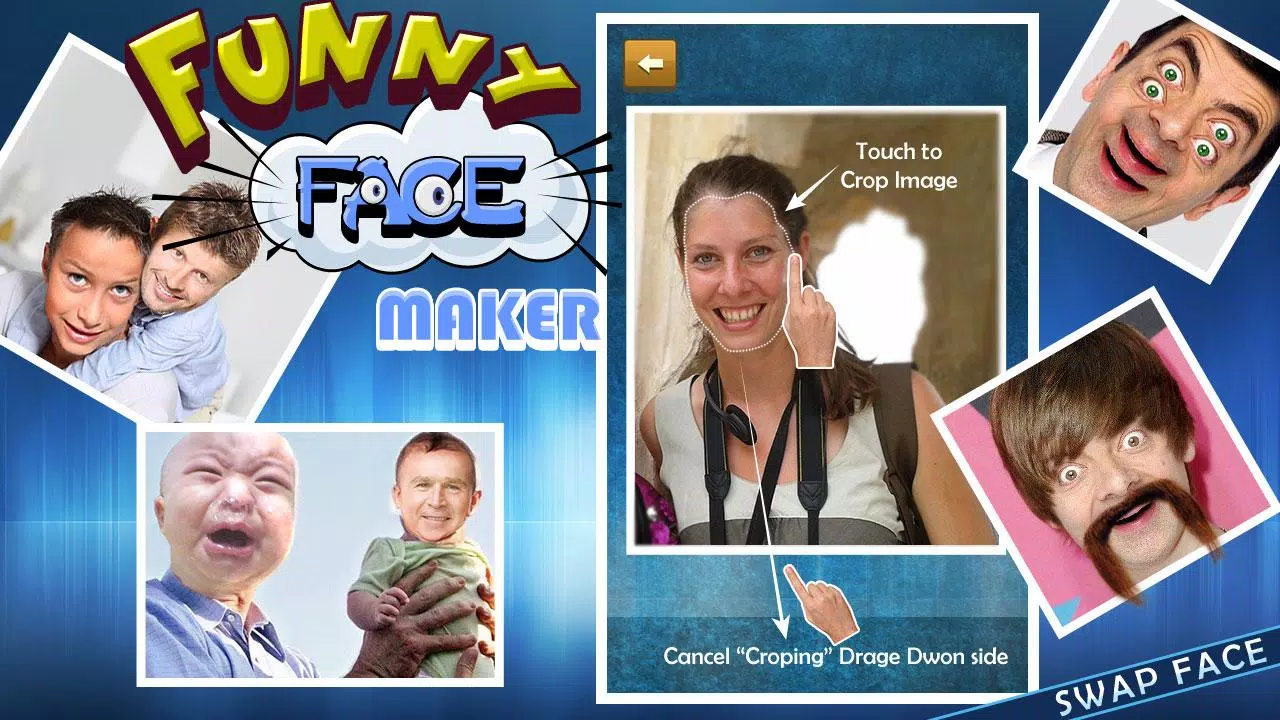 Funny Face Maker is a fun app that lets you create funny faces with your phone's camera.
You can change eye and hair colors and add accessories like glasses or hats.
You can also share those funny faces on social media so that friends and family members will see them.
Funny Face Maker is great for making fun of yourself or others because it's easy to use and doesn't require any special knowledge of photography skills.
The only thing standing in your way is having access to a smartphone camera (which isn't hard).
4. Fat Booth
The Fat Booth is a fun and easy-to-use app for making your face look funny.
You can change your expression, add decorations, and make yourself skinny or fat.
The app has over 300 different faces to choose from, so there's something for everyone.
You can share these photos with friends on social media by simply sharing the image they send through email or text.
It's also possible to save them locally on your device so that you can view them later on when you want to see if anyone else took one of these bad boys home with them before uploading it online (and probably posting it somewhere else might find it).
Read Also:
5. MixBooth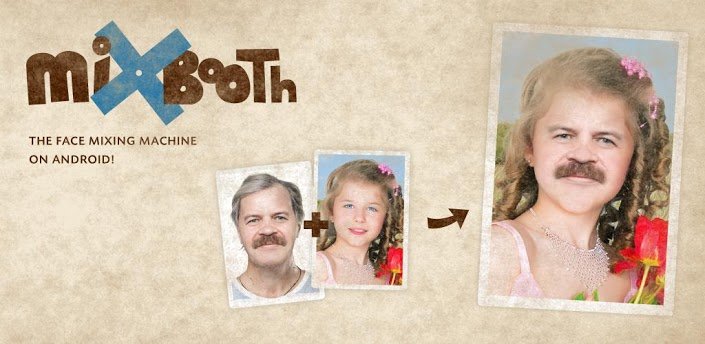 MixBooth is a funny face app that lets you use your photos to create funny faces.
The app also has various features, like sharing creations with friends or posting them on social media.
MixBooth's main feature is its ability to let you make your funny faces from scratch by combining any number of pre-created facial expressions in one photo.
You can choose from five categories: angry, scared, happy, and shocked faces, as well as "blank" (no emotion).
It gives MixBooth much more flexibility than some other apps, with only one type of expression available at any given time.
6. Photo Warp Live Wallpaper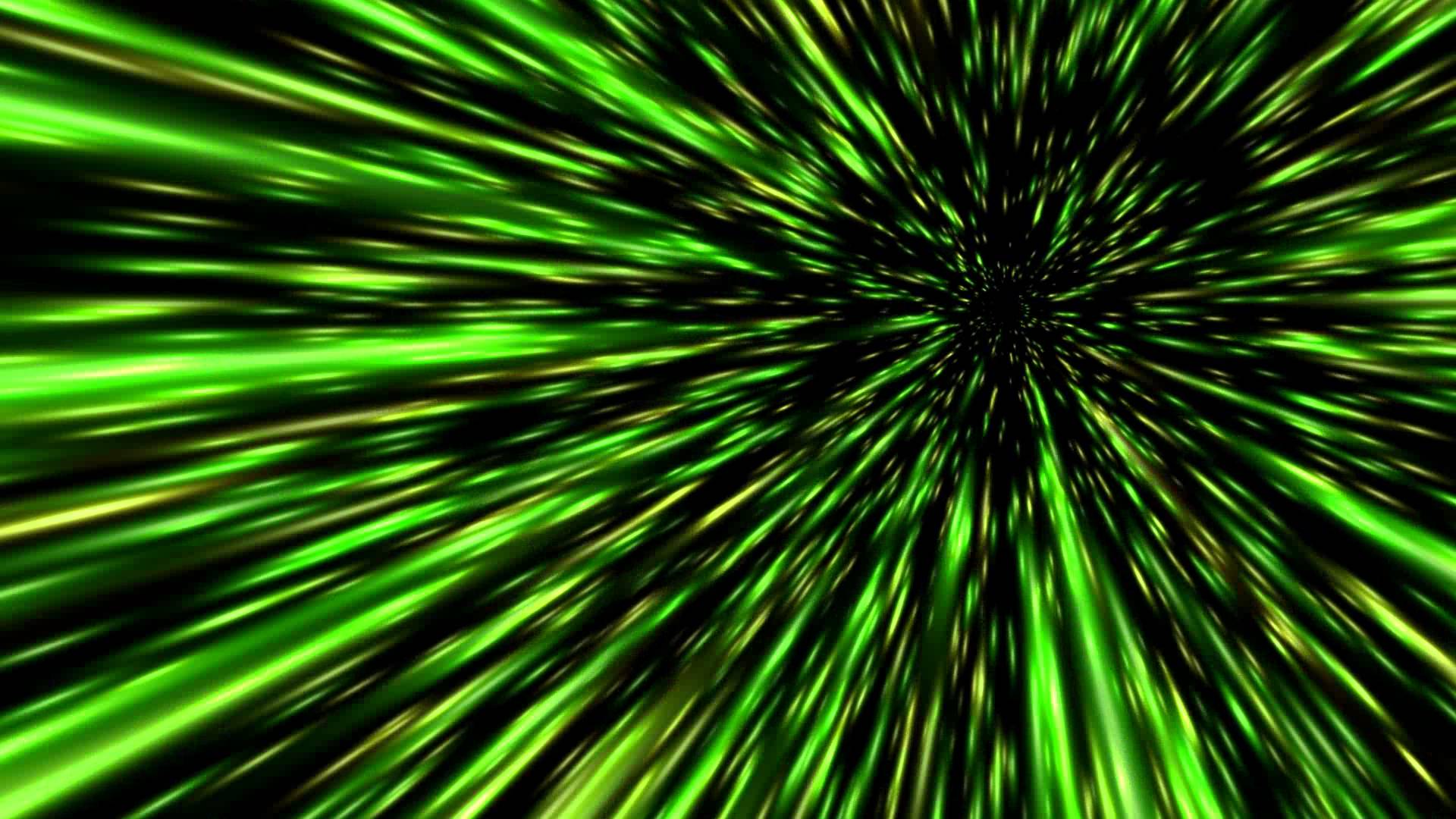 Photo Warp Live Wallpaper is a great app for creating hilarious background images.
With this app, you can customize your backgrounds with the help of an image editor and change the head shape, hair color, eyes, nose, and mouth of the face.
You can also apply face effects so that each person looks different in their way.
You can take a photo or choose an image from your gallery, edit it and then save it to your device.
This app doesn't require root access.
The free version has some limitations, and there are in-app purchases for more features.
7. Face Illusions
Face Illusions is a very simple app that has a wide variety of funny face effects.
It's easy to use and free, so there's no reason not to try it.
This app has over 50 different effects, including rotating your face into an alien mask or turning yourself into a ghost.
You can choose to add text overlays to your photos.
You can use the app's built-in toolkit to make everything from captions for posts on social media sites like Instagram or Snapchat (or even Facebook), memes, and more.
Plenty of filters are available, as well as options for adding special effects like blur or glow-around objects when they're zoomed out too far on the screen (like when taking selfies).
If any questions arise during playtime, helpful tutorials are available online that go over how each effect works.
Just tap one out until it works, then move on to another trick until all have been unlocked successfully.
8. Funny Face Effects
Funny Face Effects is a fun photo editor that lets you add funny faces to your photos.
You can select from different filters or make your own with just a few taps.
The app also includes other effects like bubbles, rainbows, and hearts.
This app lets you swap faces with other users in real time while they are taking their photographs at the same time as you (or vice versa).
It makes it easy for everyone involved because there are no complicated settings.
All that needs to be done is choose which person will appear first when both people line up their cameras together near each other.
Once done this way, press one button and watch as their image appears on top of yours.
9. Face Swap Live
Face Swap Live is a fun and easy-to-use app that lets you swap faces with your friends.
You can use it to make funny photo collages or create meme-style images by swapping the heads of two different people.
Face Swap Live has several features that make it more than just a novelty app:
A. Face Live Swap Wallpapers
The app comes with many preloaded wallpapers for you to choose from whenever you want one that fits your mood or activity (e.g., working out).
B. Face Live Swap Stickers
These stickers look like they came from Snapchat.
You'll find all kinds here, ranging from funny face emojis to animated GIFs featuring animals having fun at parties together.
C. Face Live Swap Effects
This feature is cool because it lets you add special effects to your photos.
You can choose from various styles, including cartoon and comic book effects.
10. Swap My Face – Photo Booth Effects
Swap My Face – Photo Booth Effects is a fun app that lets you swap faces with your friends.
You can change the background and share it on social media, which makes it easy to share with anyone who might want to see how funny they look when they're not at home.
The app also has filters and effects so you can ensure that everyone gets a laugh out of their pictures.
The app is straightforward and has a lot of fun effects. The option to change the background makes it easy for anyone to add their spin on the photo booth pictures before sending them out into the world.
Conclusion
These face apps are a great way to make fun of your friends and family. They're also a perfect way to learn how to create funny faces. 
We hope the aforementioned ten best funny faces apps for Android help you make a suitable choice.