Many people say that Twitter is just like LinkedIn, too professional and a place where conversations are solely on business and other serious issues. 
Well if this is your predicament I must say you're on the wrong side of Twitter as there are so many funny Twitter accounts that would entertain you for hours.
There's time for everything, so the time you spend on Twitter should not be spent solely on discussing financial or economic issues, there should be time for fun and jokes too. 
This article will be showing you some 30 funniest Twitter accounts to follow around the world. 
Whatever your definition of comedy and entertainment is, one of these funniest Twitter accounts to be considered will certainly meet it.
Let us begin right away as we are now going to consider the 30 funniest Twitter accounts to follow around the world. 
Best and Funniest Twitter Accounts To Follow Around The World
1. Steve Martin, @SteveMartinToGo –
Steve Martin's amusing Twitter account and warm humour have amassed over 8.5 million followers.
He is well-liked by many individuals since he tweets about amusing yet relatable topics.
2. Kat Dennings, @OfficialKat
When it comes to amusing tweets, you cannot leave out this Twitter account. Kat, the star of the dark situational comedy 2 Broke Girls has 1.3 million fans on Twitter and sarcastic ones which make her audience laugh.
3. LMAO (FUNNY TWEETS)
The tweets from the @Lmao Twitter account are replete with funny and laughable moments and true-to-life humorous anecdotes.
They provide you with a daily dose of humour and have around 6.5 million followers.
4. THE DARK LORD – 1.95 Million Followers
The tweets from @Lord Voldemort7 are just basic humour that parodies well-known movie characters.
You won't believe this, but Sage, the cruelest villain in the Harry Potter series, turned from making us shudder on TV to causing laughter on Twitter.
5. SOMEECARDS – 2.35 Million Followers
2.35 million people follow the @somecards Twitter account, which belongs to the well-known ecards service.
The funniest ecards are created by site visitors each day and published on the Twitter platform.
6. SHIT GIRLS SAY – 1.83 Million Followers
Although women are lovely beings and the world would not exist without them, they occasionally say weird things.
The @ShitGirlsSay Twitter account, which features the silliest things women have ever said, was created with this in mind, showcasing some fun and interesting things women say.
7. Elizabeth Windsor– 1.45 Million Followers
This is a counterfeit account for the Queen on Twitter, yet it has twice as many followers as the actual Queen has.
This is probably because @queen uk is only interested in making you laugh a lot and doesn't care about serious issues.
8. FIRST WORLD PAINS – 645K Followers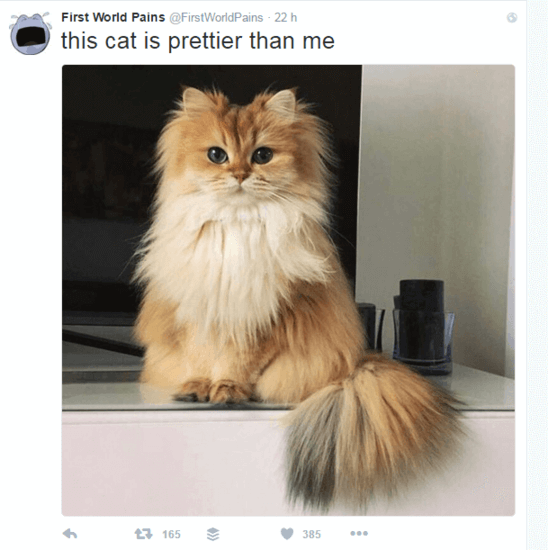 One of the funniest Twitter accounts to follow around the world is @FirstWorldPains, which concentrates on amusing and various unpleasant events that occur in people's daily lives.
9. @Oatmeal – 596K Followers
This account, which belongs to a well-known web designer who uploads humorous comics on his website, may be found through @Oatmeal.
10. FACES IN THINGS -585K Followers
This Twitter account which has 585K Followers will astonish you if you detect faces in inanimate objects.
You have access to a plethora of images of faceless objects that are lifeless.
11. Death Star PR- 325K Followers
Fans of Star Wars will like this. It talks about common problems and how to solve them the Jedi way.
There are also some humorous Star Wars-related tweets available.
12.  SO SAD TODAY – 973k Followers
This @sosadtoday account is run by an angry, miserable woman who is also hilarious. Some of her theories are very hilarious.
13. @WomensHumor- [1.2 million followers]
Women that follow this account would mostly concur with everything said, but guys who follow possibly pick up some new information.
In either case, it's entertaining and worthwhile to follow if you want to remain a member of the female species.
14. It's Bad Luck Brian
If you're unfamiliar with the fictitious character, Bad Luck Brian, he experiences situations that go wrong.
His tweets on the unpleasant consequences of his acts are almost invariably depressing and outright humorous.
15. @itsBroStinson
The television show How I Met Your Mother features the character Barney Stinson.
Everyone who watches it will realize that Barney is an incredibly cool character who loves to have a good time.
Despite being a parody account, the tweets here are so similar to his that it seems like he directly manages this Twitter account.
16. @WolfpackAlan 21 -[936k Followers]
A character from the movie "The Hangover" is Alan Garner.
Though his Twitter account, "Wolfpack," is inspired by events in the film, his tweets are not. They are also quite amusing.
17. @TheTweetOfGod 22
Have you ever wondered what God might tweet about if he was Human? On Twitter, He arbitrates sporting events, offers happiness advice, and has a grudge against the United States, Canada, and atheists.
18. @kellyoxford- [531k Followers]
Canadian scriptwriter, social media blogger, and mother Kelly Oxford runs this account herself so it isn't fake.
She is well-liked and has a large following thanks to her humorous, relatable tweets, some of which are about motherhood.
19. @BettyFckinWhite 20
The majority of the younger generation might not be familiar with Betty White, but they should be because of how legendary she is.
Her crazy sense of humour is brought to Twitter through this parody account, which she uses as an actress and comedian with 65 years in the business.
20. @MensHumor
21. @carellquotes
22. @itsWillyFerrell
23. @ShitNobodySays
24. @TheBatman-[Followers: 462k]
25. @CEOSteveJobs
26. BIG BEN CLOCK – 491K Followers
27. CONDESCENDING WONKA – 490K
28. DARTH VADER – 482K Followers
29. MEDIEVAL REACTIONS – 455K.
30. CHUCK NORRIS FACTS – 272K Followers
Final Remarks
In conclusion, the best Twitter Accounts to follow around the world have just been considered in this article.
The majority of these funny accounts post jokes, silly pictures or videos. While some of these accounts have funny, relatable, and quotable content that can make you laugh.
So, don't just stick to the boring, inspirational and professional side of tik tok, you can also follow these funny Twitter accounts and with no time, you'll be able to come up with some funny jokes of your own!