The invention of beat making softwares for Windows & Mac is undoubtedly the best thing that happened to music composers, especially the ones who lack adequate skills or even resources to compose musical beats since High-end music creation programs don't come cheap.
Since we have so many of them out there, this article points you to the top free beat making softwares for Windows & Mac that can help you make beats without straining your pocket yet providing you with the necessary features.
Top Free Beat Making Softwares For Windows & Mac
Interestingly, these beat making softwares for Windows & Mac are very easy to use such that they don't require any form of professionalism while using them to compose music and beats.
While most of them are free to use, others offer sample music thereby giving you an idea, and you can go ahead to create something unique out of it.
Read on to find out the best beat making software for Windows and Mac.
1. Ableton Live
With Ableton Live, you are sure to have a music studio experience right from your home PC, and it's quite easy to use.
It can be downloaded from its website offering users premium value or you can as well settle for its free trial and later on, change to its paid version.
Basic properties
– 6 instruments and sound effects inspired by Nature
– 3 high-end sound instruments, namely Upright Piano, Brass Quartet, and String Quartet
– Link Tracks option to edit multiple soundtracks simultaneously
– Voice Box, Mood Reel, and Drone Lab sound packs
– Supports MIDI Polyphonic Expression (MPE)
2. FL Studio
Although this software is not free ($99 for Fruity Edition, $199 for Producer Edition, $399 for All Plugins Edition) and may cost you some money, you are sure to get value for your money as it features numerous inbuilt tools that enables you create, edit and record your style of music or better still, make do with the record tunes included in the software
Furthermore, it has a user-friendly interface, so you won't have any issue navigating through it, and it is not only used by both Mac and Windows users but is also available for Android users.
Key features
– More than 66 effects
– 33 instruments including Autogun, BassDrum, etc.
– Video and visual tools such as Wave Candy, etc.
– 3 audio editor plugins (Edison, Newtime, and Newtone) 
3. Ordrumbox
Ordrumbox is yet another popular top free beat making software for Windows 10, Linux or the Latest Mac OS X version, all thanks to its advanced functionality.
Furthermore, you can adjust the inbuilt settings to suit the beat you want to create, and it also allows users to easily export music files created with this tool.
Go to the Ordrumbox website to download this software and use it for free.
Basic properties
Import tool to get drum kits, modify gate and pitch, and apply BP or LP filters
Open-source
Option to add time-saving loop points for automating longer tracks
Presence of drag and drop option
Automatic composition tool
4. MuseScore
I recommend this free beat making software for beginners because it has valuable tools capable of producing music beats with just the mouse and keyboard.
Please, note that the MuseScore is compatible with only Mac, Windows 7, 8 and 10 operating systems, and it is free to download.
Additionally, it has a user-friendly interface, and allows users save, edit, and export music files in different formats like Flac, OGG, Wav, etc.
Basic properties
Style management
Insertion of lyrics
Open-source
Supports input through MIDI keyboard
Time and key signatures
Transfer from and to other programs through MIDI, MusicXML, etc.
Style management
Export music sheets to formats like PNG and OGG
5. Magix Music Maker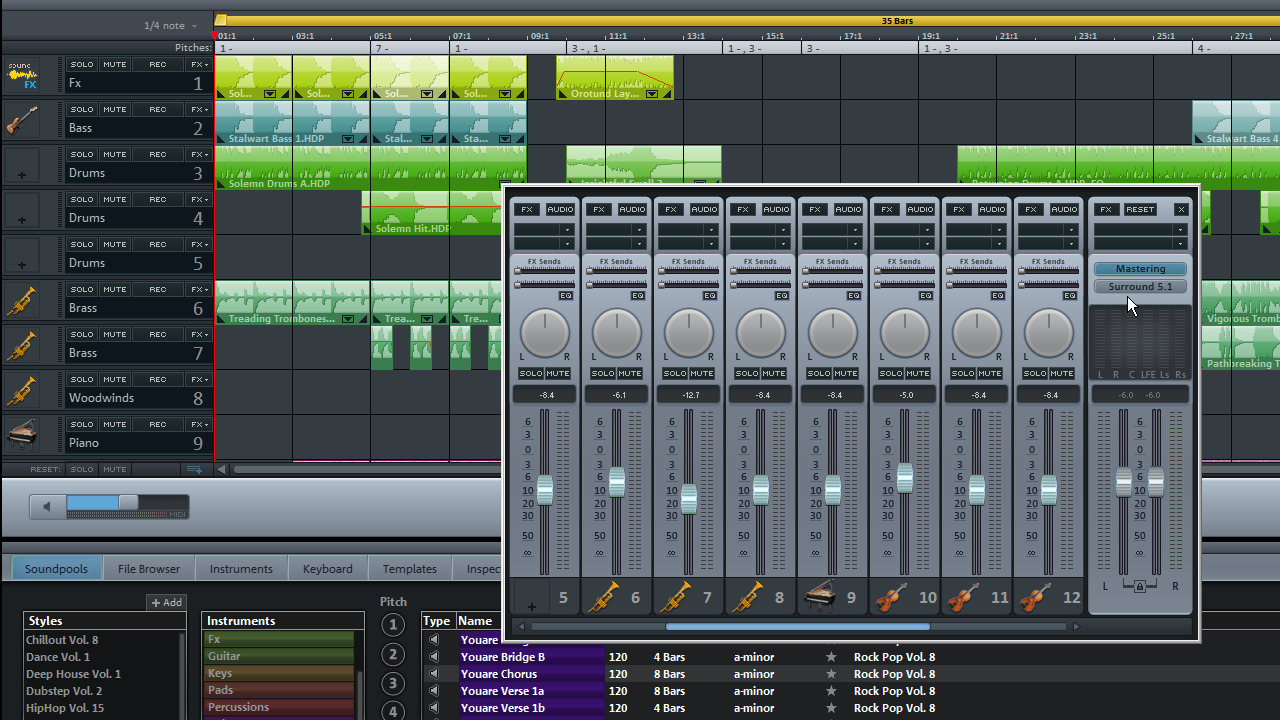 Magix Music Maker is undoubtedly one of the best free beat making softwares across the globe, and this is because of its impressive characteristics.
It is ideal for every beginner in a state of dilemma on how to fabricate beats for music pieces as it has a music tutorial for such people, and can swiftly run on a 521 MB graphic and 2GB RAM card device.
Note that this software is majorly designed for the Windows platform and can be downloaded free of charge.
Basic properties
– Hardware integration with visual feedback, feature mapping, and one-shots
– Music tutorials for beginners
– Customizable user interface
– Presence of 17 drum kits and 200 patterns
– Song maker AI with 8 soundpools and 49 song templates
6. LMMS
Aside from Windows and Mac OS, LMMS is also available on Linux, and it is a free yet amazing beat making software for your PC.
Interestingly, it has innumerable sample tunes accessible by every user, so you can take advantage of them to create and record music.
The downside of this software is that the graphics interface is just at a fair level, however, its other valuable high-end features and functionalities can make up for that.
Basic properties
– Supports both MIDI and typing keyboard
– Instrument track consolidation with Beat+ Bassline Editor
– Modern and easy to use
– Open-source
– Piano Roll Editor to improve patterns, notes, chords, and melodies
– 16 synthesizers available for free
– MIDI files and Hydrogen project files import
7. DrumFlow
Although this software does not offer a high-end graphic-user interface, it is still one of the best beat maker softwares out there as it has a robust list of functions as well as a user-friendly interface.
That being said, Drumflow has been in existence for a good number of years helping passionate musicians create music beat files and it is available in both Mac OS and Windows systems.
Basic properties
– Export of percussion parts to MIDI editor
– In-built editor for the drum setup
– Tone and pitch modifications
– Custom percussion parts creation with drum adjustment
8. Garageband
Sadly, only Mac users can enjoy the premium features of this beat software – Garageband.
Worthy of mention is the fact that it is accompanied by a comprehensive guidebook thereby making it ideal for beginners to learn how to create incredible music beats and sounds using the keyboard and guitar.
Also, it has an excellent Graphic UI, cancels noise extortion, and is capable of increasing the bass volume and set equalizers if need be.
Basic properties
– Smart Drum Kits that can be easily edits
– Neatly shown hip-hop, multitrack, blank project, and electronic options
– Supports numerous advanced plugins
– High-end controls for automation
9. HammerHead Rhythm Station
HammerHead is an impressive beat making software available for only Windows users.
It has a comprehensive guide that enables users to create amazing music beats while providing other excellent features as seen below.
I must reiterate that this is a world-class beat making software, of which a trial will convince you.
Basic properties
– Polyrhythms and polymeters support
– WAV import
– MIDI support
– In-built drum synths
– Runs as an AUv3 plugin
10. Native Instruments Maschine MK2
Native Instruments Maschine MK2 is yet another interesting beat making software as it has a robust music library thereby providing users with a wide range of options to explore.
Additionally, it is a free tool yet offering incredible functions capable of helping any musician to create a masterpiece effortlessly.
Basic properties
– Serves as a multi-effect unit, sampler, sequencer, VST/AU plug-in-host, and multi-effect tool
– Huge Synth Plug-in
– Features a sample library with more than 6GB of sounds therein
– Multifunctional Master Push Encoder option
11. Sonic Producer
If you are looking for a basic level beat making software, then Sonic Producer can be a good pick. Although it's overall functionality is far below from other well-known names, it still has a generous list of features to offer.
It works on both Mac and Windows systems and comes with several instructional videos for beginners.
Basic properties
– Ability to save a beat online and finish it later
– Allows for direct uploads to Facebook
– 4-octave keyboards and 12 customizable drum pads
– 16 channel mixer
– A wide variety of sounds to choose from
12. BTV Solo
BTV Solo performs a wide variety of functions ranging from customizing existing songs to creating music beats, and adjusting individual music samples.
Furthermore, this beat making software is accompanied by various relevant tools such as drum kits, sound effects, editing tools, and built-in mixers.
Working on this software isn't a hard nut to crack as it has a clean and easy-to-understand user interface.
Basic properties
– MIDI keyboard support
– Patterns, songs, tracks, or individual pads sharing as 24-bit WAV files/studio quality 16
– Drag and drop functionality
– Very customizable
– Real-time export
– In-built sequencer based on pattern
13. Dr. Drum
If you desire to train yourself in the areas of music music making or you are looking at fine tuning your music creation skills without breaking the bank, then Dr. Drum, a basic beat making software for Mac and Windows is your best bet as it features various important features that will enable you to achieve this.
Basic properties
– It has a training tutorial
– 16 track sequencer
– 12 pad drum machine
– 4-octave keyboard
14. Musink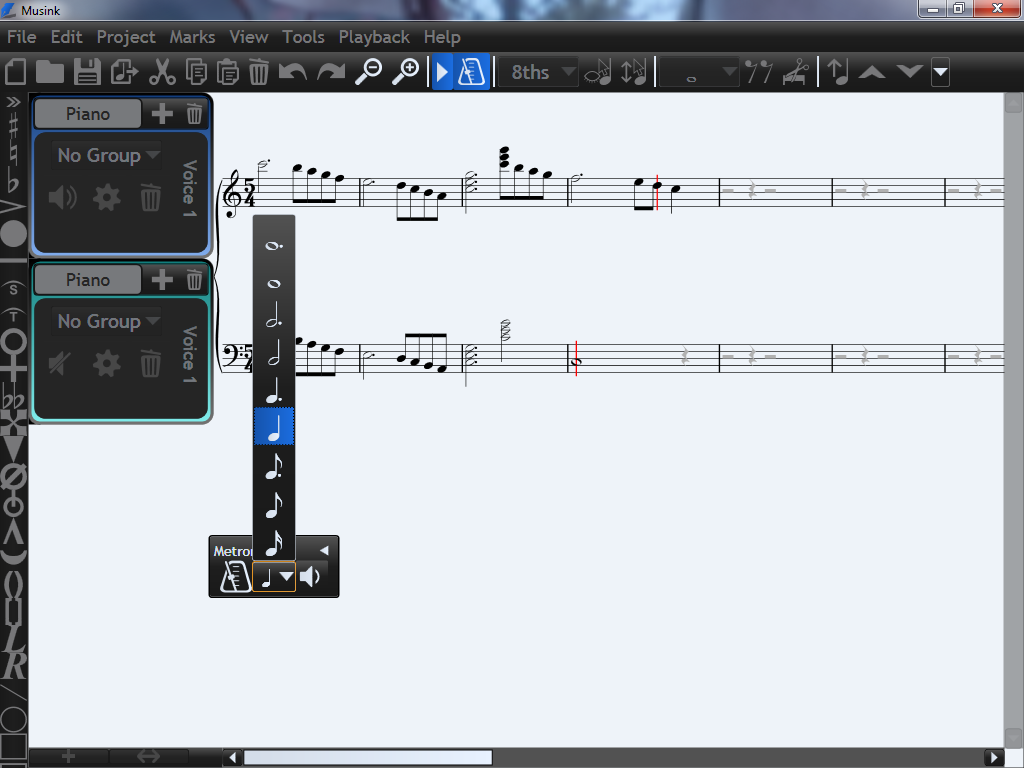 Just as the name implies, Musink is available in two versions namely Musink Lite & Musink Pro, and overtime, this software has welcomed millions of composers from across the globe.
Again, it features an easy to use notation editor that enables users to easily create music, however, if you wish to enjoy its premium features which includes an advanced template designer, looped playback, MIDI device recordings, and the rest, then go for the paid version of it.
Basic properties
– Snippet, scores, books, and MIDI files composition
– Support for looped playback
– MIDI device support
– Auto layout mechanism
– Import and export of MIDI files
– Built-in template designer
– Exportation of drum loops
15. Splice Beat Maker
It shouldn't come off as a surprise to you that Splice Beat Maker software made it to our list of best beat making softwares for Windows & Mac as it is ideal for any musician that intends creating and sharing sequenced beats.
Additionally, it has numerous popular samples and loops, and it enables you to edit the original sounds of your preferred musicians such as KRNE, KSHMR with just a click of a button.
However, I recommend this to professional music beat creators that are familiar with this type of tool.
Basic properties
– AI-powered searching, browsing, and sound syncing
– Filters based on genre, BPM, key, etc.
– It supports MIDI devices
– Drag and drop downloading
Frequently Asked Questions
How Can I Get Beats On My Mac For free?
On Mac computers, GarageBand is a free beat-making program. The program provides a full sound library for Apple users that includes percussion, vocals, guitar, bass, and other instruments (drums). Additionally, its contemporary design, user-friendly interface, and features that make learning simple are among its key benefits.
What Is The Easiest Program To Make Beats?
Best Beat Making Software
1) Soundtrap – Best Overall.
2) Reason Software – Best For Total Customization.
3) FL Studio – Best For "In The Box" Production.
4) Magix Music Maker – Best For Beginners.
5) Serato Beat Software – Best For DJs.
6) Ableton Live – Best For Experienced Beat Makers.
Which Software Do Beat Makers Use?
The fundamental component of your home studio, the digital audio workstation (or DAW), is used to create beats. You sequence your instruments, mix and master your tracks, and preferably record the vocals in this application.
Can I Make Beats On My Laptop?
Almost everything you need to start composing music is included in most DAWs, including Ableton Live 11. In other words, you can simply open your laptop, launch Ableton Live 11, and begin creating music.
Is Beat Making Hard?
It's a blast to create beats. You have complete creative control over your song, using only computer software and your creativity to produce beautiful music. The fundamentals of beat-making are very simple to grasp, albeit it is not simple.
What Software Do Hip Hop Producers Use?
However, FL Studio, Logic Pro, and Ableton Live continue to be some of the most widely used DAWs for the creation of rap music. Every one of these programs has advantages and disadvantages, so it's crucial to test out a couple of them to determine which one is ideal for you.
Is There A Beats App For Mac?
You can find the Beats App only on Android as it is not required on Phone.
How Do You Download Beats On A Mac?
Click any option in the sidebar that is listed below "Library" in the Music program on your Mac.
Click Songs, for instance, to view every song in your library. Move the pointer over an item in your music library, then select one of the following actions to download it to your computer: select "Download" from the menu.
How Do I Connect My Beats Studio To My MacBook?
Hold your Beats Studio Buds close to your phone or tablet with the case cover open. Then touch "Tap to pair" when you receive a notification. You'll see a notice that says "Device connected" or "Pairing complete.
Conclusion
I have taken you through the best free beat making softwares for Windows & Mac, and no doubt, these apps have been carefully selected, and worth making it to our list.
That being said, are there other free beat making softwares for Windows & Mac that you think should have made it to my list? If yes, do let me know in the comment section, and don't forget to state your reasons.