Bike riding is a great form of exercise and then serves as a means of transportation for some people.
However, it'll be unfortunate if you're riding your bike and your phone falls now repeatedly because you didn't keep it in a secure place.
Well, bike phone holders have been created to help solve that problem, and this article is going to be showing the 9 best bike phone holders to buy in 2022 to help keep your phone safe during bike rides.
The Best Bike Holders To Buy
1. Quad Lock Bike Mount Kit
This bike phone holder is dependable and solid, simple to remove your phone from it, had an optional action camera adapter and
requires a different case.
Because of the high caliber of its accessories, Quad Lock maintains a solid reputation. So it should come as no surprise that this mount is our choice for the best bicycle phone mount.
This is a safe option because of its unique mounting technique, which fastens to a device with a very safe dual-stage mechanism.
It may be mounted on any handlebar or bicycle tube with a diameter of 25 to 40 mm, and its kit includes a universal mount adapter that adheres to all gadgets and cases.
Read More: 5 Best iPhone Stands To Buy In 2022
2. IPOW Universal Bike Phone Mount
The well-known smartphone accessory brand IPOW excels at balancing cost and quality.
It is not at all difficult to install
and It uses silicone butterfly bands and a grip for maximum security, and its 360-degree rotation is quite practical.
3. Nite Ize Wraptor
The Nite Ize Wraptor comes with a silicone grip that extends over the edges of your phone to protect it, unlike the Quad Lock bike phone holder that requires users to buy a separate case and mount.
Even without a case, this accommodates a wide variety of smartphones, which include plus-size models.
This mount will not be your best option for off-road or mountain biking because it is not quite as durable as the Quad Lock. However, I'm certain that it is the ideal phone mount for regular cycling.
It can be quickly and easily mounted to handlebars and stems without the use of any tools thanks to its flexible mount.
You may use it to view your phone in either portrait or landscape mode because it rotates through 360 degrees.
It may be used to secure your phone to a stroller or treadmill in addition to bikes. And to top it all off, the price is quite affordable for all.
4. GUB Bike Phone Mount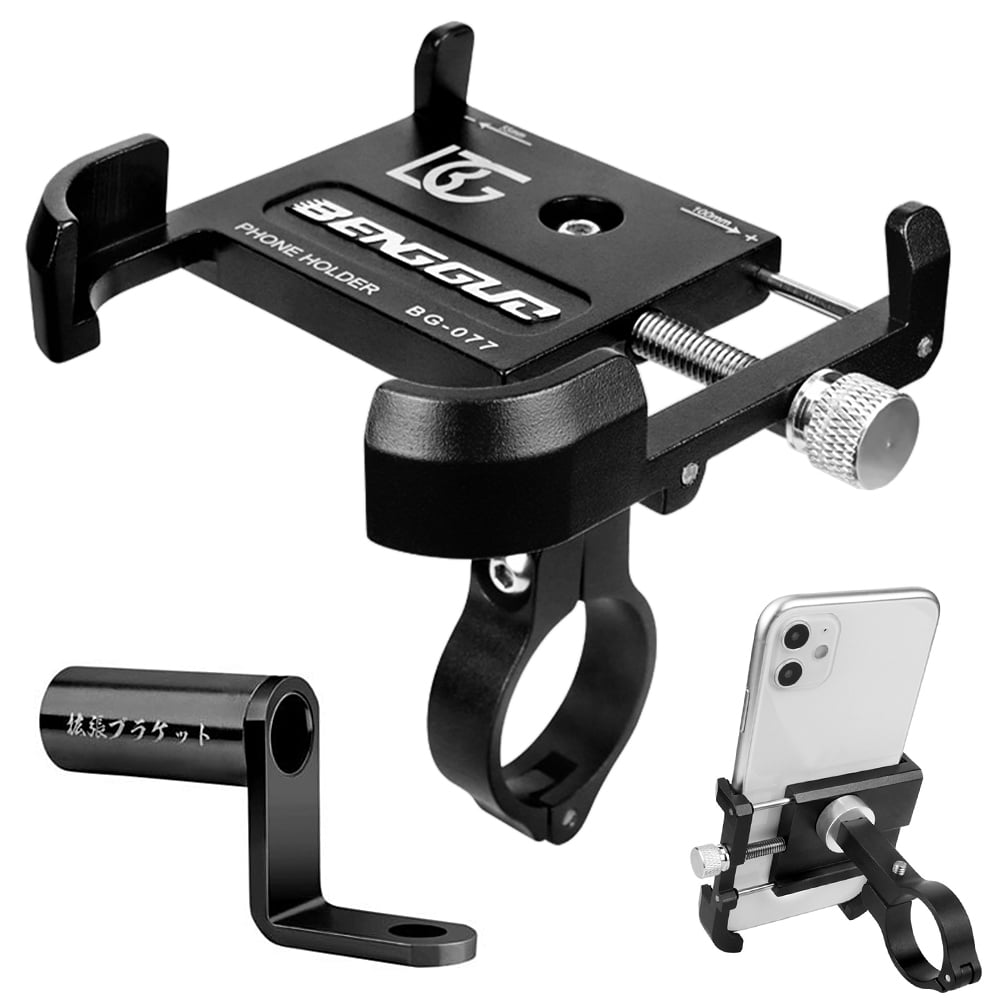 This holder has a great design and a cost that won't break the bank. It costs less than half as much as some of the other bike phone holders while offering a full aluminum body.
Additionally, the GUB Bike Phone Mount has a sponge to protect your phone from dents caused by metal. In order to accommodate your preferred position, it can rotate a full 360 degrees.
Read Also: 5 Best Cell Phone Insurance In 2022
5. Topeak Ridecase With Mount
The Topeak Ridecase is another bicycle phone holder that you'll love. It's a durable phone holder that has several mounts for mounting it to the handlebars, stem, or stem cap of your bicycle.
The case itself has a scratch-resistant, dual-density, non-slip, polymer/rubber exoskeleton for shock and impact protection, though you'll need a 4mm Allen key to fit it.
Smartphones with displays between 4.5 and 5.5 inches in diameter can use this mounting kit.
Also, the completely adjustable mount enables rapid addition and removal of the case and supports viewing in either a landscape or portrait configuration.
When you're not riding your bike, this mount functions as a flip-stand for your phone and supports wireless charging.
6. VUP Bike Phone Holder
Now, this is a bicycle phone holder for you if you're looking for great quality while on a budget.
I advise against purchasing a cheap phone mount for your bicycle because, should your smartphone get broken, you may be risking so much more money than you'll save.
However, if you're trying to save some money, your best option is the VUP Bike Phone Holder.
It is very simple to attach to any handlebar with a diameter of 18 to 35 mm by simply tightening the buckle, and it is compatible with phones with screens ranging in size from 4.0 to 6.7 inches.
The phone can be rotated 360 degrees to provide the ideal viewing angle. And despite the inexpensive price, the built-in silicone pad that absorbs shock does a great job of keeping your phone stable during your rides.
7. Wild Man Bike Phone Mount Bag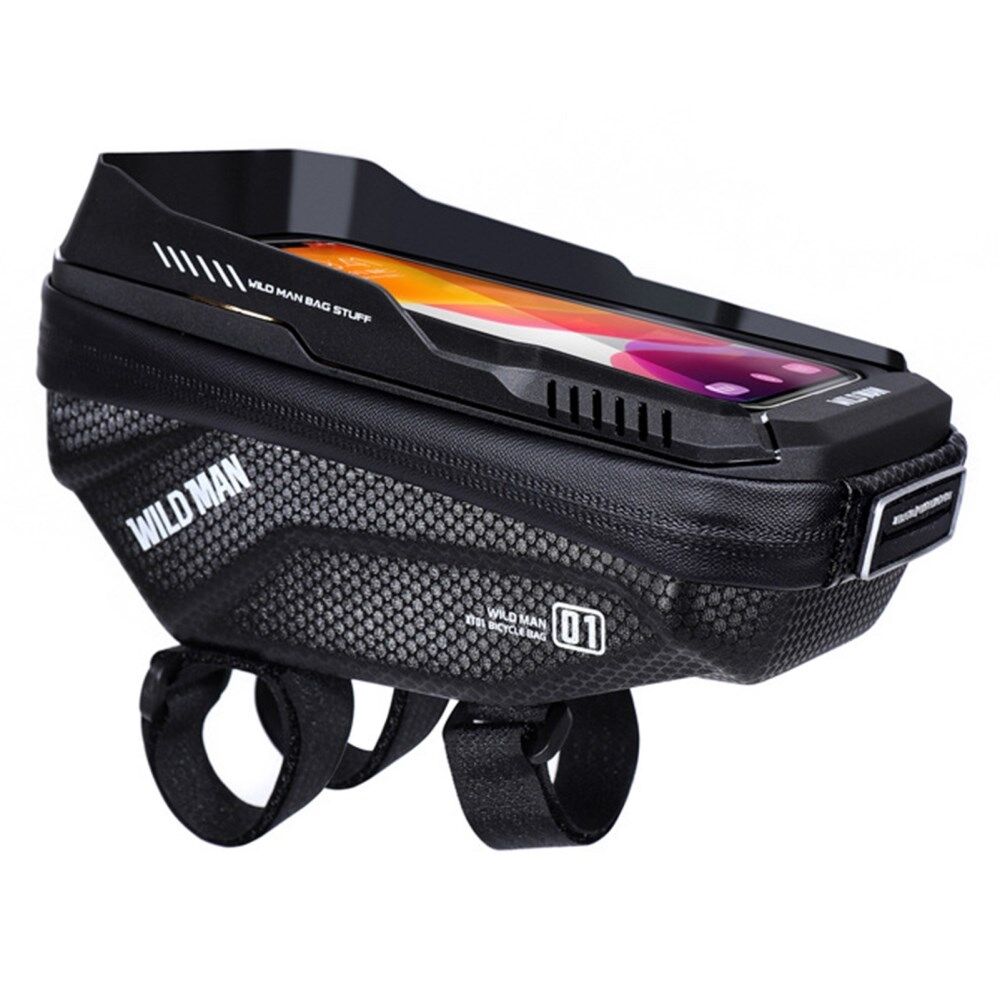 This phone mount is the greatest option if you're going to be riding your bike in a wet environment.
We've seen that all the bike mounts for wet conditions mentioned so far require you to buy an additional waterproof case if you require watertight protection for your phone while riding. But all of that is taken care of by the WildMan Bike Phone Mount Bag.
This shake-proof, pressure-proof, and non-forming bag is constructed of premium water resistance and has sealed double zippers, plus It is fastened to the front frame of your bicycle using velcro straps.
All kinds of smartphones with screens up to 6.5 inches in diameter can fit in them.
With the TPU clear touchscreen case, you may keep using your phone for calls, maps, and navigation while riding your bike.
Additionally, you may still slip a USB or headphone cord in between the zippers while still shielding your phone from water.
8. Rokform V4 Pro Series Phone
Your biggest concern with a phone mount will be ensuring it is held firmly in place if you are a mountain cyclist or anyone cycling on rough terrain or grit roads.
That is guaranteed by the dual retention lock system of the Rokform Pro Series Quad Tab Mount, which includes a twist-lock and an embedded magnet.
It's sturdy and tough too, made of aerospace grade aluminum 6061 T-6. Furthermore, the angle ranges from -20 to +55 degrees.
9. Zefal Bike Kit
Another good option for mounting your smartphone to your bike is the Zefal Bike Kit. It includes an adhesive sticker that you may use to secure your phone to the mount.
To further ensure stability, the mount itself is attached to the handlebars or stem of your bike using stretchable O-rings.
While nothing particularly remarkable about this mount, it does a good job of securing your phone and allows you to put your phone in either portrait or landscape mode. 
You May Like: 10 Best Living Room Gadgets To Buy In [2022] 
FAQ
How Do I Install A Motorcycle Phone Mount
Manufacturers include instructions on how to best install their mounts. 
Normally, no additional equipment or physical effort are needed for these operations.
Additionally, they frequently include bushings so that a mount may be adjusted to fit a range of handlebar widths.
Can I Attach A Motorcycle Phone Mount If I Already Have Other Attachments On My Handlebars?
Yes, provided that they do not obstruct your ability to see the road or the bike's weight when you are steering. 
To provide room for other attachments, some motorcycle phone mounts are made to hold your phone away from the handlebars.
Do Magnetic Phone Mounts Damage Phones?
No it doesn't.
NAND flash memory, which is used in Apple iPhone and Android smartphones, is not magnetically susceptible.
Mobile devices are immune to magnetic fields since they have no moving mechanical parts and contain no magnetic materials, such as solid-state or flash drives.
What Is A Bike Phone Mount?
While riding a bike, you may view and interact with your smartphone's display by using a bike phone mount. 
These attachments enable your smartphone to serve as a miniature dashboard display and are often attached to your handlebars.
Is Quad Lock Waterproof?
Regrettably, no. Quad Lock cases are not waterproof. When utilizing the Quad Lock in inclement weather or on muddy terrain, please take caution.
Is it Bad To Hold Your Phone While Biking?
Yes, it is and is not advisable. 
Holding your phone while hiking could distract you from the road and could lead to serious road mishaps. 
Instead, make use of a bike phone holder.
Conclusion
While riding your bike, your full attention should be on the road and not trying to secure your phone.
Fortunately, these best bike phone holders to buy in 2022 that we've seen in this article can help you secure your phone while biking.
So, ensure you choose any of these bike phone holders that most suits your needs and be assured of your safety and that of your phone while biking.