Cowboy Western movies cover a wide range of American mythologies, from cartoonish and light to sober and dark to radical and revisionist. 
Among other streaming providers, Netflix has one of the largest western film collections and modern classics, such as Netflix originals The Harder They Fall and Godless.
This article provides a well-researched list of the top best Western movies on Netflix that you can add to your watchlist in 2022.
About Netflix
Netflix is an American subscription streaming service and production company located in Los Gatos, California.
Netflix continues to be the most popular premium streaming service, with more than 200 million subscribers globally. 
It provides access to tens of thousands of movies and TV episodes, including an ever-expanding selection of original productions and aeries like Stranger Things, The Witcher, and Bridgerton.
Netflix also provides an extensive collection of the best classic dramas, new western movies, and action-packed western movies such as Thar, Spirit Riding Free, and The Quick and the Dead.
Top Best Western Movies On Netflix
1. In a Valley of Violence (2016)
Ti West, a well-known director of atmospheric horror films including House of the Devil, The Innkeepers, and The Sacrament, is the author and director of this 2016 American dark humor Western thriller film titled In a Valley of Violence. 
Through his production firm Blumhouse Productions, Jason Blum performs the role of producer in this movie. 
Ethan Hawke, Taissa Farmiga, James Ransone, Karen Gillan, and John Travolta are the movie's stars.
This movie is equally unsettling and stars Ethan Hawke as a vagrant who stumbles into a nearly deserted Wild West town. 
Then the town marshal told Ethan never to come back, and Hawke was brutally attacked outside of town.
In a Valley of Violence, a fantastic western on Netflix from horror director Ti West is both darkly humorous and terrifying, which you'll love on your watchlist.
In a Valley of Violence plays for about 104 minutes.
Also Read: 5 Best Gangster Movies On Netflix
2.The Harder They Fall (2021)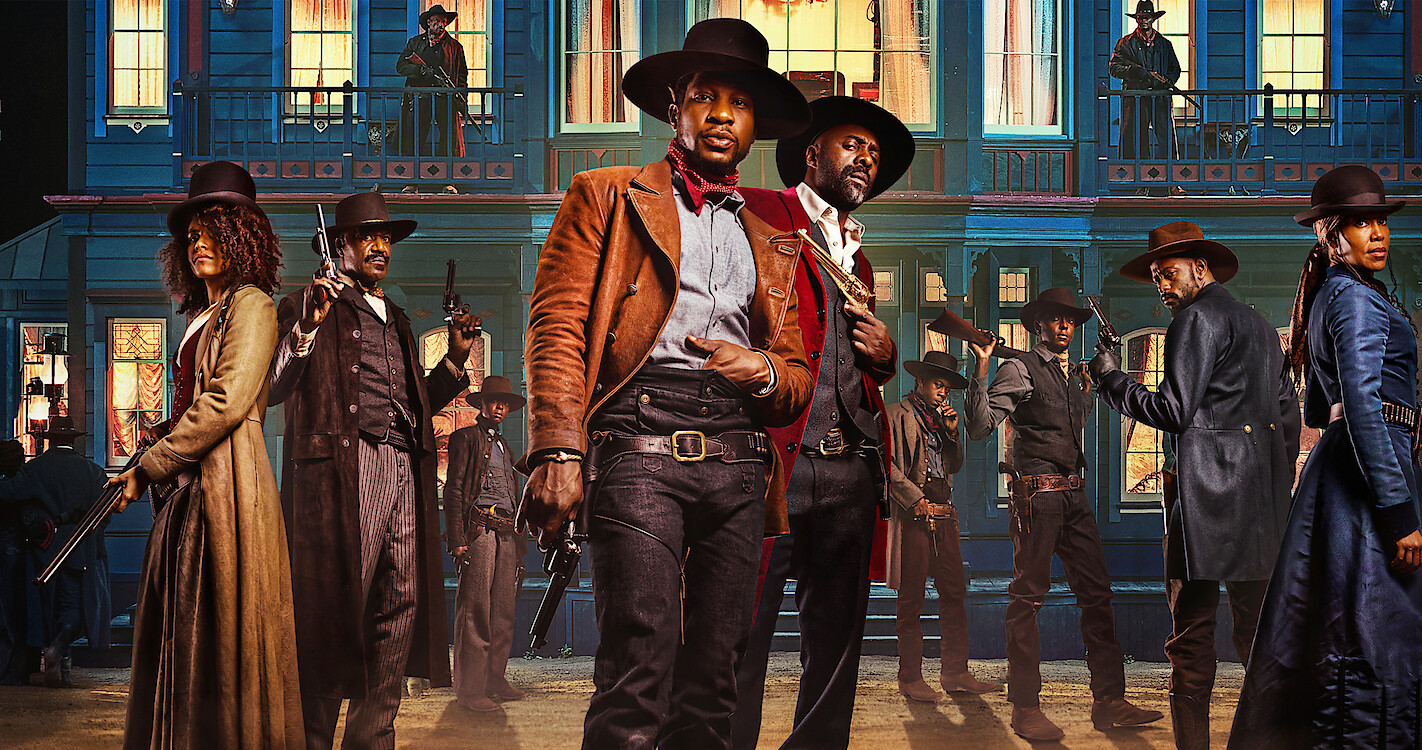 This 2021 American Western movie, The Harder They Fall, is directed by Jeymes Samuel, who also co-wrote the screenplay with Boaz Yakin. 
Jonathan Majors, Idris Elba, Zazie Beetz, Regina King, Delroy Lindo, Lakeith Stanfield, RJ Cyler, Danielle Deadwyler, Edi Gathegi, and Deon Cole are among the actors who appear in the movie. 
The Harder They Fall is one of the few Westerns with an entirely Black main cast and plays for 139 minutes. 
The film's characters are largely based on actual cowboys, lawmen, and outlaws from the American West in the nineteenth century.
As one of the best films on the streaming site, this Netflix original western from singer-songwriter, music producer, and first-time filmmaker Jeymes "The Bullitts" Samuel features a daring aesthetic and standout performances. 
When a gunslinger discovers the legendary murderer of his parents, he forms a group to assassinate their killer who has busted out of jail.
3.The Power of the Dog (2021)
The Power of the Dog is a 2021 Western revisionist psychological drama film that Jane Campion both wrote and directed.
The Power of the Dog is based on Thomas Savage's book of the same name from 1967. 
Benedict Cumberbatch, Kirsten Dunst, Jesse Plemons, and Kodi Smit-McPhee all appear in the movie. 
The movie, which was produced jointly by New Zealand, the UK, Canada, and Australia, is set in Montana and was primarily filmed in rural Otago. 
Themes including love, sadness, bitterness, jealousy, social awkwardness, toxic masculinity, and closeted sexuality are all addressed in The Power of the Dog.
In The Power of the Dog, directed by Jane Campion, Benedict Cumberbatch gives one of his best performances. 
A domineering rancher responds with mocking cruelty when his brother brings to the family farm a new wife and her son until the unexpected comes to pass.
The Power of the Dog plays for 125 minutes.
4.The Ballad of Buster Scruggs (2018)
The Coen brothers, Joel Coen and Ethan Coen are the authors, directors, and producers of the 2018 American Western anthology film The Ballad of Buster Scruggs. 
It only received a small theatrical run because Netflix television was its primary audience. 
It has six short stories set on the American frontier and stars Tim Blake Nelson, Tyne Daly, James Franco, Brendan Gleeson, Bill Heck, Grainger Hines, Zoe Kazan, Harry Melling, Liam Neeson, Jonjo O'Neill, Chelcie Ross, Saul Rubinek, and Tom Waits.
The Ballad of Buster Scruggs, a Netflix original western, was a huge success for the Coen brothers' first step into streaming. 
The movie is an eclectic collection of six short films, all of which are set in the Old West, ranging from comedic to tragic to brutally violent, and everything in between.
In a typically Coen-esque manner, the film paints a comprehensive panorama of American history.
The Ballad of Buster Scruggs plays for 132 minutes.
5.The Hateful Eight (2015)
Quentin Tarantino wrote and directed the 2015 American western mystery thriller The Hateful Eight, which is also marketed as The H8ful Eight. 
Eight strangers seek shelter from a blizzard in a stagecoach stopover sometime after the American Civil War in this film starring Samuel L. Jackson, Kurt Russell, Jennifer Jason Leigh, Walton Goggins, Demián Bichir, Tim Roth, Michael Madsen, and Bruce Dern.
In this compelling tale that plays for 175 minutes, Quentin Tarantino explores the darkest aspects of the Old West. 
When a blizzard strikes, a bounty hunter bringing his ward to justice must find shelter at a stagecoach stop. 
He quickly learns he might have walked into a trap while trapped there with another bounty hunter and a large group of traveling strangers. 
The Hateful Eight: Extended Version is also available on Netflix, which has some deleted sequences and is told over several discrete chapters or episodes.
Conclusion 
Whether you want to watch a movie, or cartoon, or binge a new series, you can always find western classics that suit your preferences on Netflix.
Other amazing western movies on Netflix include The Professionals, The Killer, Justice, El Camino, and Django Unchained.
Now when you want to get your fill of western movies on Netflix, don't forget to check out this article for the top best western movies on Netflix.