If you are a fan of tattoos, then this article is for you. Many tattoo lovers today search for designs to mark that special drawing or writing, a tattoo.
This guide has some of the best Tattoo Design Apps For Your Android.
Whether you need to create a simple design or want a full-fledged tattoo studio on your phone, these apps will help make that happen.
Best Tattoo Design Apps For Your Android Phone
1. Tattoo Lab
Tattoo Lab is a free tattoo design app for Android phones. It is easy to use and allows you to create your own designs or import images from other apps.
Photos can be uploaded directly from your phone's camera. How cool is that!
You will need an account if you want to save the sketches you make on this app, but it's free, so there is no reason not to give it a shot.
2. Tattoo Design – Draw Tattoo Art On Yourself For Android
Tattoo Design is an Android app you can use to design and draw your own tattoo designs.
You can choose from various templates or create your own unique one. You can also save those designs to use them again later on. It's easy to use.
First, choose what kind of body part you want the tattoo applied to, like "arms," then select a design style like "classic tribal" or "modern geometric" before choosing some colors, and just like that, your new masterpiece has been created right before your very eyes.
3. Tattoo Maker – Design Your Own/Custom Tattoo
Tattoo Maker is a great app for those who want to design their own tattoo or customize an already existing one.
It is simple and easy to use, with plenty of options available in the free version. This tattoo maker has it all if you want an app to help you draw out your ideas.
The interface may prove difficult, so you need to get used to it, which might take some time. But there are so many different tools at your disposal. Once you figure out what works best for each body part, it becomes real within minutes.
Remember where everything goes and how much pressure should be applied when drawing each letter or shape onto the skin. These two things matter greatly when creating something beautiful like this one for yourself or anyone else.
4. Face Photo Editor – Tattoos & Beards
Face Photo Editor – Tattoos & Beards is the best app for drawing tattoos on your face. It is one of the only apps that lets you create all kinds of facial hair, including beards, mustaches, and sideburns.
You can use it to design a beard or mustache using different designs and colors. If you are looking for an app that will help you create awesome tattoos on your body, this is worth checking out.
5. Custom Tattoo Design Maker
Custom Tattoo Design Maker is a free app that allows you to design and customize your own tattoo. You can customize the colors and fonts, as well as choose from a variety of skin tones and body types.
The app comes with more than 500 designs in its library, but if you don't find what you're looking for there, it's easy to create your own using the templates provided.
This app is a favorite because it has so many options for customization and because of its simplicity.
6. Tattoo Camera – Photo Editor With Stickers
Tattoo Camera is an app that lets you draw tattoos on your photos. It has a large selection of tattoo designs and is easy to use. You can add stickers or text or change the color of your tattoo with just one tap.
This tattoo application gives you access to all kinds of effects like glitters and shadows, so you can ensure that everyone who sees your new ink will be impressed. The best part about this app is its price, which is completely free.
If there's one thing we know about Android devices besides how much they cost, it's how affordable they are compared with other platforms like iOS or Windows.
7. TryTattoos – Temporary & Permanent Tattoo Designs Editor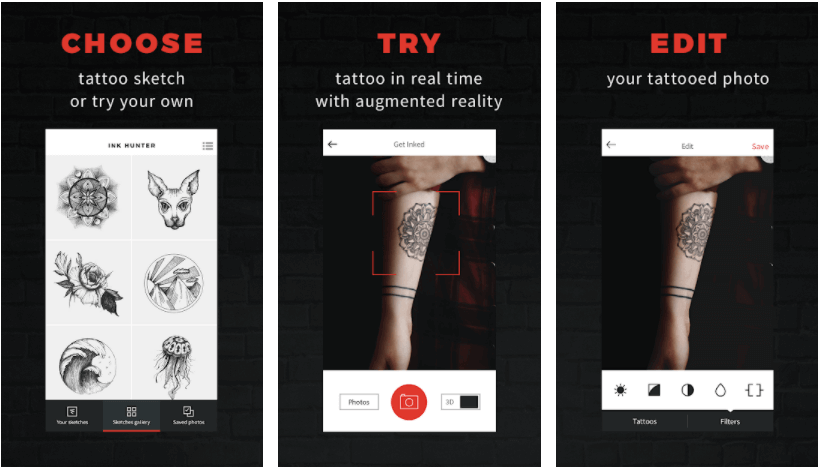 TryTattoos is a free app that allows you to create temporary and permanent tattoos. It has over 200 different tattoo designs and provides a wide range of options for you to choose from.
The app comes with easy-to-use controls, so it's perfect for kids who are just starting out in their tattooing journey. You can use this application as your reference when creating new ones yourself.
There is no limit to the design that can be created or the type of tattoo you want for yourself. You can make them as realistic looking as possible.
The only thing left is deciding which color scheme works best with each design and then choosing how many colors or patterns.
8. Celtic Patterns And Templates For Tattoos
Celtic patterns and templates are a great way to create your own tattoo designs. These apps allow you to easily choose from different templates, then customize them with a few simple tweaks.
9. Celtic Knots & Patterns (Best App 2021)
The Celtic Knots and Patterns! We are talking about one of the best tattoo design apps for Android phones in 2019.
This app can be used to create beautiful Celtic tattoos that you can show off on your body or as a canvas for other pieces of art.
The app has several different options for creating your own designs, including traditional knotwork, modern-style knots, and even geometric patterns. You can also use the templates provided within this app if you want something simpler.
This app's interface is quite simple to use. Anyone with basic knowledge of Photoshop should be able to navigate through everything easily enough without any issues whatsoever.
10. 3D Sketch For Tattoo Designs Sketcher Free
3D Sketch for Tattoo Designs is the best app for designing your own tattoo. You can draw on your skin and get a free tattoo design simultaneously.
You can also share your designs with friends and family, who will be impressed by how creative you are.
Conclusion
So here you have it, the Best tattoo design apps for your android phone. We hope this list has helped you find something that suits your needs.
Whether a simple drawing app or something more advanced like one of these creative tools, Whatever your style, these apps are sure to help take your ink game to the next level.