A speedometer or a speed meter is a gauge that measures and displays the instantaneous speed of a vehicle. Smartphones like Androids have made it easier for drivers to get several speedometer apps easily.
Using these GPS speedometer apps, you can watch and maintain your speed easily and these apps make it simpler to gauge speed in moving objects like cars, cyclists, and runners.
To enable you to choose the best from several available apps, this article contains a well-researched list of the top best speedometer apps for android.
Top Best Speedometer Apps For Android  
1. Sygic – GPS and Speedometer app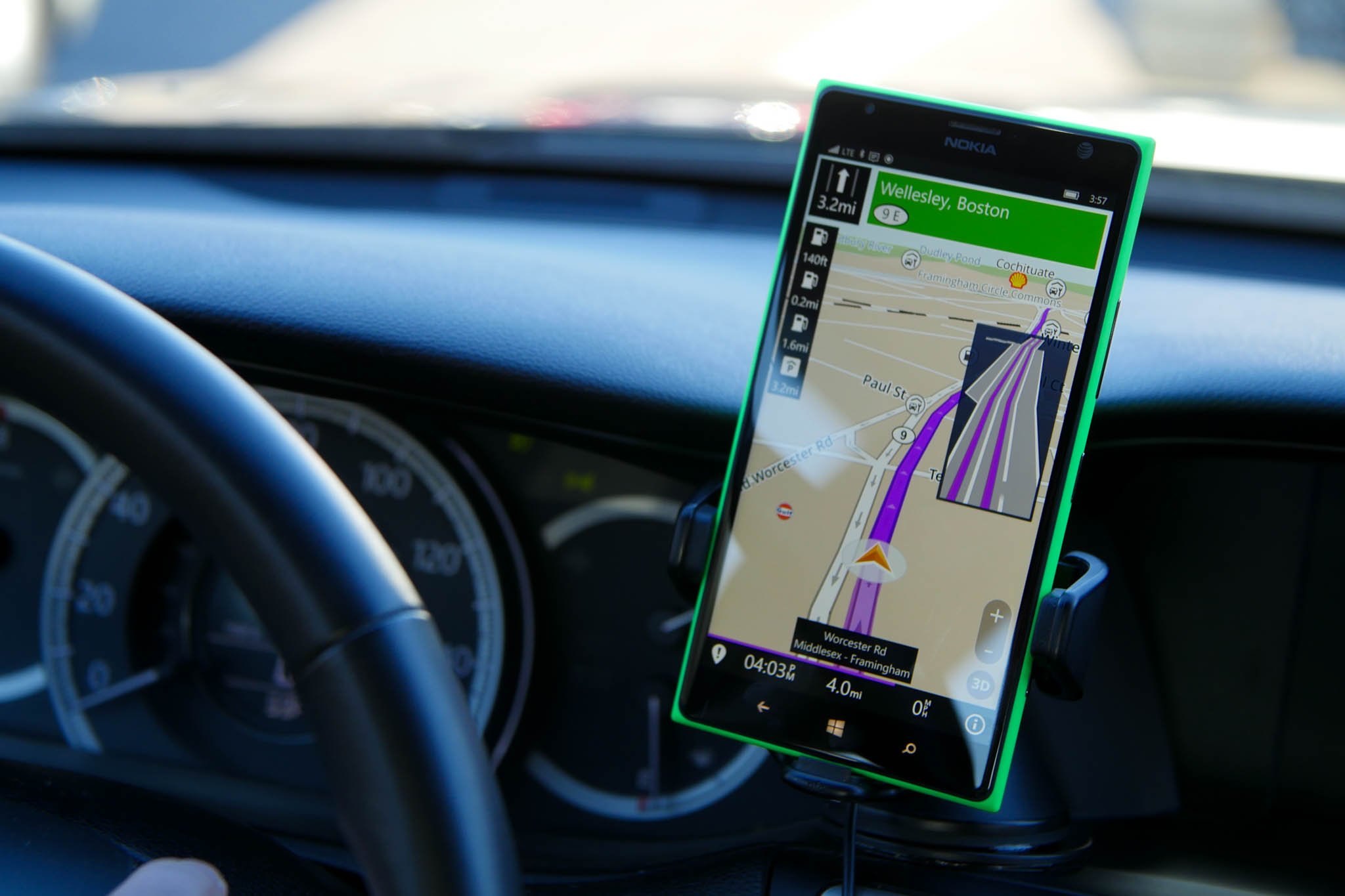 Many drivers worldwide rely on this Sygic GPS and speedometer app, which is available for both Android and iPhone. 
It has offline 3D maps, so you may use them even if there is no internet connection to get precise directions and maintain the speed limit.
Sygic GPS and speedometer apps also have a program that keeps track of speed limits and includes voice-guided GPS navigation. 
You can also get precise directions while walking by using this top GPS app.
Sygic GPS and speedometer app feature innovative safety measures, notification of a speed limit, and lane Guidance assistance.
2.Speedometer Free Speed Box
You can get all the tools you need to measure speed correctly with the speedometer-free speed box app. 
Speedometers, often known as free speed boxes, can measure both speed and distance, and it uses the easily available unit to measure both speed and distance such as MPH, KM/H, and knots. 
It offers customizable themes and an integrated compass. The Google Play Store offers a free download of Speedometer, the free speed box.
3.Ulysse Speedometer App
One of the best Android Speedometer apps, Ulysse, displays screen time, date, speed, and other vital information. 
This app also has two helpful buttons that blend in well with the navigation and music player. 
These buttons provide information regarding the Ulysse Speedometer app, a one-stop shop for all driving aids.
Furthermore, the app alerts by playing a distinctive sound when the speed restriction is exceeded and you can view the same's speed history.
Important information recording up-to-date and trips from last month will be shown in the Ulysse Speedometer app.
Ulysse Speedometer app also features a windshield HUD GPS altimeter.
Read Also:
4.GPS Speedometer and Odometer (Speed Meter)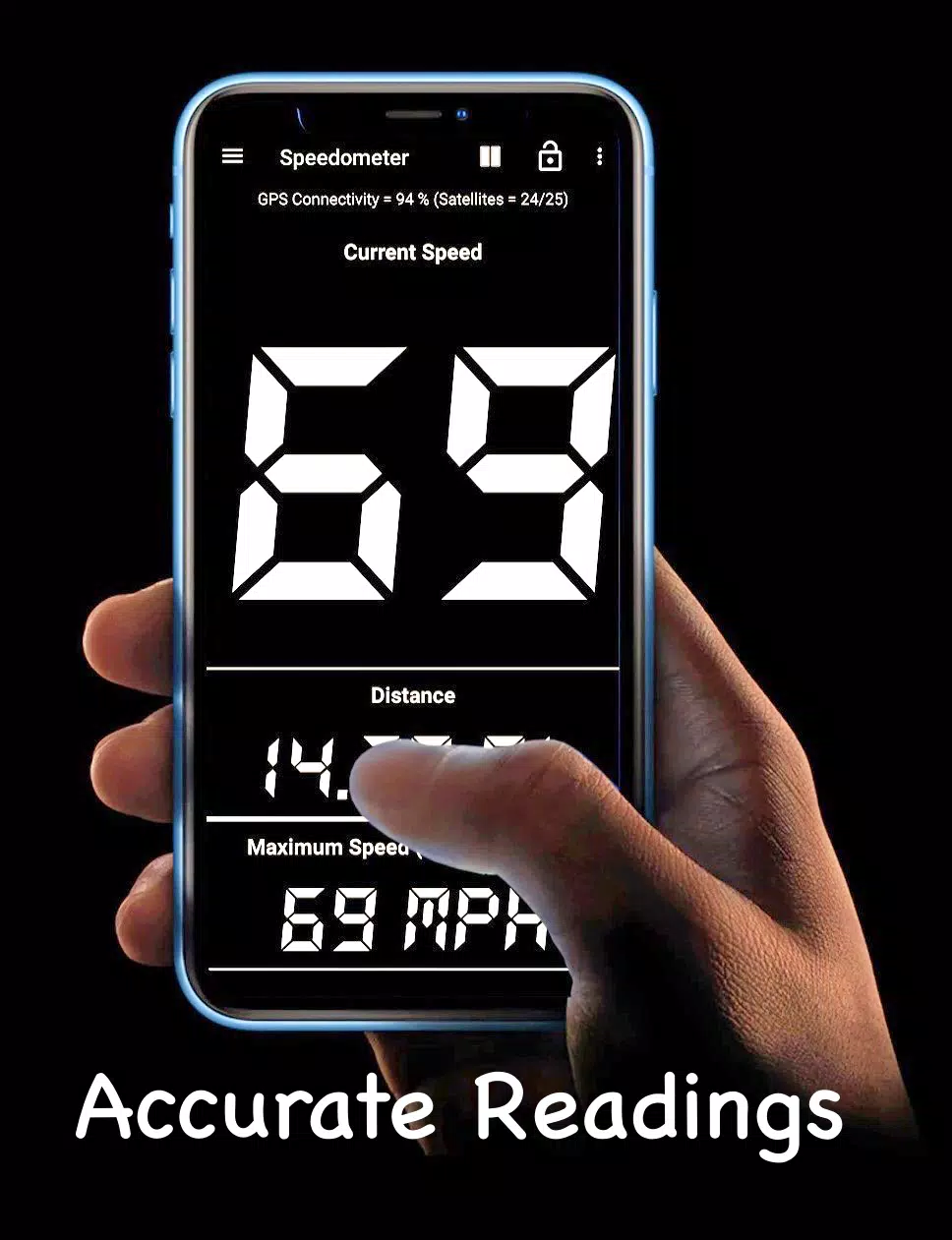 Users of Android devices can use this GPS speedometer app offline and it works great with GPS as well. 
It's 98% accurate and top bike riders and drivers use this GPS speedometer software because it is simple to use.
You can estimate your speed while using the GPS Speedometer and Odometer app. It also displays the number of kilometers and the number of hours you spent traveling.
GPS Speedometer and Odometer app displays the maximum distance speed, average speed, and current speed.
There are two different HUD modes available in this app, which is landscape and portrait, and it uses less battery on the phone.
5. Speedometer GPS Pro
There is a free version of the expensive Speedometer GPS Pro app, which is beneficial for both cyclists and car drivers.
You can track speed and distance with this top speedometer app and receive alerts for elapsed time, top speed, and other significant features. 
When the speedometer on your bike or automobile breaks or stops operating, this software is useful. 
There are two modes for the Speedometer app and you can save driving and cycling information using the app for later use. 
Additionally, it works nicely with maps, displaying your present location.
Features include a simple changeover between the bike cyclometer and the automobile speedometer.
Speedometer GPS Pro app is also integrated with speed limit warnings on Google Maps.
6. DigiHUD Speedometer
For Android users, DigiHUD Speedometer is one of the best and most simple speedometer apps. 
Everything that the greatest odometer app requires is in this GPS Speedometer app. 
DigiHUD has a color-changing interface that operates in the background without a data or mobile connection. 
This indicates that you can use it even if you're not connected to the internet, and it won't obstruct the operation of other apps.
You can set a speed restriction with DigiHUD Speedometer that you don't want to go above, and the app also provides driving information like distance, speed, and more. 
It is the best Speedometer app available without additional icons and you can choose between regular viewing and HUD mode with this finest Speedometer software.
Features include showing average speed, displaying battery level, about 10 different display colors, and showing the odometer and the top speed.
7. SpeedView GPS Speedometer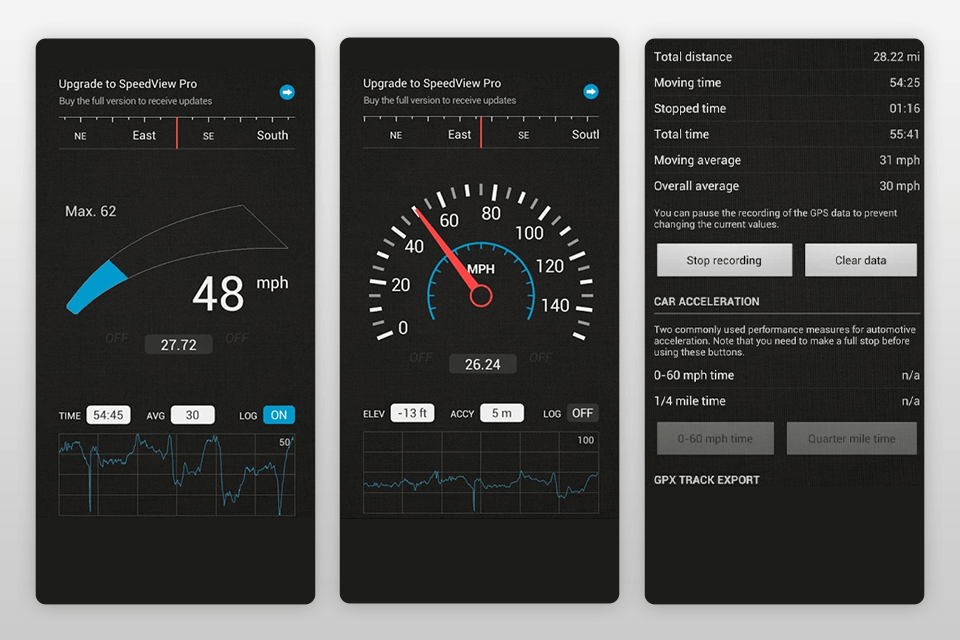 SpeedView is one of the best speedometer apps for Android users that makes use of the phone's integrated GPS. 
By being alerted whenever you go over the speed limit, the Speedometer app can help you avoid receiving a speeding ticket. A
You can also create your personalized speed restriction and make use of this sophisticated Speedometer app by using the free Speedometer app with in-app purchases.
It also displays a compass and displays drive history with distance and speed, just like DigiHUD. 
The information it offers is accurate, and it also displays the current direction of travel. It is suitable for running, hiking, biking, and driving.
Features include speed alert and chart, HUD mode, linear compass, and a dependable speedometer GPS tracking program.
SpeedView also has a background mode so you can continue using the program and receive notifications when the speed surpasses.
8. HUD Widget – Driving Widgets with HUD Mode
The HUD (Heads up display) widget is a collection of practical widgets that include practical information. 
A speedometer, distance reading, clock, weather, and eco-driving are all included in the HUD widget software. 
The program also offers fuel consumption translations, but you won't be able to utilize it very well during the day, which is one drawback. 
The HUD widget app needs some level of darkness for the characters that are displayed on your wheel screen to be seen. 
The Google Play Store offers the HUD widgets app for download.
9. GPS Speedometer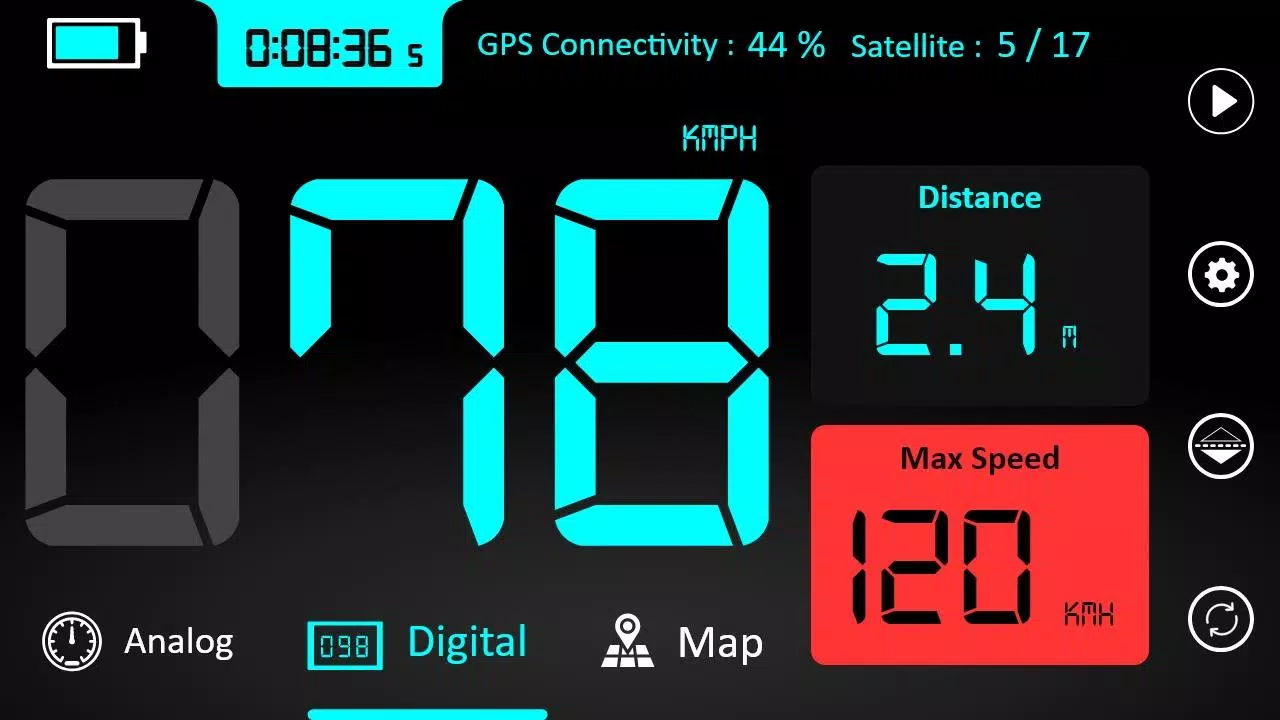 GPS Speedometer is one of the best speedometer apps for those who want to gauge speed with a simple user interface and accessible functions. 
A HUD mode, compass, and instant speed measurements are all included with the GPS Speedometer. 
Five distinct themes are also included with GPS Speedometer to enhance the aesthetic appeal of the application. 
The Google PlayStore offers a free download of GPS Speedometer.
10. Speedometer Free Speed Limit Alert + GPS Black Box
Drivers can track their speed with this speedometer app and they can establish speed limits using the speedometer limit alert app. 
The speedometer will alert you when the limit is surpassed with an unmistakable deafening sound.
Drivers can also avoid speeding charges and stay safe by using this Speedometer. 
The font color in the app changes from green to red as you get closer to the posted speed limit. 
And your most recent 20 minutes of driving are recorded by the speedometer, which can be used as proof in the event of an arrest.
Conclusion
Since driving is not the only activity that requires a speedometer, having a speedometer app on your smartphone is very important.
You can use any of the speedometer apps listed in this article to track your speed when running, walking, cycling, and driving.