Nowadays, you don't need to ask anyone to take pictures of you because, over the years, most smartphones' front cameras have improved, including iPhones.
Interestingly, tons of selfie camera apps for iPhones have been invented to aid self-enthusiasts take as many attractive selfies as they want.
In this guide, we will be looking at the 10 best selfie camera apps for iPhones out of many different selfie apps available in the app store.
Top 12 Selfie Camera Apps For iPhones 2022
Listed below are the 12 best selfie camera apps for iphones, their key specifications, and features as well as the reasons why they made it to our list.
Let's find out what they are:
1. Similar Selfie Fixer – Best Selfie App for iPhone
From the name, you can deduce what this selfie app is all about- searches for selfies that are similar to yours and deletes them to create space on your phone.
Interestingly, it is a simple-to-use iOS software as it can easily scan your entire smartphone.
Key Specs
Size: 4.6MB
Requires: iOS 8.0 or later
Version: 1.1
Price: Free (In-App Purchases)
Major Features
This selfie camera app shows you genuine copies and selfies that are identical hidden in your picture stream.
Presence of normal, aggressive, and custom scanning modes.
A detailed and modern dashboard.
2. YouCam
With YouCam, you can shoot still or video selfies without having to get bothered about skin challenges.
It has numerous auto-beautify options such as an eye enhancer that help to improve your features like giving your eyes the look you desire.
You can even trim down your shape as well as increase your height if you wish.
Additionally, this app features fun elements such as stickers, backgrounds, and so on.
Key Specs
Size: 233.6MB
Requires: iOS 14.0 or later
Version: 5.73.1
Price: Free (In-App Purchases)
Major Features
Use the live effects if you wish to capture pictures or videos quickly.
Use templates & backgrounds to make unique touches to your photos.
It has skin analysis and a skin journal feature that serves as a guide to healthy and radiant skin.
3. Facetune – The Original Selfie Editor
Facetune app has outstanding features capable of beautifying your pictures ranging from refining your smile to fixing your face, brightening your teeth, removing stray hairs, reshaping your facial structure, and so on.
You can get this popular selfie app for $3.99.
Key Specs
Size: 541.1MB
Requires: iOS 14.0 or later
Version: 2.38.3
Price: Free (In-App Purchases)
Major Features
It has a wide range of user-friendly picture editing tools.
Equipment for expert picture retouching and a magic camera.
It has a reshape feature that can be used to thin or thicken your lips, eyebrows, or hair.
4. Beauty Plus
Take advantage of the numerous features of this excellent selfie app to take stunning selfies.
You can as well add filters such as the AR filters that can be used to improve the beauty of your image to the extent of giving you a look void of blemishes.
Little wonder why it is a top choice for thousands of users.
Key Specs
Size: 368.3MB
Requires: iOS 10.0 or later
Version: 7.5.070
Price: Free (In-App Purchases)
Major Features
If you want to increase your height, you can use the height-adjustment tool.
Ability to remove a person or item from a picture, then change the backdrop.
Having over 200 specialized filters and stunning effects, you can easily create different styles.
5. Air Brush
Air Brush has a wide range of features that can give you a magical look.
Such options include the Makeup option, Subtle, Modern, Smokey, Drama, and the rest.
Furthermore, it is referred to as the perfect app for the ideal selfie because it has a Magic tool that can brighten your eyes, reshape your face, remove acne as well as all facial flaws.
Key Specs
Size: 294.4MB
Requires: iOS 10.0 or later
Version: 4.25.16
Price: Free (In-App Purchases)
Major Features
You can post your chosen AirBrush images directly to your social media platforms.
Use custom or preset parameters to crop pictures.
Presence of face reshaping tools for detailed editing.
Read Also:
6. Retrica
Having over 250 million active users across the globe, you can easily tell that this iconic selfie app is one of the best.
Interestingly, it has over a hundred unique filters just to ensure you get the best selfie, and it enables users to add layout to their selfies, and also stamp their favorite selfies.
It may interest you to know that Retrica has been in existencs for years, and you can use it free of charge.
Key Specs
Size: 110.8MB
Requires: iOS 10.0 or later
Version: 7.2.15
Price: Free (In-App Purchases)
Major Features
Easily upload your pictures on Facebook or other social media platforms.
Ability to apply real-time filters to images and videos.
User-friendly and attractive interface.
7. Selfie Editor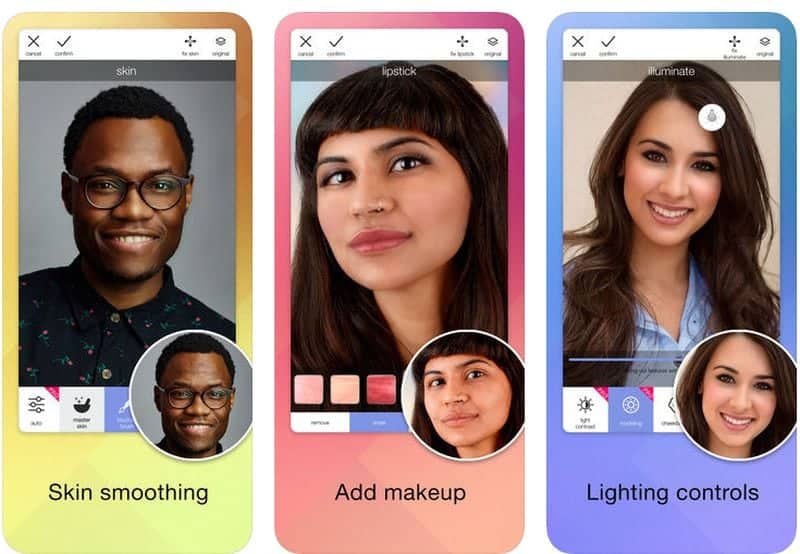 Aside from the fact that with just a few clicks, this app helps you to achieve the perfect look by streamlining your face, smoothening wrinkles, removing blemishes, brightening dull eyes, and so on, it allows you to instantly edit your pictures after taking it.
Furthermore, it has a user-friendly interface, so I am sure you won't be needing a guide to navigate through it.
Key Specs
Size: 121.1MB
Requires: iOS 12.3 or later
Version: 2.9.40
Price: Free (In-App Purchases)
Major Features
You can use face makeup editing tools for a facelift.
You can also edit your teeth such that it would appear as though you just visited the dentist using the teeth-whitening feature.
After retouching your pictures, you can directly share them with your loved ones through email, Facebook, or Instagram.
8. Camera 360
Camera 360 is yet another selfie app tailor-made for to improve your selfies.
It enables you fix anything yourself like the Size of your cheeks, the color of your lips, and you can even choose effects that you want on your face just to achieve the best look.
While at it, you can have fun by trying out the amusing stickers with hilarious themes and animal faces on yourself.
Key Specs
Size: 332MB
Requires: iOS 11.0 or later
Version: 9.9.98
Price: Free (In-App Purchases)
Major Features
Its intelligent face recognition is able to capture your facial emotions when capturing only your face.
Use the "Great Artist" effect to create the appearance of a painting in your photo.
There are more than 300 high-quality filters you can select from.
9. Perfect 365
An outstanding factor about this selfie all is that it detects your face, eyes, nose and so on automatically thereby making it easy to use.
Additionally, it has tons of beauty enhancement tools capable of enabling you to alter your picture in various ways.
Feel free to share your photos with your loved ones on social media directly from the app.
Key Specs
Size: 257.6MB
Requires: iOS 12.1 or later
Version: 9.10.39
Price: Free (In-App Purchases)
Major Features
You can access instructional videos from your preferred YouTubers.
Access to daily fashion and makeup advice from professionals.
You can instantly share your pictures across your social media handles.
10. B612
Another top selfie app on my list is the B612 featuring numerous unique filters including AR filters that is useful in beautifying selfies.
It also allows you to share then with your loved ones across various platforms.
Furthermore, use the available tools in the app or the one-touch option to edit your pictures.
Key Specs
Size: 216.2MB
Requires: iOS 12.0 or later
Version: 11.2.35
Price: Free (In-App Purchases)
Major Features
Record each unique moment using Real-time filters.
There are over 500 types of music available that you can use while recording videos or editing them.
You can use night mode and high-resolution mode to capture sharp images whenever you like.
11. Picr
With Picr, you can swiftly take pictures at all times, and shows a grid on the screen of the last picture you took.
This will enable you make an animated video and add music when you mist have had enough pictures.
If you belong to the category of people who frequently travel, this app is ideal as it will help in capturing those moments in the exact same pose.
Key Specs
Size: 72.7MB
Requires: iOS 10.0 or later
Version: 3.0.26
Price: Free (In-App Purchases)
Major Features
Make time-lapse videos with a remarkable fade transition effect.
Numerous useful tools like Grid and Overlay are available.
Streamlined and arranged with a modern, detailed interface
12. Cymera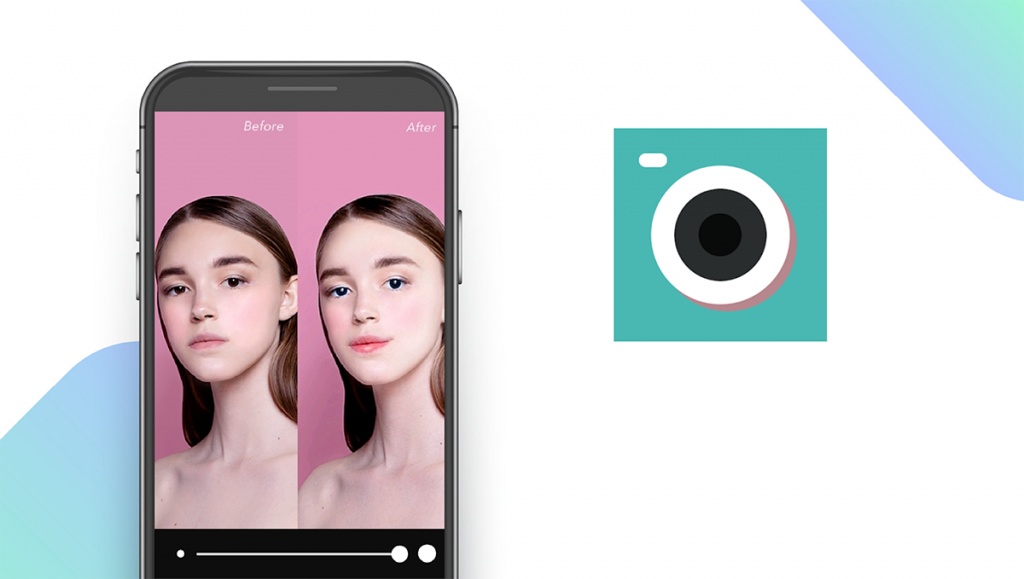 The last but not the least on my list of top selfie apps for iPhone is Cymera which is a lifesaver for anyone looking to alter their look.
It effortlessly gets rid of all forms of blemishes and actively carry out skin corrections like brightening, concealing wrinkles as well as having a good body shaper.
Aside from the aforementioned features, you can as well crop, rotate, brighten your selfies using this app.
Key Specs
Size: 233.4MB
Requires: iOS 9.2 or later
Version: 4.3.5
Price: Free (In-App Purchases)
Major Features
Ability to create perfect quick selfies using approximately 130 various effects.
Take pictures using the silent mode without drawing attention to yourself.
Supports 15 different languages.
Frequently Asked Question
How To Make Better Selfies With The iPhone
FLIP THE CAMERA LENS. Turn the camera lens around so you can see yourself on the iPhone screen. 
Look at the lens of the camera. 
Use burst mode 
Use self-timer + Burst mode. 
Hold your phone with your two hands. 
Use your Earpods
Try a selfie stick. 
Set up a mini-tripod.
 Try Cam Me or Selfie Matic apps
Shoot in square mode
Adjust the exposure manually.
Hold your camera higher than eye level 
Check the camera lens
Use an app to process your  selfie.
Experiment with HDR (High Dynamic Range)
Use the camera grid
Use the editing tools.
Conclusion
Now that you have seen the top 12 selfie camera apps for iPhones, have you tried your hands on any of them? If yes, which and what was your experience?
I believe with these apps, you will be kissing goodbye to boring selfies because henceforth, you will be excited to share your selfies with your loved ones because of how perfect it looks.