Photos are precious to everyone, and even if you lose them, you stand a chance of getting them back with the help of photo recovery software. 
This article will be sharing with you the top best free photo recovery software in 2022. This photos recovery software can help you to regain your lost photos from your device in no time and without any stress. 
Losing pictures is something that happens to a majority of people frequently, and could be caused by numerous reasons.
Loss of photos or files may be a result of hard drive formatting, virus attack, loss of phone, or accidental deletion.
However, whenever you lose photos, videos or GIPs, they're actually still on your phone and you can recover them easily and quickly using free recovery software. 
Before we go into seeing the free photo recovery software, let's actually discuss briefly how photo recovery software works. This will help you have a better understanding of how your photos are retrieved. 
How Does Data/Photo Recovery Work?
First off, what is Photo Recovery Software? They are programs that make it simple for you to recover your digital photos and accidentally erased files. File formats like TIFF, JPEG, NEF, BMP, and GIF are supported with this software.
A file is always transferred to the recycle bin when it is deleted. The file is not gone even after it has been taken out of the recycle bin. 
The file system removes a portion of this deleted file, making it less accessible. This file's allocated space will be designated as free for usage by other files when needed.
Also, on the system, a binary file is still accessible. Up until a time when it is overwritten by another file, the file is still accessible, and portions of the file could stay on the hard drive for a while.
The data recovery software won't be capable of recovering the file and giving you useful data if the lost file is partially overwritten by another file.
The data recovery software typically has access to the hard disk's basic architecture. To recover data from damaged storage media, this software makes use of and reads the file structure entries.
The best photo recovery software should be able to recover files from all forms of storage media since it should support all file structures and storage media.
So when you're choosing photo recovery software, you should take into account elements such as OS compatibility, usability, supported file types, and supported file systems.
 The company's service support and software warranty should also be taken into account when choosing the software.
Read Also:
 Best Free Photo Recovery Software
For some of these programs, you need to purchase a license to unlock Pro features on photo recovery software. 
 However, the fundamental features which are sufficient to restore your files are free.
Numerous file types, including MP3, ZIP, HTML, and GIF, are supported by these apps. Additionally, they may access data from a wide range of devices, including PCs, hard drives, memory cards, and smartphones.
Now, let's look at the best free recovery software available for you. 
1. Wise Data Recovery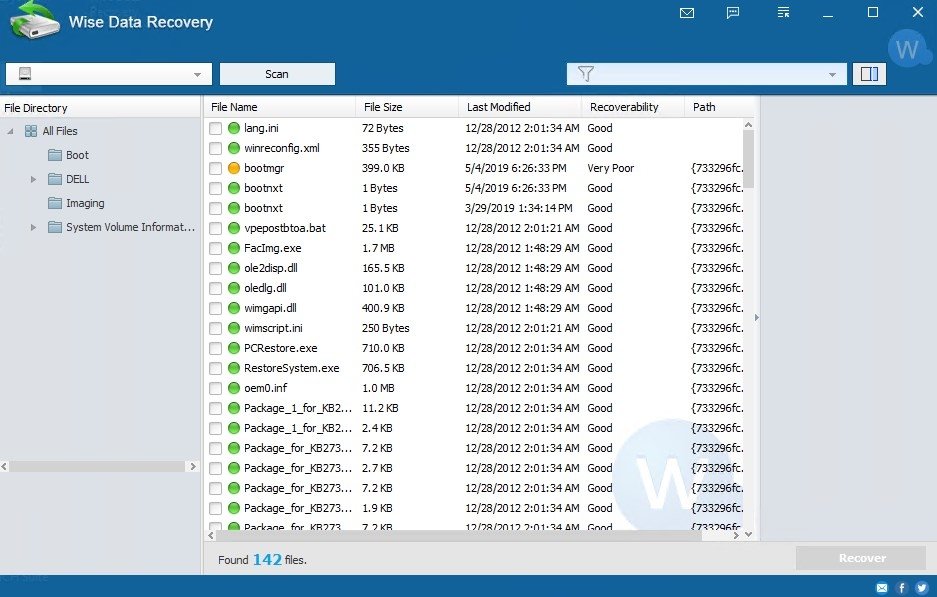 An excellent free photo recovery program for Windows and macOS is Wise Data Recovery. You can use it to recover your files from inadvertent and irrevocable deletion.
Before scanning, this file recovery program lets you filter by the type of lost file. You can restore deleted emails, documents, photographs, videos, and other file types.
Data recovery from external hard disks and hard-drive disks is supported by this utility. Additionally, it functions with USB drives, digital cameras, memory cards, and other storage gadgets.
You may recover files without installing using the portable version of Wise data recovery!
2. iMobie PhoneRescue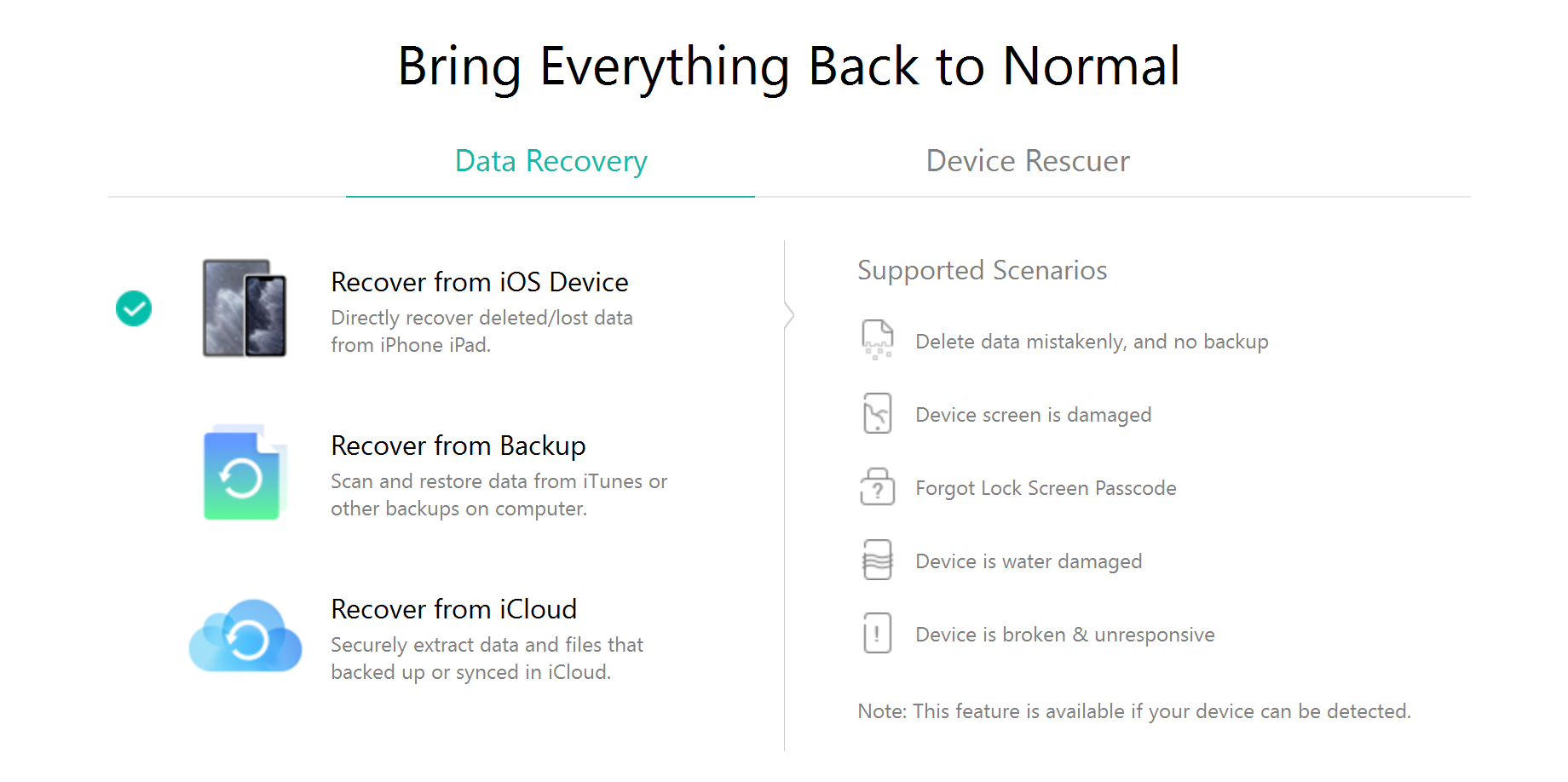 One of several best photo recovery apps for cell phones is PhoneRescue by iMobie. You can use it to recover deleted files from Android and iOS devices.
iMobie PhoneRescue does more than only retrieve data and photographs. This software will also assist you in recovering your password if you forget it. When your device crashes, it can also assist you in saving the operating system.
Up to 31 file formats are supported by this data recovery program. You may preview files, pictures, contacts, messages, and other things.
This software has a straightforward user interface which makes it a great choice for beginners.
3. Easy Digital Photo Recovery
Easy Digital is a top-notch photo recovery software that can be downloaded for Windows. You can use it to recover deleted photos from a hard drive, memory card, or sd card.
An up-to-date algorithm is used by this data recovery program which enables the software to restore files quickly and easily.
You can use the search filters in Easy Digital Photo Recovery to narrow down your results. Additionally, this software enables you to look at all lost pictures before you can recover them.
4. Glarysoft File Recovery Free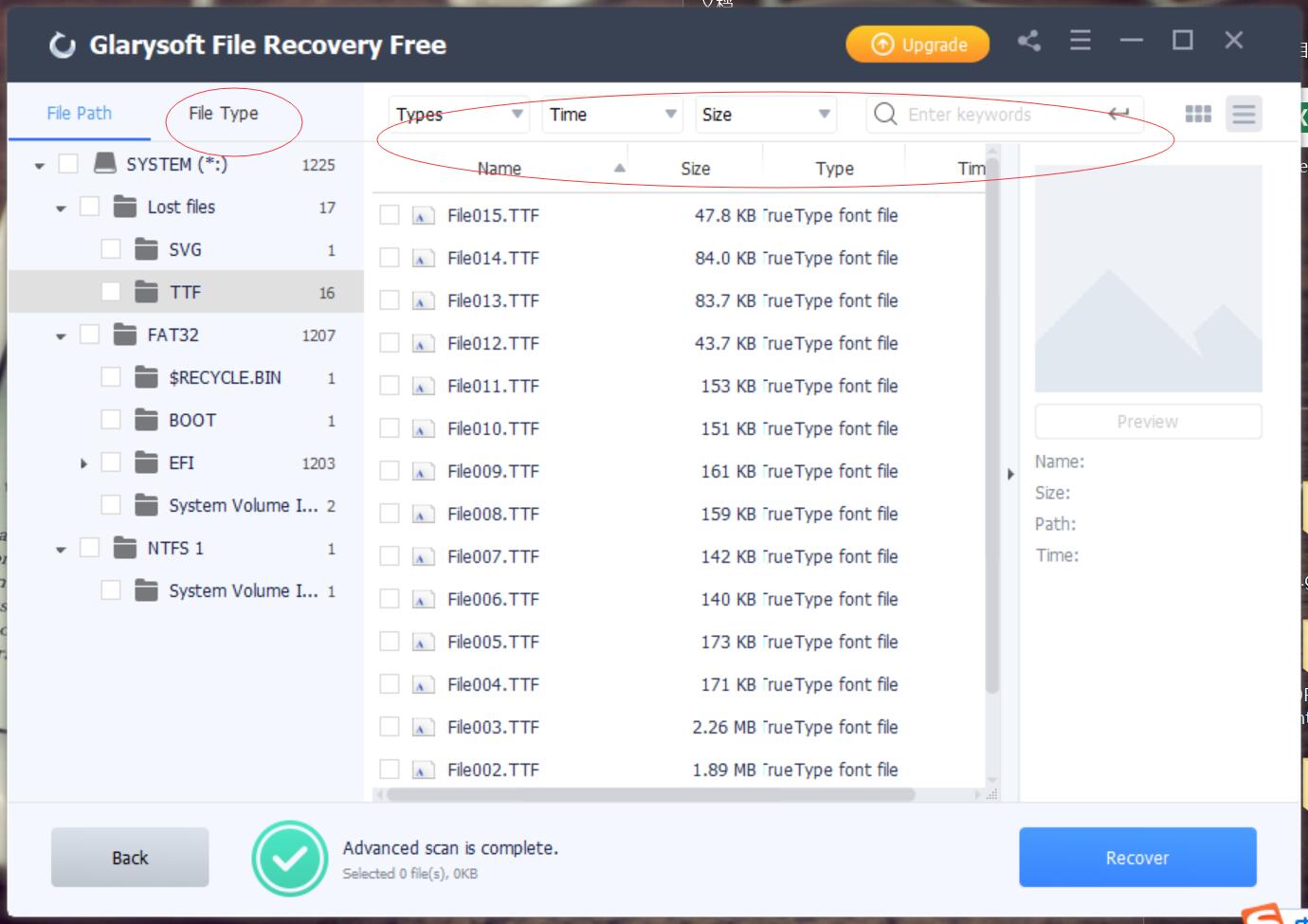 An outstanding photo recovery program that runs on Windows is Glarysoft File Recovery Free.
It's simple to utilize this picture recovery program. In only two easy steps, it can assist you in recovering supposed permanently erased files.
How it works is that you can scan and preview list files and after that the software arranges them in order of size, name, file type, and creation date.
Using email and live chat, a team of professionals is available 24/7 to provide free professional support for Glarysoft File Recovery users.
 Additionally, a deep recovery technique is used by this program, which improves success rates. It can also recover files that are fragmented, compressed, or encrypted.
A free and premium version of this photo recovery program is available. However, you are only able to restore a certain quantity of files with the free version.
 5. AnyRecover Data Recovery
Users of Windows and macOS can recover files from hard drives, virtual disks, or USB drives using the data recovery program AnyRecover. Other devices that photos can be restored from include Memory cards, SD, and microSD cards. 
This recovery program works by performing a thorough scan of your device. Users can easily restore photographs and files thanks to its sophisticated search feature.
The software has been optimized and has a user-friendly interface so both experienced users and beginners will find it simple to use because of these characteristics.
Up to eight files, regardless of size, can be restored for free with AnyRecover Data Recovery's free edition. Although the free version has restrictions, it is nevertheless a useful tool for occasional use.
6. iBoysoft Data Recovery Free
For Windows and macOS, there is a free data recovery program called iBoysoft Data Recovery. You can use it to recover deleted data from a hard drive, USB drive, SD card, memory card, or PC.
Over 1000 different file kinds and formats can be restored by this data recovery program. Others include emails, videos, audio, workplace documents, and images.
In the event of a virus attack, computer crash, or lost partition, the software aids in data recovery. It also functions if you are unsure of the cause of the data loss or deletion.
Utilizing this photo recovery program, you may quickly restore up to 1GB of data.
Let's look at the three steps you can take to achieve this. 
Choose a recovery setting.
Select the drive to begin the scan.
By selecting the Retrieve button, you can examine and recover your deleted data.
You may choose a location with ease and preview deleted data before recovering them with the software's free edition. 
Additionally, it offers comprehensive and rapid scan alternatives for various needs and situations.
7. DiskDigger
DiskDigger is a popular and effective recovery software for Linux and Windows that can recover deleted files and pictures. 
Hard disks, USB drives, sd cards, and discs are all compatible with it and it aids in file recovery from faulty or damaged CD-ROM and DVD media.
Before beginning the data recovery process, you can preview the deleted data with this software. You can easily pause and resume the scanning process at any time.
There are two recovery modes in the software:
Dig Deep Mode: For recently deleted files, the Dig Deep mode is a useful tool. It operates by scanning the file system and showing lost files in a preview. Then it makes them available as ordinary files once more.
Independent of the file system, the Dig Deeper mode analyzes each sector of the drive. This procedure takes a lot longer to finish. Plus, it can look at places that a simple scan cannot.
8. Recuva
One of the best free photo recovery programs for Windows users is Recuva and it's available in over 40 languages. 
Even if your hard drive's lost images are damaged or formatted, it can still recover them.
It includes an automatic scan mechanism that checks the entire disk for lost files. According to your search criteria, it performs this scan. The file's name, location, and size can also be restored.
To use this recovery software, all you have to do is choose the disk you wish to scan. Next, pick the folder where you wish to save the recovered files.
There is a "deep scan" mode included with this photo recovery software. You can easily find deleted files with this feature. Additionally, it can recover deleted files from MP3 players, floppy disks, and memory cards.
You may also recover emails and word documents that were not saved with this software. Additionally, it can stop data loss due to damaged disks. 
9. Stellar Photo Recovery
One of the greatest photo recovery programs for Windows and Mac users is Stellar. It enables you to recover deleted files from hard drives, USBs, and solid-state drives.
You may recover deleted documents, emails, audio files, videos, and more with the use of this tool. Up to 1GB of deleted files can be recovered. Additionally, it can assist you in recovering files from a crashed computer or an encrypted disc.
An intuitive user interface is provided by Stellar. Additionally, the application has interactive features that facilitate healing.
To show the scanned files, you can choose from several views. Additionally, you can search for particular folders or add file headers to the list of accepted file types.
The paid version of Stellar Photo Recovery includes assistance and a 30-day money-back guarantee, so you could give it a try. 
10. IObit Undelete
One of the greatest photo recovery programs for Windows users is IObit Undelete. With just a few clicks, it enables you to restore deleted images, videos, documents, and music.
You can use the name, extension, and size of deleted files to search for them using this data recovery software. The gadget is then scanned, and they are easily recovered.
To find deleted data, IObit Undelete runs a "deep scan." Even if files have been lost for a long time, the scan aids in their recovery.
Additionally, IObit Undelete assesses the file condition before recovery. You can use this software to determine whether a file can be restored or whether it has been overwritten. If you want a simple and user-friendly interface, I suggest this data recovery tool.
11. EaseUS Data Recovery Wizard (PC & Mac) and MobiSaver (Android & iOS)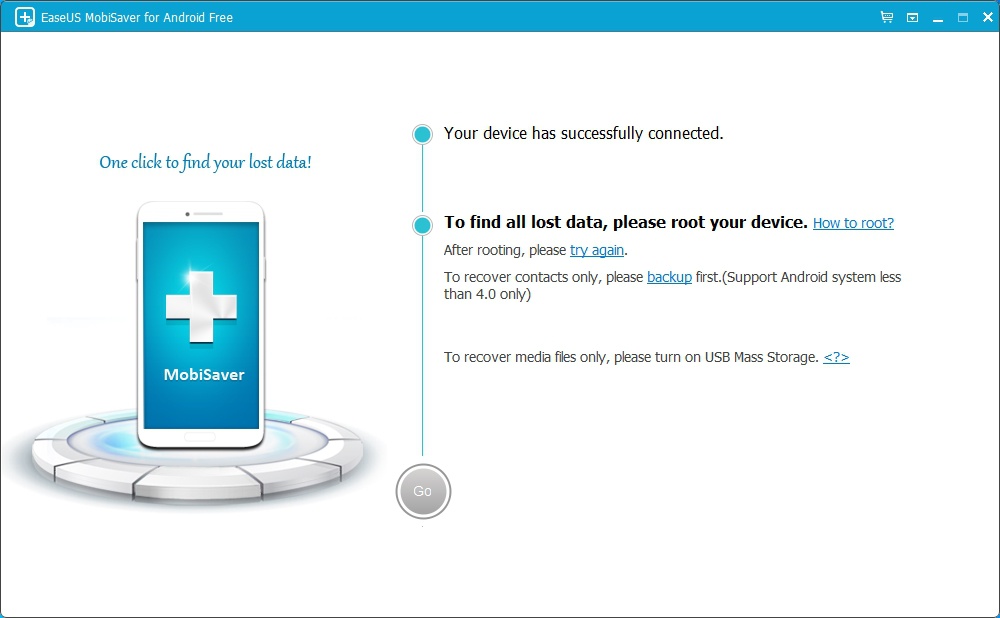 You can restore up to 1000 different file types with the aid of the photo recovery program EaseUS Data Recovery Wizard. It recovers images from Windows and Mac devices that have been erased, formatted, or misplaced.
Hard disks and removable storage are included. The data recovery wizard is included with this user-friendly program. With the aid of this tool, you may rapidly retrieve your files.
You can recover up to 2GB of data for free using EaseUS Data Recovery Wizard. If you require additional data to be restored, the software's Pro edition is available.
You can sort the scanned files by file type with this recovery software. Additionally, before recovering the lost data, you can preview them.
12.  Puran File Recovery
Puran File Recovery is yet another top-notch Windows recovery program. You can use it to quickly recover deleted files, images, and partitions.
Hard drives, memory cards, formatted disks, and mobile phones are all supported by the application. Additionally, it supports CDs, DVDs, and all other forms of storage.
An intuitive user interface is included with this recovery software. It has a powerful recovery engine that can quickly retrieve files in more than 50 different file formats.
Puran File Recovery aids in the structure-preserving restoration of missing files. You may reorganize them in the same way as before deletion thanks to this feature, which will make your life easier.
A Maintenance Wizard option is also included with Puran File Recovery. You can improve the performance of your computer by doing this. Additionally, it provides a Batch Fix option to maintain your system free of errors.
Users of Windows can access this software, which offers support in numerous languages.
Three recovery options are provided by Puran File Recovery, they are:
Quick Scan functions by quickly listing deleted files.
Make use of Deep scan. It has a greater capacity for finding missing and deleted files.
Make use of a full scan. Full Scan can find misplaced or deleted partitions. It works well for retrieving deleted files from devices that have been formatted.
13. PhotoRec Data Recovery (Windows & Mac)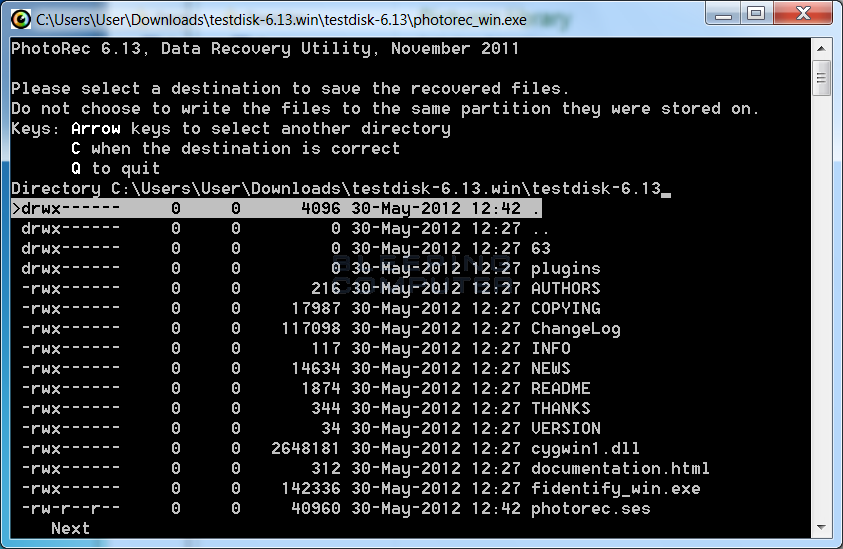 This recovery program is a Disk Drill ally and works with Windows, macOS, Linux, and DOS operating systems.
This data recovery program manages the storage device you are using with read-only access. 
However, when using this software, you shouldn't store new images or data on that memory device. If not, the lost data can be overwritten and beyond repair.
From badly damaged or formatted drives, PhotoRec can restore files. Hard drives, memory cards, and USB memory drives are all compatible. Additionally supported are CD-ROMs and portable media devices.
PhotoRecs graphic user interface is not friendly, however, it still works and is dependable.
14. PC Inspector File Recovery
You may recover deleted data or partitions from Windows machines with the use of PC Inspector File Recovery. More than 25 file formats, including HTML, JPEG, MP3, and ZIP, are supported.
There are seven languages available for this free photo recovery program. Additionally, it provides a step-by-step tutorial for quickly recovering files and images.
You can protect your hard drive against a system crash with the use of PC Inspector File Recovery. It is also beneficial in the event of a virus or hardware breakdown.
The original date and time information for your files can be recovered with this software. Furthermore, this application is totally free. No license is necessary to use any of the features.
15.  7-Data Recovery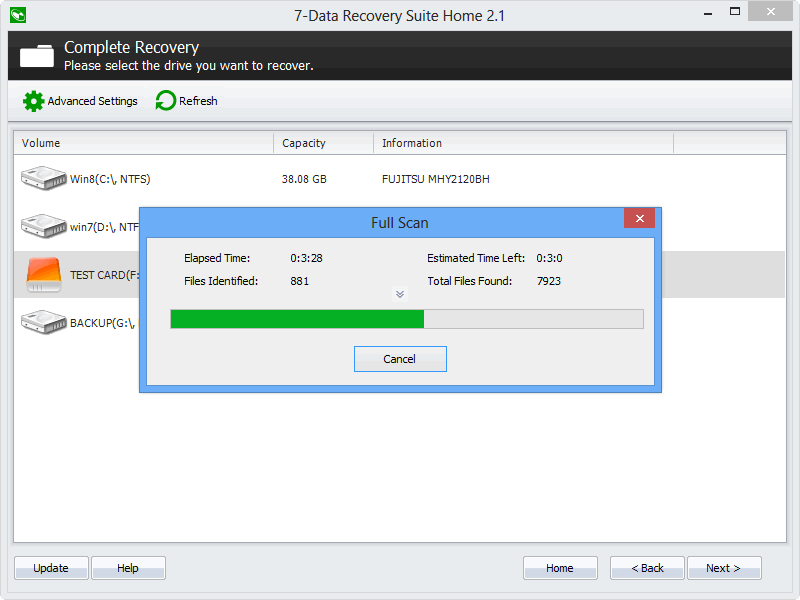 7-Data Recovery is a great photo recovery program for Windows users to utilize because it helps you recover lost data.
You can use the application to restore up to 1GB of data. You may retrieve documents, emails, music, video, and photo file formats.
The program has more capabilities than just file recovery, other of its functions include resolving file corruption, partition difficulties, and SD card problems.
There are four recovery modes included for restoring various sorts of data. The mode chosen will depend on how the data was lost. 
Let's look at the four recovery modes available on this software. 
Deleted Recovery option: Files lost from the recycle bin can be recovered using the Deleted Recovery option. Deleted files from storage can also be used with it.
Complete Recovery mode: Files can be recovered from a corrupted or formatted volume using Complete Recovery mode.
Lost Partition Recovery option: In a variety of situations, the Lost Partition Recovery option can recover deleted partitions. Hard drive crashes and disk partitioning are two examples.
Digital Media Recovery method: Images, music, and movies are retrieved through the Digital Media Recovery method.
Hard disks, SD cards, cameras, USB drives, and other memory cards are all supported by 7-Data Recovery. Both local disks and portable storage devices can have their files restored.
16. Undelete 360
Windows users can get Undelete 360 without charge. You may swiftly recover your lost files using this data recovery program.
It recovers deleted photos from USB devices, memory cards, and smartphones. Hard disks and floppy drives for computers are also compatible with them.
The algorithm used by this photo recovery program is effective. It makes it simple for you to browse, search, and recover files.
You can recover images using Undelete 360 if they were lost as a result of a virus attack, an accident, a software malfunction, or an unplanned system shutdown.
Prior to restoring the deleted files, you can preview them with this recovery software. Both a file type view and a folder view of the scanned results are displayed.
The application has a filter option as well. Users can scan specific files rather than the entire device, which saves them time.
17. iCare Data Recovery Free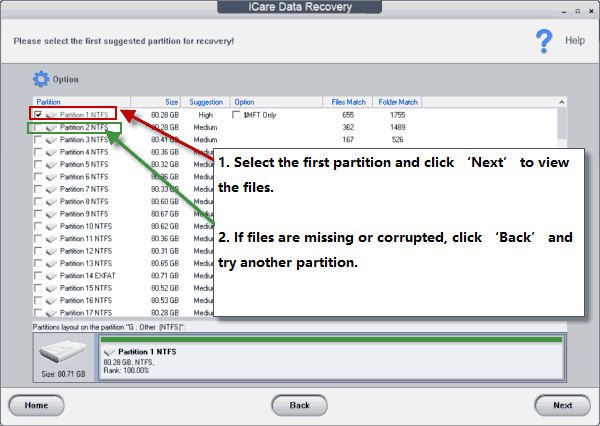 This free photo recovery program for Windows is called iCare Data Recovery. Through program crashes, hard disk formatting, and virus attacks, you can retrieve irrevocably deleted photos.
More than 600 file types are supported by iCare Data Recovery. Emails, pictures, papers, audio files, and videos are all included in this.
Hard disks, portable hard drives, SD cards, and micro SD cards can all be scanned by this recovery program. Digital cameras and USB flash drives are also included.
You may recover deleted photos rapidly with the use of iCare Data Recovery. As long as your gadget is not physically harmed, the program functions.
18. Windows File Recovery
Microsoft produced a fantastic program called Windows File Recovery. You can use it to retrieve data and photographs from Windows 10 devices.
You may recover deleted images, movies, documents, and many other file formats using this tool, which is completely free. You can use the search bar to look for deleted files using their name, extension, or keywords.
This photo recovery software operates on several devices. Hard drive disks, USB memory drives, memory cards, and solid-state drives are a few examples.
There are two file recovery modes included with Windows File Recovery: Regular and Extensive. Additionally, it has a Data Recovery Signature mode that can retrieve files from an SD card or camera.
If you want to restore recently deleted files, use the Regular mode. Over 4GB of data can be stored on hard disks, solid-state drives, and flash devices. Although speedy, this mode is not entirely effective.
On the other hand, files from corrupted disks or reformatted devices can be recovered using the Extensive mode. In this setting, scanning takes substantially longer. However, the likelihood of recovering the files is increased.
19.  Disk Drill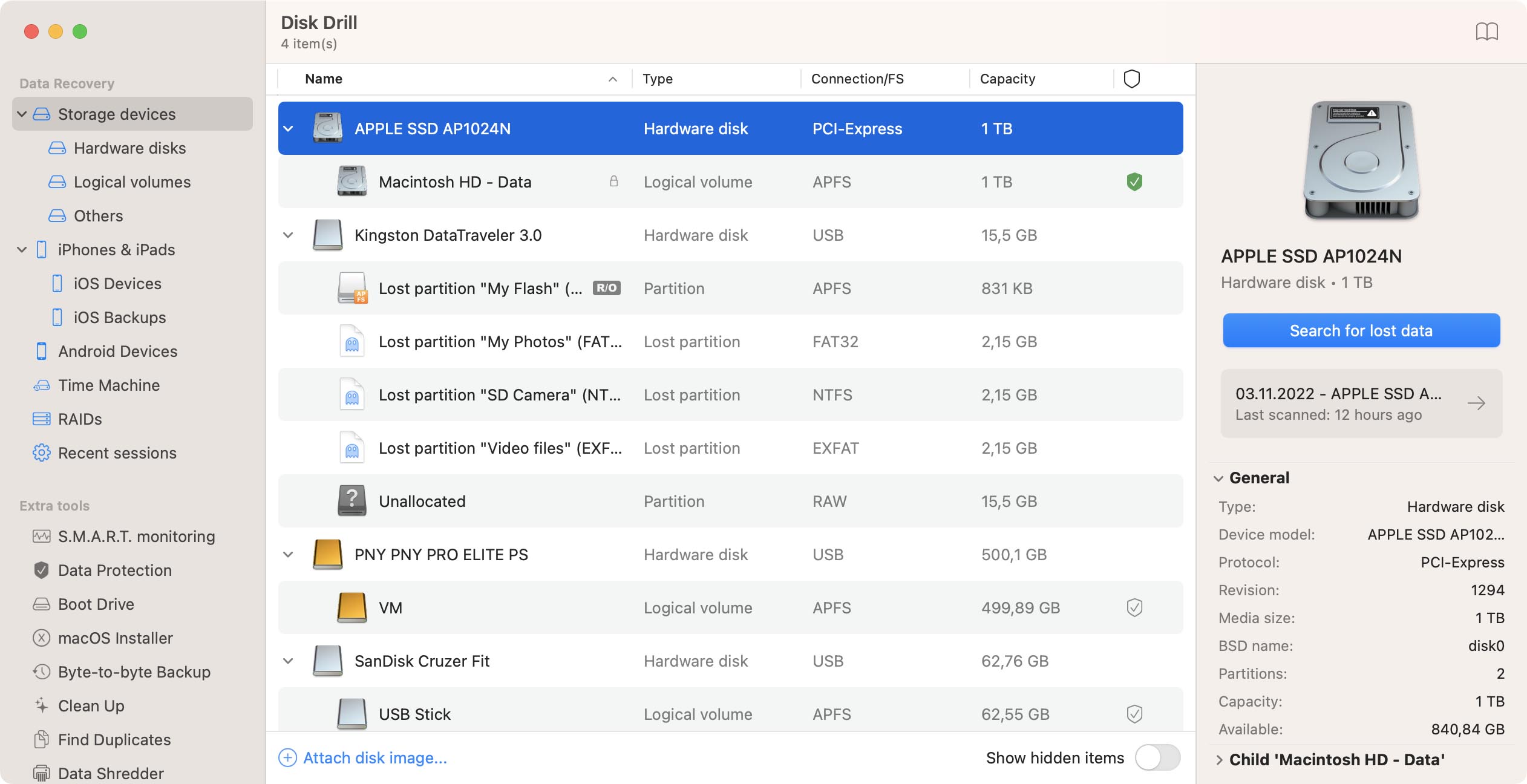 For people looking for all-inclusive data recovery software, Disk Drill is one of the top photo recovery programs for Windows, macOS, and Android operating systems.
The app not only restores files from Mac platforms but also from iOS and Android devices.
You can recover "permanently deleted" images with the use of this recovery software. Memory cards, hard disks, and flash drives are all compatible with this software. 
It can detect and recover more than 200 different file kinds. Additionally, it gives you free access to restore up to 500MB of data and It has a sleek and user-friendly UI. 
Through filtering settings, it aids in finding and recovering deleted files. Before recovery, you can also inspect your deleted pictures and files.
Using a variety of recovery techniques, this software can assist you in recovering deleted files. The approach is determined by the specific recovery circumstance. "Partition search" and "deep scan" are two alternatives.
20. Remo Recover
For Windows and Mac users, Remo Recover is a simplistic yet effective recovery software.
 It enables you to recover images from any computer, even one that has crashed. It also recovers data from hard drives that have been formatted or destroyed.
You can preview deleted files and photographs with this software before trying to recover them. It has a quick data recovery tool and a potent scan built in.
In three easy steps, we'll now see how Remo Recover enables you to recover deleted images and files.
Decide which drive needs recovery.
Search for deleted or missing files.
Preview and recover the lost data. 
21. Recoverit
Among the greatest SD card photo recovery programs is Recoverit, which helps you to retrieve data from any device or medium. More than a thousand file formats are supported by this application.
Additionally, it provides advanced video recovery, video repair for damaged files, computer system crash recovery, file deletion or purging recovery, lost partition recovery, and device formatting recovery.
This app also has the following features:
You can examine restored files in preview mode.
The software is free of viruses.
You may recover deleted emails, videos, photographs, and more with its assistance.
Any PC, hard drive, SD card, USB, and more are all supported by this free photo recovery software.
Languages including English, German, Spanish, French, Italian, Portuguese, Japanese, Chinese (Traditional), Chinese (Simplified), Dutch, and Korean are among the many languages that it supports.
22. MiniTool Data Recovery Free (Windows)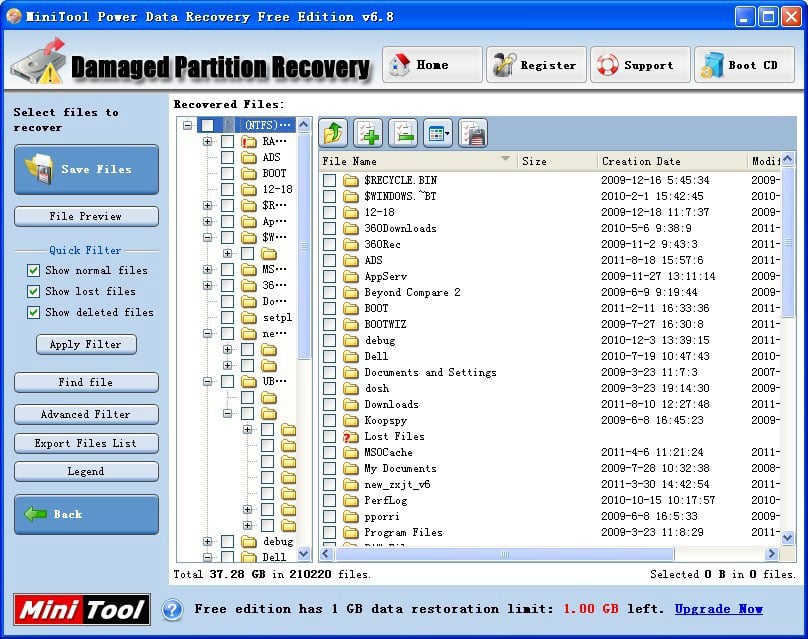 This Free photo recovery software called MiniTool Free Data Recovery is simple to use but only 1GB of recoverable photographs can be saved with the free version. The program is compatible with Windows 10/8/8.1/7.
Its simple UI makes it possible to quickly recover deleted photos from storage systems. 
The scanning procedure can be stopped, resumed, or paused at any time. The scan results are arranged according to file type. 
It can recover files in the following formats: JPEG, TIFF, ARW, PSP, PNG, GIF, DCR, DNG, PSD, BMP, CRW, etc. Additionally, the app can retrieve audio and video files.
23. Gihosoft RePicvid (Windows & Mac)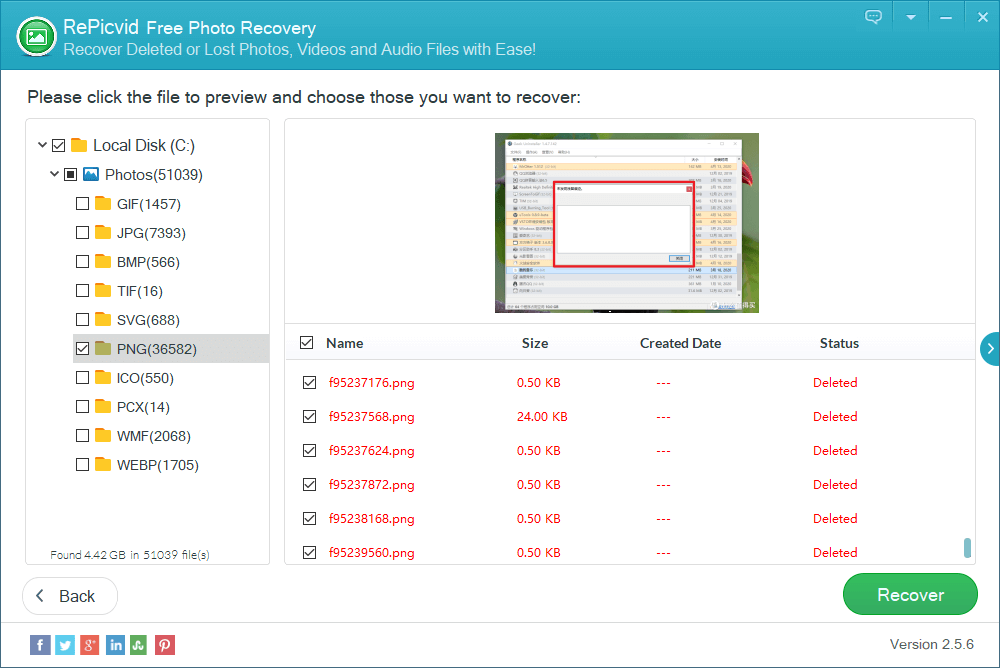 Gihosoft RePicvid's free photo recovery software can restore deleted pictures from hard drives, SSDs, SD cards, memory cards, USB drives, pen drives, and more.
There is no restriction on the number of files or recovery size with the RePicvid free utility. Any deleted JPG/JPEG, TIFF, RAW, PNG, BMP, GIF, PSD, CRW, CR2, SR2, MRW, DCR, NEF, ORF, RAF, and other formats can be recovered by the software.
With RePicvid, you can retrieve deleted images taken with virtually any well-known brand of camcorder, DSLR, digital camera, Android device, tablet, etc.
 RePicvid's free version does not, however, offer video, music, or another file recovery, in contrast to other free applications.
Windows XP through Windows 10 as well as Yosemite, 10.9, 10.8, 10.7, and 10.6 are all compatible with Gihosoft RePicvid.
24. Exif Untrasher (Mac)
Users of Macs can attempt the Exif Untrasher recovery tool if they have lost or deleted their JPEG images.
 From memory cards used in DSLRs, SLRs, cellphones, and other devices, the free picture recovery for macOS may recover deleted JPEG files.
Exif Untrasher is a small, quick-to-install software. It works with OS X El Capitan, OS X Yosemite, High Sierra, Mojave, and macOS Catalina.
With Exif Untrasher, JPEG recovery is not simply a matter of clicking a few buttons. To recover the files from the storage disk, you must first build an image of it.
You can use the software to restore photos from the disk image after it has been created.
 The photo recovery procedure is laborious, though, because each time it requires generating an image of the drive. 
Exif Untrasher is also said to be ineffective on large SD cards, according to a lot of users.
FAQ
What Software Do Police Use to Recover Data?
In the field of forensics, IsoBuster is a well-known and frequently used software.
Are Photo Recovery Software Safe?
Data recovery software is simply designed to restore data. Your device or system won't be harmed by it.
What are the 4 types of Data Recovery?
Tape Recovery. 
Optical Recovery. 
Hard Drive Recovery. 
Digital Recovery
Is there Totally Free file recovery Software?
Without a doubt, the greatest free software program for data recovery is Recuva. Although it has many optional complex features, it is also quite simple to use.
 It can retrieve data from memory cards, BD/DVD/CD discs, external drives (such as USB drives), and hard drives. Even files from your iPod can be recovered with this software!
Is Recuva Free to Use?
One of the best free file recovery software programs is Recuva. It is as simple to use as any other free or paid file recovery program out there.
Which Recovery app is safe?
iMyFone D-Back Android Data Recovery is a potent and specific recovery tool. Just three simple procedures are all that is required to recover deleted data, and they are completely secure
Is There a Free App That Restores Old Photos?
A software called Face Restore uses artificial intelligence (AI) to restore vintage B&W photos. It uses vibrant colours to fully colorize the image. 
Additionally, it performs scratch removal, which means that if your image or photo has any rips or scratches, the program will automatically detect them and fix/restore the image.
Which is Better Disk Drill or Recuva?
Disk Drill fully supports BitLocker disks and has a considerably wider range of file format recognition than Recuva. 
Disk Drill, which can produce outstanding results is designed to address complete partition loss, a problem that Recuva is not designed to address.
Is DiskDigger photo recovery safe?
Like the majority of other recovery apps, DiskDigger is risk-free to use. To guarantee security, the program does not ask the user for any personal information.
Where Do Permanently Deleted Photos Go?
A computer removes the reference to a photo file on the hard disk when it permanently deletes a file or empties the Recycle Bin.
 The computer will no longer see the file after the file header, or reference has been deleted.
To Sum It Up
 The importance of photos cannot be overemphasized, but sometimes we may loose them for a while but certainly not permanently with the help of the best photo recovery software that we've discussed in this article.
I'm hopeful that this list will assist you in choosing the best free photo recovery software that satisfies all your requirements.
If you have further questions, please share them in the comments section.