Fiber optic routers are WiFi routers that can support the large bitrates offered by fiber optic cable and are compatible with an ISP's fiber-optic broadband service.
Some of these devices are excellent 100 Mbps routers or gigabit routers, which are incredibly fast for a nice home network.
If you are interested in getting a fiber optic router, this article provides a well-researched list of the top best routers for fiber optic internet in 2022.
Routers For Fiber Optic Internet Key Factors
One of the primary benefits of choosing a fiber optic internet connection is its quick internet speeds.
You can get wireless routers with tri-band coverage for numerous devices and at least two Gigabit Ethernet connections.
The best fiber optic router systems have cutting-edge features like parental controls and specialized firewall systems for security, and adequate range to offer a steady connection.
Switching to a fiber-optic internet router is a better option for people who work from home, gamers, and families who need to run more devices.
An optical network terminal modem and fiber optic router can enable you to benefit from substantially higher internet and transfer rates.
How Routers For Fiber Optic Internet Work
With a few exceptions that are tailored for usage with an optical fiber network connection, fiber optic routers function similarly to other wireless routers.
Fiber optic routers receive a broadband signal from the internet provider through an ethernet connection.
The router then transforms the wired signal into a wireless signal, which it then broadcasts throughout the entire house on one or more radio frequency bands.
The analog signal from the ISP can be modulated by a modem, which then converts it into digital signals that a device can access via a connected connection.
Most fiber optic routers can direct wireless traffic throughout the home network and offer several channels.
A high-end router includes a complex CPU, beam-forming antennae, parental controls, VPN compatibility, maintaining firewalls, filtering incoming and outgoing data, and monitoring traffic.
The best Gigabit router alternatives for a fiber-optic connection make use of the speed and bandwidth of the fiber-optic cable, then they incorporate high-speed wireless communication with a superior range.
Read Also:
Top Best Routers For Fiber Optic Internet
1. ASUS CMAX6000 Router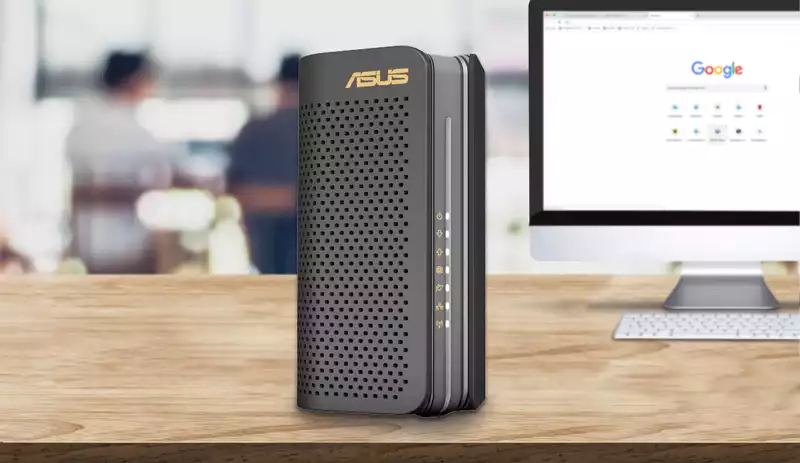 For consumers who want to access gigabit internet over a congested home network, the ASUS CMAX6000 router is one of the best options.
In a multi-user home, this modem-router combo can also replace the inadequate ISP-supplied device and give users access to proper gigabit speeds.
The dual-band Wi-Fi in this combo router provides correct network prioritization and has four Ethernet connections for a wired connection without lag.
The ASUS CMAX6000 router features dual-band Wi-Fi, several Ethernet connections, and the cutting-edge wireless protocol Wi-Fi 6, which allows download speeds of up to 6000 Mbps for compatible devices.
This combo unit also has a contemporary appearance that would look good in a business office or computer area geared toward gamers.
The fan-free design of this model, which exclusively relies on passive cooling, also makes it exceptionally quiet.
ASUS CMAX6000 router also has visible indicator lights on the front, which keeps users updated on the status of their connection.
Although the ASUS CMAX6000 router's customer service isn't the best, this model has excellent ISP compatibility and helpful setup information.
2. NETGEAR RBK50-100NAS Router
The NETGEAR RBK50-100NAS router is a mesh Wi-Fi system that offers incredible coverage for big homes or offices with plenty of internet-connected devices.
This sleek internet setup comes with a router and satellite that can provide coverage for up to 5000 square feet with multiple ethernet connections available on each device for a safe wired internet connection.
This model offers sophisticated network prioritizing that boosts device performance and reduces bandwidth thanks to the tri-band Wi-Fi system.
The NETGEAR RBK50-100NAS router delivers increased home or business network security, a straightforward setup, and a sizable coverage area because of comprehensive in-app settings.
Users may simply set up guest networks, modify parental settings, and run internet speed tests to hold their ISP accountable using this methodology.
The NETGEAR RBK50-100NAS has integrated anti-virus and data theft security due to its NETGEAR Armor for all connected devices, including smartphones, laptops, and game consoles.
This Wi-Fi mesh system is easy to set up with most ISPs, despite the subpar smartphone app that goes with it.
3.TP-Link Archer AX6000 Router
If you need dependable gigabit speeds for gaming, streaming movies, and web surfing, the TP-Link Archer AX6000 router is one of the best options.
The most recent Wi-Fi standard is used by this Wi-Fi 6 router to enable enhanced network prioritizing, which boosts network effectiveness and internet speeds for all connected devices.
TP-Link Archer AX6000 router also provides a broad wifi signal and enables a staggering number of connections at once.
Even for older wireless devices, the TP-Link Archer AX6000 router offers an internet update, a wide coverage area, and network efficiency.
This model's improved wireless performance with contemporary gadgets is made possible by AX technology, and it also works with older hardware and legacy gadgets.
TP-Link Archer AX6000 router also works with Amazon Alexa voice controls and is great for smart home connectivity.
Even while the router's app controls aren't very detailed for power users, they still include malware prevention and parental controls.
4. ASUS RT-AC5300 Router
The ASUS RT-AC5300 router is one of the best options if you need lightning-fast internet speeds for intense online gaming and media streaming.
This enormous model provides respectable coverage with a significantly faster 5Ghz connection and an outstanding range of 2.4GHz.
Users can play games or browse the internet without a signal drop due to the four Gigabit LAN ports, which also support multiple wired internet connections.
The ASUS RT-AC5300 offers a dual-band connection, several Ethernet ports, and protection for users with the ASUSWRT User Interface and ASUS Router App.
These tools enable users to manage their networks, fix connectivity issues, and upgrade router firmware.
ASUS RT-AC5300 router also includes AiProtection, which enables users to fine-tune parental controls, limit content, and prevent particular network-connected devices from accessing the internet at particular times of the day.
Although this model occupies a lot of space, broad coverage and powerful wireless performance are made possible by the number of antennas.
5. Google NLS-1304-25 Router
The Google NLS-1304-25 router is one of the best options if you need a quick wireless network with stable speed throughout a sizable home or office setting.
A core router and two satellites are part of the Google NLS-1304-25 router to provide dual-band internet coverage of up to 4500 square feet.
Google NLS-1304-25 router also provides speeds of up to 1.2Gbps, making it suitable for fiber internet and modern speeds.
The Google NLS-1304-25 router offers a dead-zone-free environment, fantastic supported bandwidth speeds, and amazing wireless range.
This three-part system's units each have two Ethernet connections, enabling high-speed internet access for wired as well as wireless devices.
Google NLS-1304-25 router uses Network Assist technology to choose the least crowded wifi band and channel for your devices, resulting in the fastest speeds possible.
How Long Do Routers For Fiber Optic Internet Last?
Fiber optic routers have a predicted lifespan of five years, just like routers in general, but this does not account for the actual usage patterns of residential internet customers.
Wireless LAN gear can last longer than five years, depending on the ISP, the service, and the type of router.
You should place your devices in locations that are as secure as possible from spillage and unintentional harm and to assist increase the longevity of your router or mesh router gear.
You should also keep your fiber optic router away from areas of intense heat and humidity.
Why You Should Buy a New Router For Fiber Optic Internet?
You can benefit from a router update if your home or place of business has a fiber-optic connection but your existing router isn't allowing for wireless speeds that are as fast as the wired connection.
Or, maybe you have relocated to a location with fiber-optic FTTH service, you will need to get a Gigabit Wi-Fi router for fiber optic connections to ensure you receive the best services.
If you've also recently made purchases of streaming devices, gaming consoles, or smart home technology, you might also wish to upgrade your router.
Because most gadgets such as smart home security systems, pet cams, and baby monitors, perform better when connected to a tri-band router's dedicated 5GHz band.
New fiber-optic optimized router models provide advantages over previous ones such as quicker file transfer rates and a more advanced dual-core CPU that provides better security features.
Parental controls, firewalls, and VPN services are other additional functions that a router for fiber optic internet can offer.
Upgrading to the most recent Wi-Fi 5 and Wi-Fi 6 routers enables you to connect more wireless devices to the same network without experiencing any performance degradation.
Conclusion
When choosing the best router for Gigabit WAN fiber-optic internet, you'll need to consider some factors.
You'll need a powerful router with at least dual bands and support for the 5GHz band, so you can take advantage of the enhanced bandwidth and throughput speeds.
You can get contemporary routers with features like tri-band mesh networking or a Wi-Fi 6 gaming router with low latency.